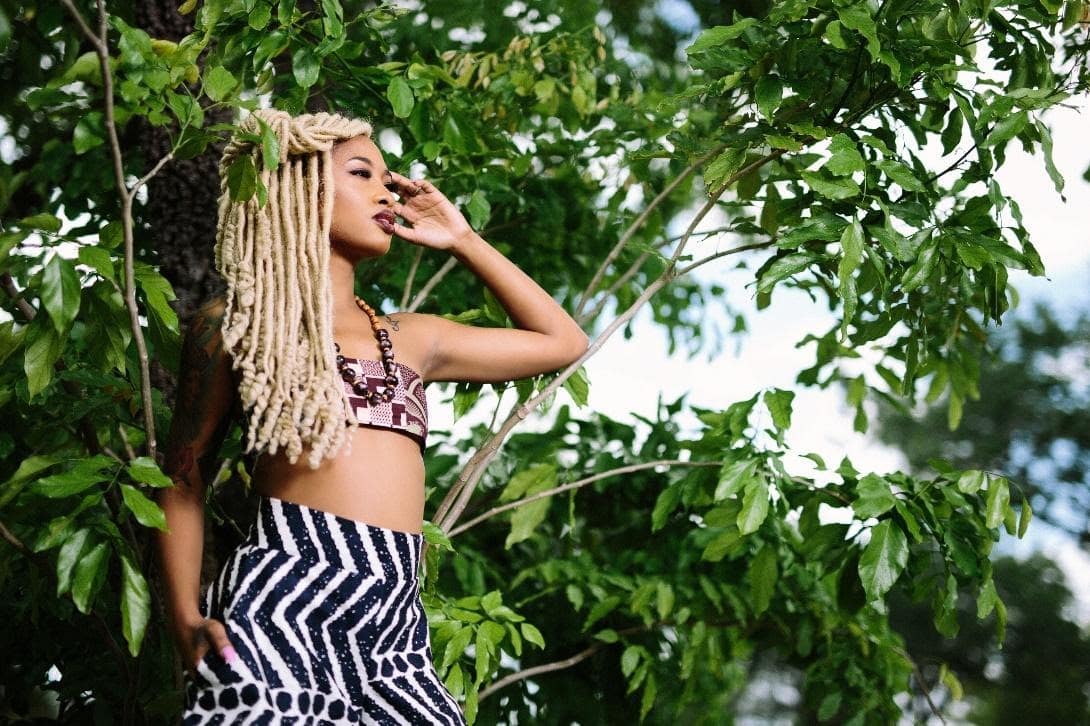 You don't have to be a celebrity to get the look inspired by Lisa Bonet's signature natural locs. Goddess Locs can be installed by yourself at home. And sis, we're here to help you out, because we are breaking it all down.
We're sharing tips from Simone Hylton, Master Stylist of Natural Trend Setters, the 1st Natural Hair Salon in South Florida, and giving you everything you need to install and style your goddess locs at home. But first, let's start from the beginning.
What are Goddess Locs?
You'll often see the terms goddess locs, faux locs, and even bohemian locs used interchangeably, which can be confusing. So what's the difference between these styles? Let's sort it all out.
Think of faux locs as the umbrella term under which goddess locs and bohemian locs fall under. Faux locs simply describes a hairstyle that mimics the look of naturally formed locs.
Goddess locs always have a wavy or curly hair at the end of each loc, instead of the finished ends that other faux locs have. Goddess locs can be installed with either human or synthetic hair. They can have a silky or distressed looking texture but the unfinished wavy ends are the main differentiator.
Bohemian locs can look similar, but they have more of a freestyle look with varying lengths to each strand.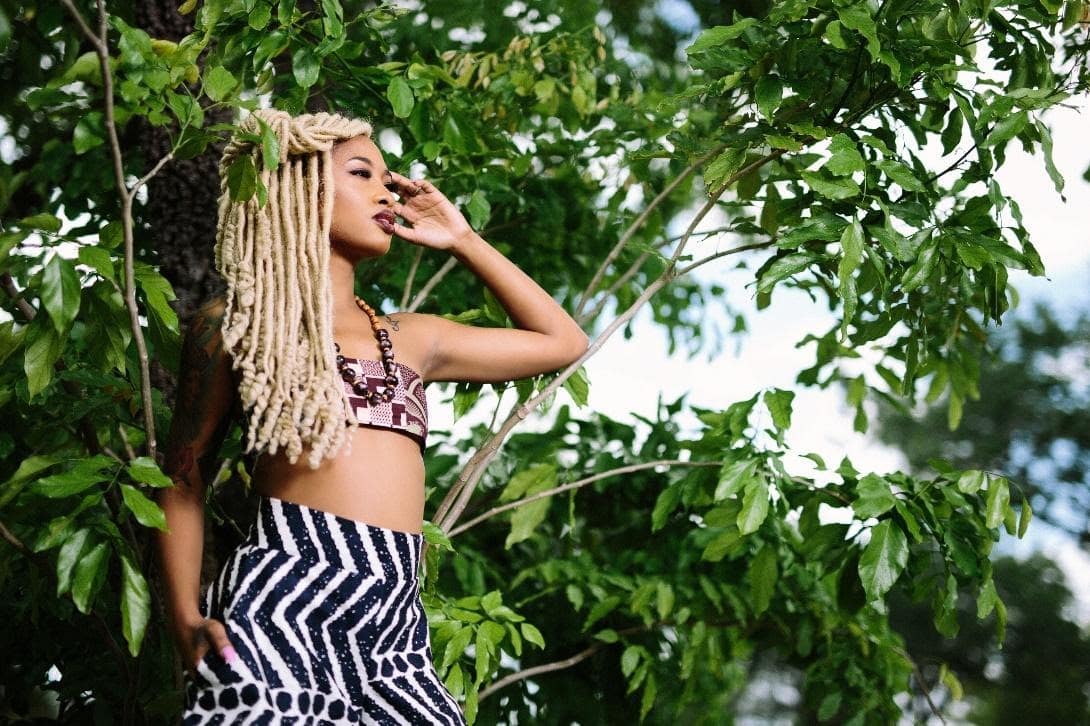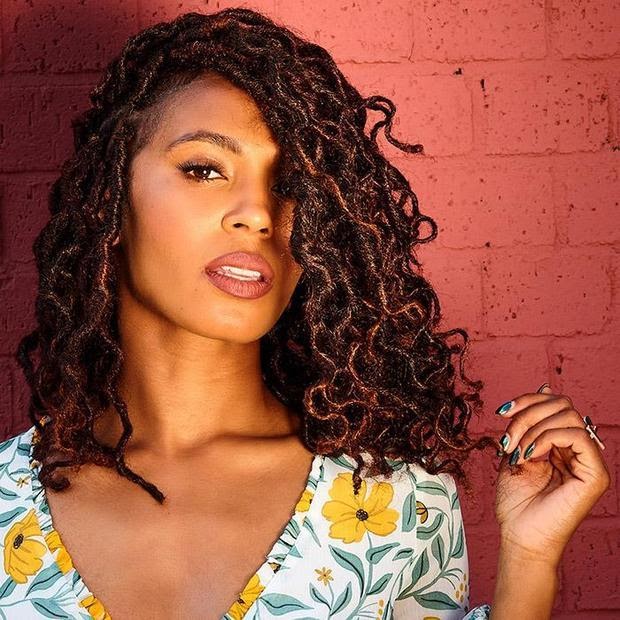 How long do goddess locs last?
Simone recommends keeping your locs in no longer than 3 months. At the 3-month mark, your hair will begin to matte and loc up. Your hair is also prone to breakage when you try to comb out your hair in this locced state.
How To Install Goddess Locs
There are two main methods to install goddess locks: 1. the Traditional Wrap Method and 2. the Crochet Method also known as crochet goddess locs. But Simone recommends the DIY stylist to only use the crotchet method because not only is it easier to install and a time saver but, it's also safer.
With the traditional wrap method, if the hair is wrapped too tightly, it can cause traction alopecia, ripping your hair out from the root. Even one improper install can cause your hair to never grow back.
Tools Needed to Install
Hair: Synthetic premade goddess locs already have the curly ends or premade locs can be used and both be easily found at your local beauty supply store.
Styling: Rat tail comb, detangling comb, gel, crochet needle, setting lotion or mousse
Let's begin:
How to Install Crochet Goddess Locs – Single Strand Method
Prep Hair

Always prep your hair before install by shampooing, deep conditioning, and then adding your favorite leave-in. It's important to make sure your hair is properly moisturized because you will not be able to get to your strands to re-moisturize them while in this protective style.

Dry Hair

Completely by either air drying or blow-drying using a heat protectant. 

Part Hair

Using your comb, part hair in a small section, detangle and then add gel to the root. Start off by braiding the section and then about 1 inch or so down, switch to two strand twisting down the rest of the section.

Repeat

Repeat this process until your entire hair is braided into small sections. 

Crochet with the crochet needle.

Start with one braid. Take your crochet needle, slip the end through the base of the braid, then take your pre-made goddess lock, open up the hole and insert it into the latch of the needle, close it and pull the loc through the base of your braid. Take your braided hair and slip it through the hole of the loc and pull it taught.

Make sure hair is secure

The locking hair should now be securely looped through the base of your braided section.

Unwind the loc

Now begin to unwind the loc, insert your braided hair inside and then let the loc re-wrap around your braided hair until the entire length of your hair is completely enclosed into the goddess loc.

Palm Roll

Take the finished loc in between both palms and roll it back and forth in between your palms to secure the strand.

Repeat

Repeat the process until your entire head is completed


Finishing touches

Use your favorite mousse to smooth down any flyaways and you're done!
Check out Youtuber I Am Bebe Michelle, for her detailed tutorial on the crochet goddess locs method. She adds a bit more flair to her locs with a more textured and distressed look. The tutorial begins at 2:08.
An even simpler way to install goddess locs is by first cornrowing your entire head in small sections and then attaching the locs one by one down the length of each cornrow using the same crochet method.
Check out YouTuber Domonique Robinson for her simple tutorial.
How to care for your protective style
Because your hair is completely wrapped inside the locs, it is all about scalp care. You should be regularly misting your scalp with rosewater and oiling your scalp with your favorite natural oil blend like castor + avocado oil.
Or you can also use Royal Coils Leave-In Tonic and Scalp Conditioner and Royal Coils Growth Oil, from Simone's hair care line Royal Coils.
For a deeper clean use an astringent like Seabreeze on a cloth to gently cleanse your scalp and be sure to follow up with your favorite oil to replenish the moisture.
Styling your locs
Once you've installed your locs, the styling options are endless for any and every occasion.
Bridal Goddess locs worn by Yvonne of @kyca.interiordesign
Celebrity Inspo: Actress Meagan Good worked with her stylist Dr. Kari Williams who develop the goddess locs technique.
Updo by Simone Hylton of @naturaltrendsetters
Updo with a head wrap by Simone Hylton of @naturaltrendsetters
8. Casual everyday look worn by Nadia W.
Half Up Half down by @hairbyrashida
Additional style inspiration on Instagram
How to take down goddess locs
With the crochet method the takedown process is so very simple. Just be sure to cut the loccing hair well below the length of your hair so you don't accidentally cut your hair.
After cutting, then it is easy to unravel your hair out of the loc by twisting the locking hair in the opposite direction it is wound. Youtuber StepbySteph has shows you how you can to take down locs
Remember is that goddess locs are easily customizable, so you can make them a reflection of your own unique personality.
Happy Styling!