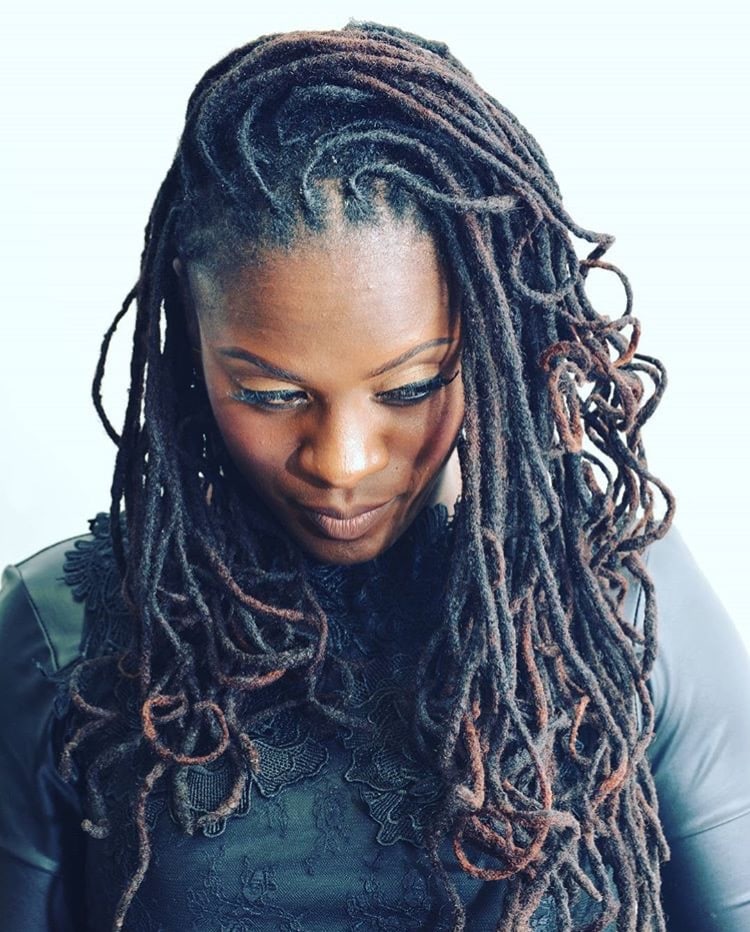 Photo: @Locstardfw
If you haven't noticed faux locs have been everywhere over the past year or so and has quickly made their prominence as highly sought out protective style. However, many seem to confuse faux locs and loc extensions, sometimes using the word interchangeably. So, before you run to the nearest beauty supply store to pick up a few packs of marley hair or go to a stylist here is the full scoop on the difference.
Faux locs are a temporary protective style similar to box braids whereas loc extensions are intended to be a permanent "extension" of your hair.  Faux Locs are installed by first, twisting or braiding the real hair and then proceeding to wrap additional hair around the shaft of the braid/twist.  Usually installed with Marley hair, kanekalon or yarn, the wrapping technique creates the "loc" appearance on each section of hair.  There are so many details to permanent loc extensions, I had to reach out to a professional. You can get the full scoop here.  But right now, here's a quick way to determine which is right for you. But don't worry, both are gorgeous.
Faux Locs Vs. Loc Extensions: How to Choose
Faux Locs Are For:
Wanting the appearance of Locs without the long-term commitment
Wanting to try a new protective style
A quick vacation style
Those who know for sure they want locs permanently, but want to try the style out first
Loc Extensions Are For:
Those who have newly loc-ed hair but want length immediately
Thinning or damaged locs that need help with thickness and volume
People who have had difficulty loc-ing their hair in the past
Also for those who have always wanted locs but were hesitant to make a full commitment
ALSO READ: The ULTIMATE Faux Locs Tutorial Guide
If you still have questions, below is a great video with details on several FAQs about Loc Extensions by Chesca Locs's Youtube Channel.  This video was sooo good! I had to share.
Read more about how to care and maintain loc extensions here on NaturallyCurly.com
---
Did you enjoy this article? Subscribe to never miss a post!
[mc4wp_form]
---