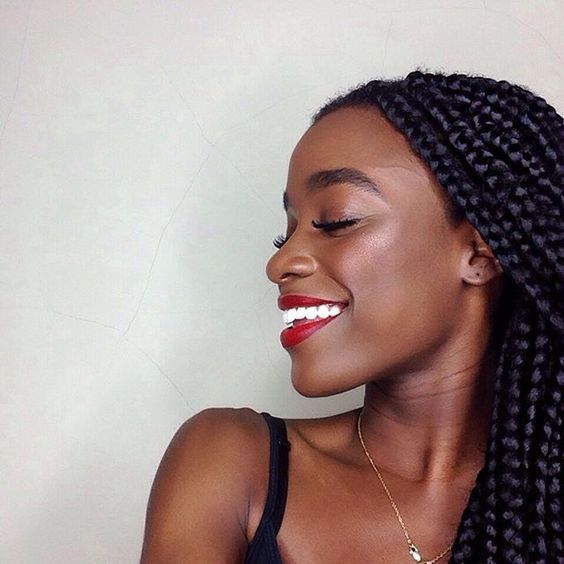 Featured photo: @Whitenymadueke
We've all been there. Having dry scalp while protective styling is no fun. The perfect style is picked out but how will you keep your scalp and moisturized clean?
No matter if you are wearing crochet braids, a sew-in, or just a cute natural updo, maintaining a healthy scalp is key to continued hair growth and length retention while your tresses are tucked away.
Here are some rules for a healthy scalp and preventing dry scalp while protective styling.
5 Rules to Stop Dry Scalp While Protective Styling
Rule#1: Start With A Clean Slate
This might seem like a no-brainer but the key to a healthy scalp while protective styling is starting with clean hair. Before installing your style, make sure you use a clarifying shampoo and deep conditioner.
It's like having a clean canvas to work on before painting. You don't want to start on dirty hair before your protective style.
During this time it is also a great idea to conduct a pre-poo or hot oil treatment with an anti-fungal oil such as tea tree oil and/or carrot oil.
Rule#2: Product Selection
If your hair performs well with creams and certain ingredients stick with that. This is no time to start with something new as this may lead to scalp irritations.
The last thing you want to do is try a new product and you are scratching like crazy because the product doesn't work with your hair. When in doubt, water-based products that will provide the most moisture is a good idea to prevent dry scalp while protective styling.
Find out if you have high porosity hair or low porosity hair. This will ensure that you will get the right amount of moisture for your particular hair type.
Rule#3: Understand How to Navigate Your Style of Choice
Choose the best method of cleansing your scalp based on the protective style you want. For example, you will not be able necessarily to cleanse your scalp if you're going to be rocking a high bun for a couple of weeks.
Let's say you want to rock Senegalese twists or box braids. You can definitely treat your scalp while protective styling by using moisturizing sprays. Things like witch hazel can help with dandruff and dry itchy scalp.
Rule#4: Moisturize Daily
Many women choose to excessively to oil their scalp while protective styling; however, maintaining a healthy scalp is all about moisture and water-based products.
Whether you are wearing box braids, a u-part wig, full lace wig or a sew-in, HYDRATION is key. The easiest thing to do is to make a spray bottle with water, leave-in conditioner, and your favorite natural or essential oils.
You can use this mixture daily when your scalp feels like it's on fire from dryness. Another option is to use a nozzle so that it gets right to your scalp.
Rule#5: Get Into Scalp Massages!
Scalp massages are definitely important to keep in your regimen while you are protective styling. You can use your fingers or there are some great scalp massagers on the market right now you can use. Grab your favorite oil and make it a spa day for your scalp!
Find that perfect style and have fun with it! Just don't forget to take care of your scalp!
---
Did you enjoy this article? Subscribe to never miss a post!
[mc4wp_form]
---