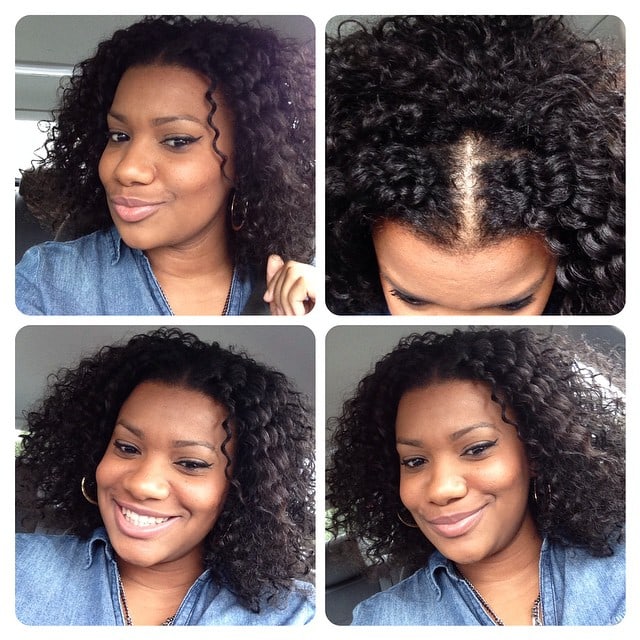 If you haven't noticed already there is increasing popularity among "natural" hair weaves.  Brands such as Heat Free Hair, and FingerComber as well as the rising use of Marley hair and new crochet styles has not only increased the popularity of the natural hair weave market but also transformed a lot of women's thoughts on the idea of wearing extensions.
While I'm no stranger to weaves myself, having several sew-ins before, I was pretty intrigued about trying a new weave style.  In the past I've always played it safe with very straight and sleek styles so I decided to change the game up a bit. 
And as fabulous as the Heat Free Hair is, I'm not that committed to investing money to purchase a few bundles quite yet.  However, I did a little research on YouTube and found a great, more inexpensive alternative: the Freetress Creta Girl Half Wig.
I will be the first to go on the record and say I've never worn a wig before so the idea of actually putting it on my head was a lot to handle.  But…once I installed the wig I was in LOVE and the installation was super easy.
I placed two flat-twist in my hair the night before and once the wig was on, blended the twist out with the curls of the wig.  I also decided to cut some of the hair just to shape and frame my face a little more to get a more natural look.
Overall, the total process took less than 20 minutes, and my total investment: $25!
If you're contemplating whether or not you want to try, take a quick glance at pros and cons.  I hope it's helpful, enjoy!
Freetress Creta Girl Half Wig Review
LIKES:
1. Affordable
2. Blended very well with my texture, great protective style
3. Easy to install and remove – I really like that I am able to remove the hair quickly, which is great for cleansing and moisturizing my real hair underneath, unlike sew-ins.
4. Time Management – I was able to achieve a completely different look in less than five minutes without adding extra heat to my real hair.
Dislikes:
1. Synthetic hair, can not wash
2. Not the easiest to detangle
3. Inside combs are sometimes irritating after a long day
Here are more pictures of the FreeTress Creta Girl Half Wig
Also enjoy my first ever YouTube video.  I recorded it a while back because I thought the review of the hair is too great to keep to myself! Disclaimer: I've never recorded a video before. This was a spare of the moment thing on my iphone, so please forgive the low quality 🙂
---
Did you enjoy this article? Subscribe to never miss a post!
[mc4wp_form]
---