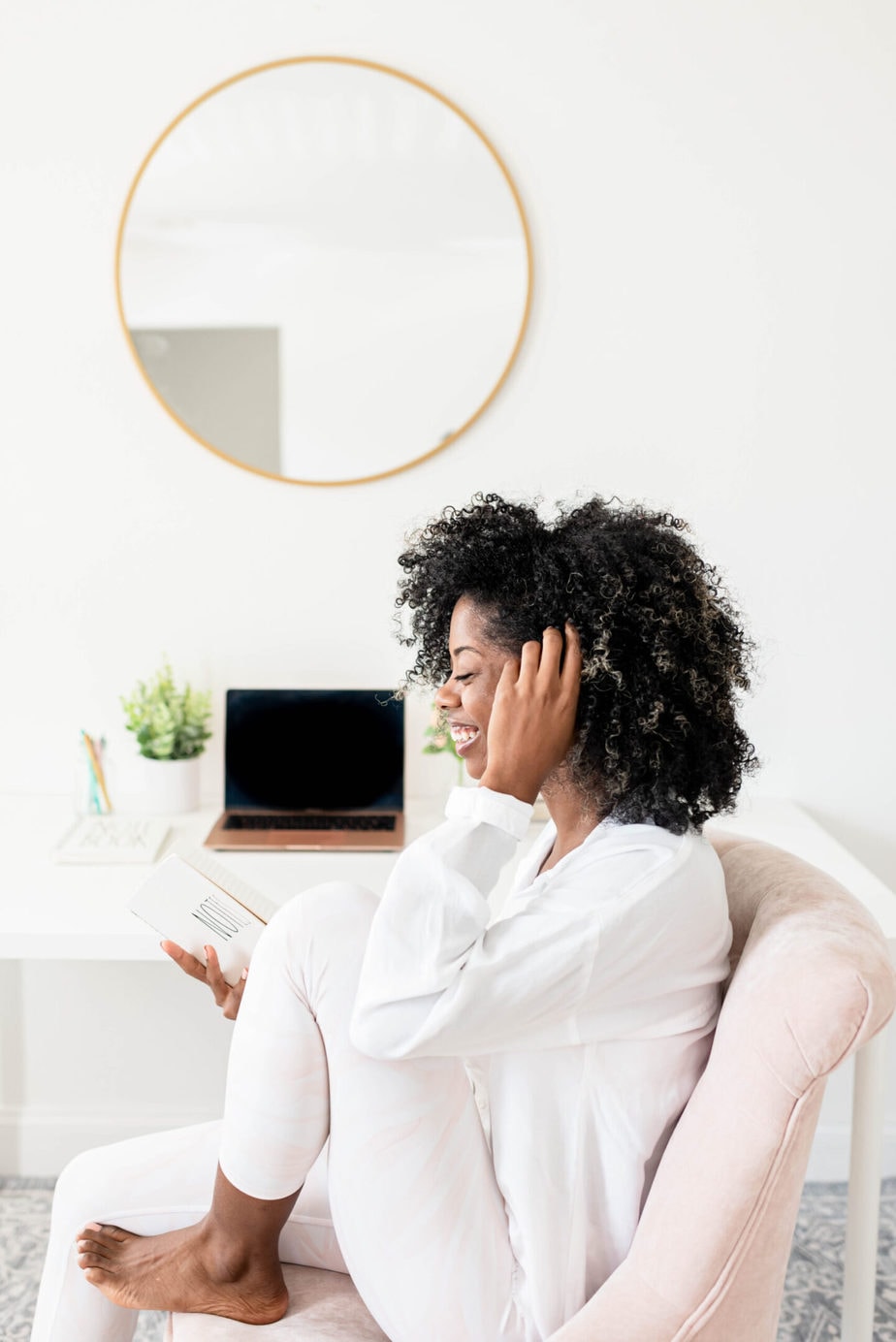 Everyone has bad hair days – some of us more than others. What if the key to ending your hair woes was in a few simple lifestyle changes? If this sounds intriguing, adopting an Ayurvedic hair care regimen may be just the TLC needed to restore your crowning glory.
What is Ayurvedic hair care?
The hair care industry is a multi-billion dollar market built on products made to treat the needs of everyone's hair. However, most hair care products only treat the hair topically, and often temporarily.
Unlike mainstream hair care, ayurvedic hair care aims to address your hair concerns from the inside out. This holistic, natural approach uses both products and treatment strategies to achieve balance.
Ayurveda is an ancient holistic health practice originating in India that focuses on creating a balance for your individual energy.
There are three energy types (or doshas): Vata, Pitta, or Kapha. Each dosha has its own set of traits and regulates everything about you – from hair to skin to how you handle stress.
Ayurvedic hair care is built on the principle that the health of your hair is largely dependent upon the overall health of yourself. Imbalances in your digestive tract, stress levels and lifestyle can lead to an imbalance in hair behavior.
Through the implementation of simple lifestyle practices and the use of quality herbs, ayurvedic hair care stands to correct any imbalance in your hair dosha.
Ayurvedic Hair Types
Your hair, when it is healthy, is a reflection of your body's unique dosha composition.
Healthy Vata hair is thin, coarse and grows quickly. Healthy Pitta hair is very fine, typically straight, soft, and easy to style. Healthy Kapha hair is strong, thick, and coarse.
Even though you have a dominant dosha, you have all three doshas, just in varying ratios. This is why it's possible for your hair to display traits of a non-dominant dosha when imbalanced.
Vata heavy hair is dry, frizzy, and brittle with a tendency to fall out. Pitta heavy hair is prone to premature thinning and greying. Kapha heavy hair is super oily and heavy.
Once you have identified your dosha, you can begin exploring what type of ayurvedic hair care regimen is best suited for balance and maximum growth.
Does Ayurveda help hair growth?
Ayurvedic hair care is great for hair growth because it is a way of life that focuses on preventive measures rather than reactive treatments. In Ayurveda, maximum hair growth is achieved through the combination of a special diet and natural healing remedies.
If you're looking to grow your mane long and strong I have two words for you – scalp massages! Scalp massages are a major part of ayurvedic hair care. They stimulate the scalp, improving blood circulation which encourages hair growth.
Massaging the scalp with healing ayurvedic oils (like coconut oil, almond oil, or olive oil) and allowing it to sit overnight helps to unblock the hair follicles (for more hair growth) and strengthens the roots of existing hair to prevent loss.
Above all, you want to ensure that your scalp is clean and nourished.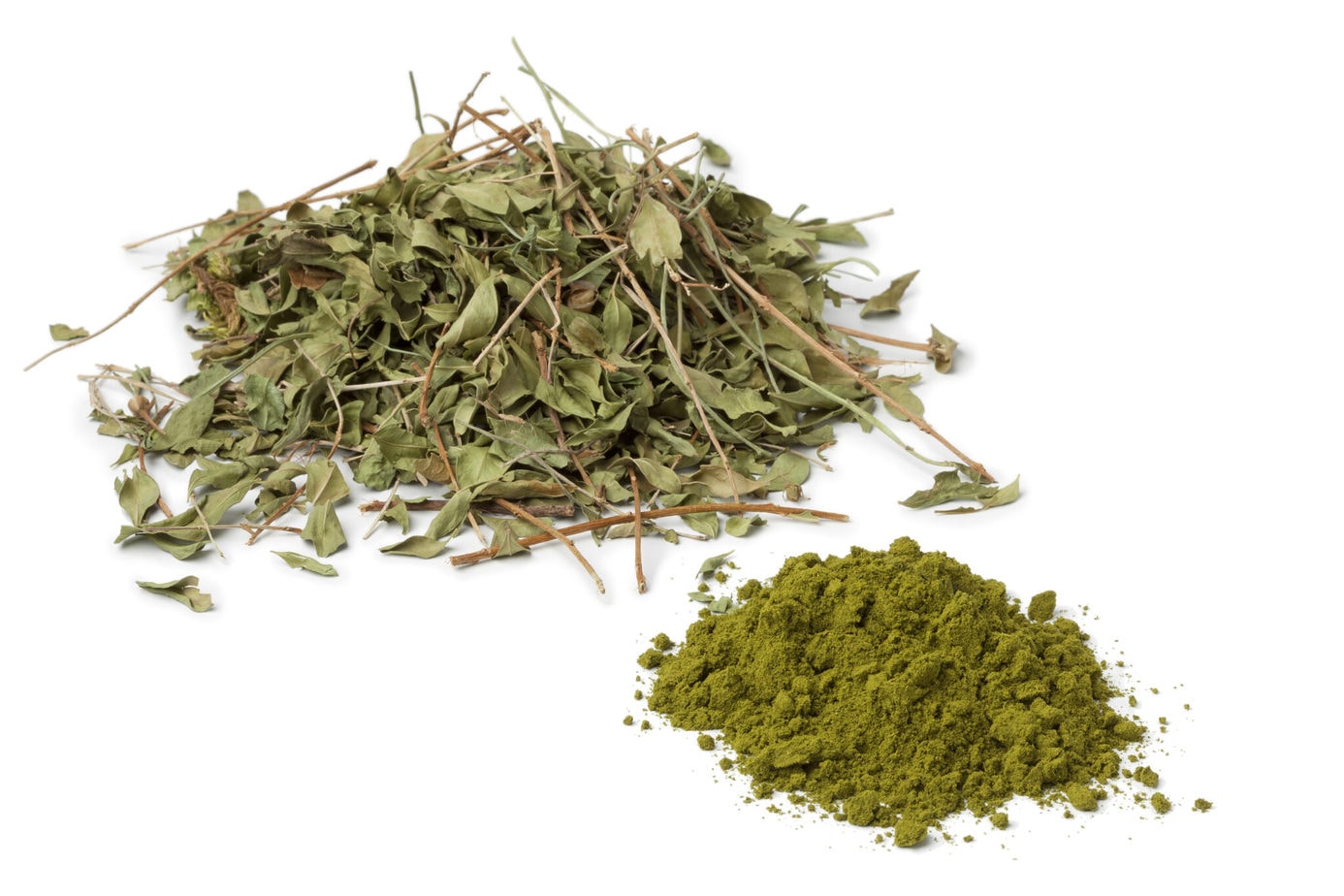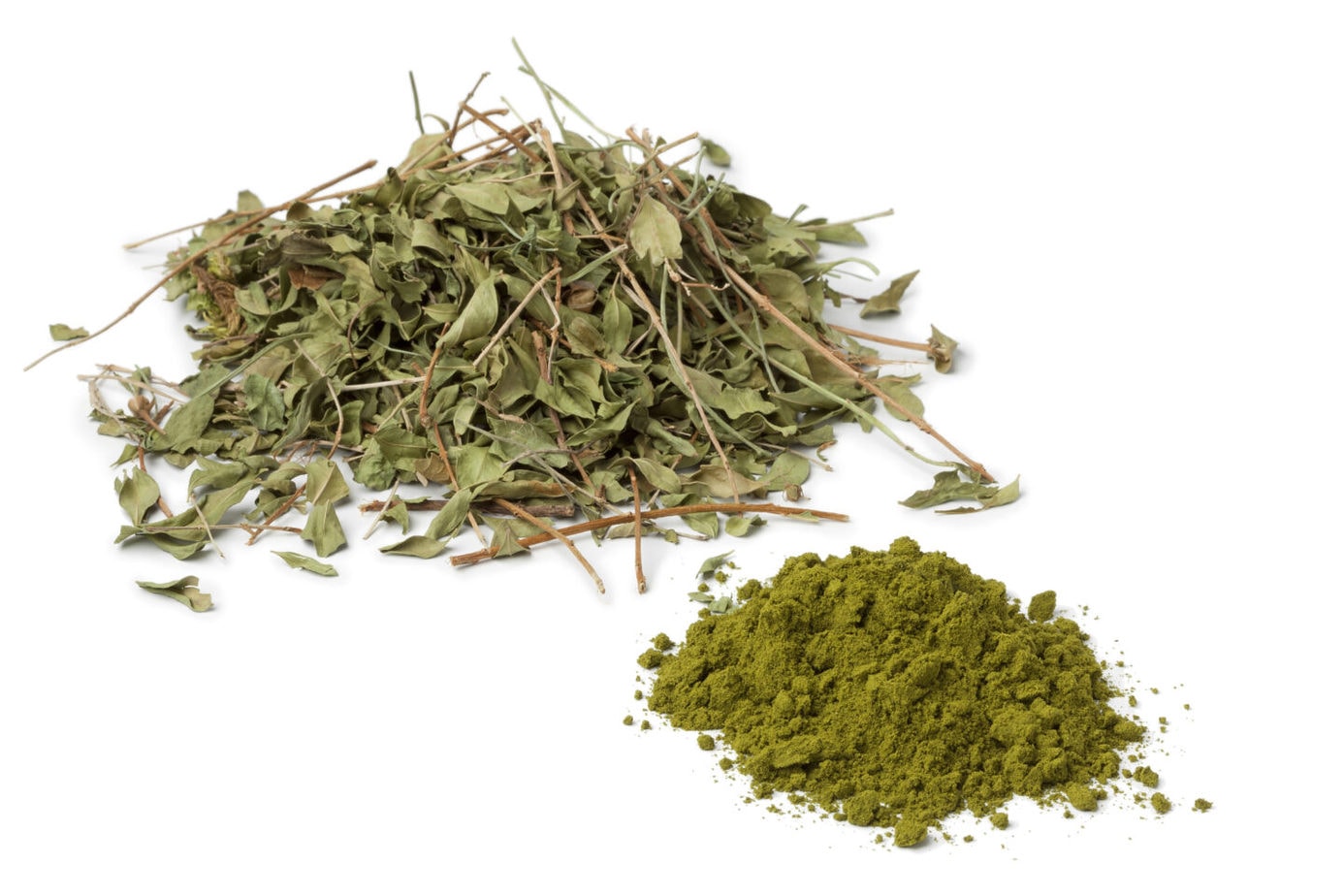 Ayurvedic hair regimen for beginners
Unlike traditional product systems, Ayurvedic hair care regimens reverse the order and use a treatment or conditioner first then follow with an herbal cleanser or shampoo to remove excess.
If you're just starting out and want to slowly incorporate Ayurveda into your hair regimen you can simply add an ingredient to your existing routine.
For example:
Add ½ tsp Hibiscus powder, ½ tsp of Neem and ½ tsp of Brahami to your conditioner of choice and use as a cowash.
Add ½ tsp of Hibiscus powder and ½ tsp of Neem to your shampoo of choice.
Once you've mastered that you're ready to move on to move hardcore Ayuvedic hair care treatments like teas, glosses and masks.
Ayuvedic Hair Care Treatments
Tea
To make an ayurvedic tean, simply add your favorite herbs to hot water, let them steep overnight and strain in the morning. You can add your favorite essential oils for scent. Teas can be used as hair growth tonics, rinses, or sprays.
For a tonic, apply the tea to your scalp and massage in. Rinse out after 5-7 minutes. When using as a rinse, pour over the head as the after final rinse when cleansing. As a spray, you can use it to refresh your hair mid week.
Gloss
Add your aloe vera juice and your favorite Ayurvedic powder (henna, alma etc) to your favorite silicone free conditioner. Apply to hair and leave on for up to 4 hours.
Infused Oils
Mix your favorite oil (coconut, almond, olive) with your herbs of choice and apply to the scalp for massages and to seal your hair. Oil should be applied at night and left until morning to allow for maximum penetration. Rinse your hair with an ayurvedic herbal shampoo or co wash to remove excess oils.
Ayurveda for Hair – DIY Recipes
Unsure of which herbs to add in what amounts? Here are a few ayurvedic hair care recipes to take the guesswork out of your new regimen.
Pre-Poo / Conditioning Treatment (Recipe from Curly Nikki)
** can be used as a pre-poo or deep conditioner**
Ingredients:
3 TBSP Cassia Seeds (powder ok)
2 TBSP Fenugreek
2-4 pieces Amla (powder ok)
2 TBSP Rosemary
2 TBSP Mint leaves
4 -5 flowers Hibiscus
2 TBSP Neem
½ cup Goat Milk, Coconut Milk, Soy Milk or Almond Milk
1 cup Distilled Water
Directions:
Add distilled water to Fenugreek seeds. Let it soak overnight
Combine cassia, hibiscus, alma, rosemary and mint.
Warm milk on stove and add dry mix to pot
Cover pot and turn off the burner.
Let it steep until warm
Strain herbs
Add honey and stir until dissolved
Add fenugreek and stir well.
Apply mixture to hair and leave on for 30min – 1hr.
Rinse well
Cassia, Amla and Bhringraj Deep Conditioner (Recipe from Henna Sooq)
Ingredients:
Liquid of choice: water, coconut milk or your fav conditioner.
Directions:
Mix equal portions of your dry ingredients together in a bowl (amount to use depends on hair length and thickness)
Add liquid of choice
Mix well until the blend is the consistency of yogurt.
Apply to hair in sections
Cover with cap and leave in for 1-2 hours
Rinse out completely.
Coconut Relaxer Pre-shampoo / Hot Oil Treatment (Recipe from Everyday Ayurveda)
Ingredients:
½ cups of Extra Virgin Coconut Oil
1 tsp of Brahmi
Directions:
Warm the EVCO then add Brahmi and mix well.
Apply the mix to scalp and massage through hair
Cover with a shower cap and allow to sit on hair overnight.
Henna Gloss Protein Deep Conditioner (Recipe from Everyday Ayurveda)
Ingredients:
100g BAQ Henna Powder
20g Neem powder
1 cup conditioner
1 cup deep conditioner
2 TBSP Shea butter
½ cup Extra Virgin Coconut Oil
Directions:
Mix the henna and neem powder in a bowl.
Add 1 cup of deep conditioner of choice and one cup of regular conditioner of choice.
Melt Shea butter and EVCO. Add to mix
Apply mixture to hair using gloves
Leave the treatment on for a min of 1 hour
Rinse well
Follow with a cowash.
Coconut Cream Softening Deep Conditioner (Recipe from Everyday Ayurveda)
Ingredients:
1 cup Extra Virgin Coconut Oil
½ cup Coconut cream
2 TBSP Hibiscus Powder
Directions:
Mix EVCO, coconut cream and hibiscus in a bowl.
Apply to hair and leave on for 1 hr.
Rinse well.
Follow with a cowash.
Ayurvedic hair care products
Henna, Neem, Fenugreek, Shikaki, Alma, these are just a few of the common herbs used in hair care. It can be intimidating to know which herbs to use and why.
Henna Sooq is a one-stop shop for all of your herbs and they have a feature to help you find the right herbs to do what you're looking for (cleanse, condition etc.)
If you're not the DIY type, don't worry. There are quite a few brands that specialize in ayurvedic hair care products. Here are a few favorites.
Belle Bar Organics is led by mother daughter trio Tianna, Solange and Annette Bell. They are committed to a holistic natural hair care journey with a line of organic hair care products combined with their commitment to fundamental natural hair care education.
All of their products contain many ayurvedic hair care staples. Among their best sellers are the Henna Strengthening Hair Gloss ($35) and the Onion and Garlic Thickening Ayurvedic Herb Hair Oil ($39).
Dominican Curly is a brand by Consy Joribio featuring handmade hair care products with clean, non toxic ingredients. With consistent use of her products, you'll soon realize why "all hair is good hair". If you're looking for a great starter kit, try the Ayurvedic Oil and Hair Tea Bundle (now just $30, regularly $37.50).
Ranavat is a one stop shop for all things Ayurvedic beauty but make sure you check out their Mighty Majesty Hair Serum ($55).
The Damage Control Collection (from $10+) by Ayur Luxe is an ayurvedic based line aimed to reduce breakage, shedding and split ends while promoting growth and retention. The new line (released in 2018) focuses on combining ayurvedic herbs with hydrating oils for a one of kind experience.
From oils, to conditioners to cleansers, Kama Ayurveda has it all. One of their most popular items is the Bringadi Intensive Hair Treatment Oil ($47) which treats hair loss, premature graying and dandruff.
Whether you choose to buy from one of the brands mentioned here or create your own blends, incorporating Ayurvedic hair care into your regimen is sure to leave you with amazing results.
Have you tried Ayurveda for your hair? Comment and let us know!