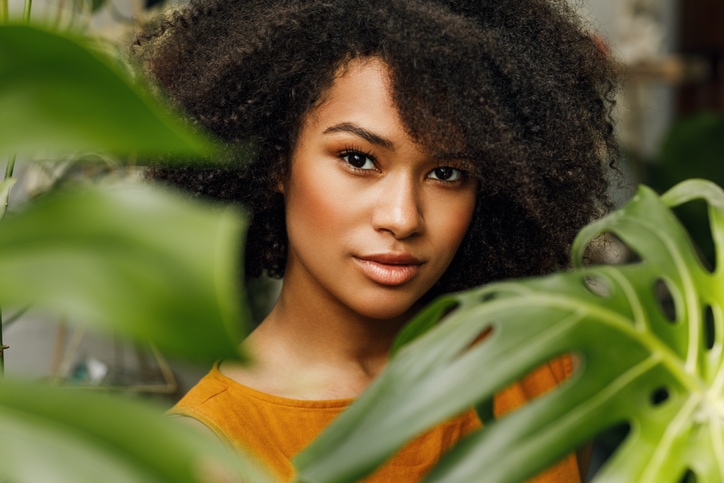 Like many of you, I've seen several stories and photos talking about the amazing benefits of rice water for hair growth and strengthening. Many have touted this treatment as growing their hair at a rapidly fast rate while providing shine.
One of the largest pain points of women who have just big chopped or are newly transitioning to natural hair is the slow rate of hair growth. Women want their hair to grow fast and healthy. So there's no wonder why the hoopla about the magical rice water treatment for hair growth has taken off quickly.
But does rice water help with hair growth or is it all junk science? Does it really help grow hair? How do should you use rice water and how do you make it? We're answering all of your frequently asked questions.
First, let's take a deep dive into the rice water phenomenon its history.
Where did Rice Water treatments for hair originate?
According to Medical News Today, women in China, Japan, and Southeast Asia have used rice water as a hair treatment for centuries. Specifically, the Yao women in China credited bathing in rice water as the reason for their long, thick, and shiny hair.
Fast forward to today and there are several Youtubers and bloggers who adamantly say the same. The only downside is, it hasn't been medically proven and we only have anecdotal evidence. However, word of mouth results is enough for a lot of women to try the treatment for themselves.
So if you want to move forward with giving it a go, let's dive right into how to make rice water and some of the most frequently asked questions about the treatment.
Benefits of Rice Water Treatments for Hair
Rice water contains selenium, magnesium, folic acid, thiamine, niacin, B1-B6, and Vitamins B, K, and C among many others. The benefit of rice water, unlike hair vitamins, is that it is applied directly to your hair vs.a pill form which takes longer to absorb into the bloodstream.
Magnesium and folic acid, both found in prenatal vitamins are often said to stimulate hair growth. According to Healthline, folic acid is primarily responsible for healthy cell growth. These cells include those found inside your skin tissues as well as in your hair and nails.
But research verifying folic acid as an official hair growth stimulant is minimal.
While researching I also across Debbie Williams, hair loss practitioner, Board Certified Nutritionist and Salon Owner. She has been teaching women about the benefits of rice water for years so it's only right I wanted to include her video for you to review for yourself.
How do you make rice water for hair growth?
Not surprisingly the recipe is as easy as it sounds. Rice water is the starchy water left over after boiling or soaking. Normally when consuming rice to eat, you will drain the starchy water before adding rice to your meal.
To make rice water for hair, you will leave the starchy water behind and apply it to your hair. Here are a few recipe variations.
Plain Rice Water by Soaking
Gather 1/2 cup of uncooked rice
Rinse thoroughly
Add to bowl with 2-3 cups of distilled water
Soak for 30 mins to one hour
Strain rice water into clean bowl
Store in a small bottle or jar in the refrigerator
Plain Rice Water by Boiling
Gather ½ cup of uncooked rice
Rinse thoroughly
Add to a pot with 2-3 cups of distilled water
Cook until rice boils
Strain rice water into clean bowl
Allow rice water to cool before applying to your hair
Store in a small bottle or jar in the refrigerator
Fermented Rice Water (Often noted as best use)
What is fermented rice water? This is achieved when you allow the rice water to sit for 12-24 hours.
This method is said to provide more antioxidants and release additional nutrients that are great for the hair. Note: do not let your water ferment for more than 24 hours or it will go bad.
Gather ½ cup of uncooked rice
Rinse thoroughly
Add to bowl with 2-3 cups of distilled water
Soak for 12-24 hours in a jar with or without a lid
Strain rice water into a clean bowl
Store in a small bottle or jar in the refrigerator
Yao Rice Water Recipe Tutorials and Reviews
Rice Water for Hair Growth – Frequently Asked Questions
How should rice water be used  on hair?
First, shampoo and condition your hair. Next, pour the rice water rinse on the hair and leave it for 30 mins to an hour with a plastic cap. Lastly, rinse and style! Be sure to rinse really well.
How often should I use rice water on my hair?
1-2 times a month. Be careful of using too often such as every day. This could cause protein buildup and make your hair hard and brittle. When that happens, breakage can occur which is the direct opposite of the growth you want to achieve.
How long does it take for rice water to grow your hair?
Every person is different, but most women who have given anecdotal stories see results within a few weeks. It is also important to note, hair normally grows 1/4 – 1/2 of an inch per month; depending on the texture. However, many people do not see increased hair growth because the length is not being retained due to additional breakage and shedding.
Can I leave rice water in my hair overnight?
Some women also choose to leave the treatments overnight, but it is recommended to rinse out within 30-60 mins. Again, do what is best for you and be aware of protein sensitivity and buildup.
Does rice water go bad?
Yes.  If you are fermenting rice water it can be stored for 3-5 days in the refrigerator. Although for the best results many like to make a fresh batch of rice water with every use. Since you'll only be using 1-2 times a month, that should be pretty easy to maintain.
Can I keep rice water in a spray bottle and use it daily?
Using rice water as a leave-in spray daily is not ideal. The small amounts of protein in rice water can cause build-up over time. It is preferred that the rice water is rinsed out thoroughly. Also, be sure you are on a weekly deep conditioning regimen for proper protein-moisture balance.
What type of rice should I use?
Long grain white rice, brown rice or jasmine rice can be used. You want to avoid minute rice or pre-cooked rice.
Will rice water work for my hair type?
Yep! Rice water is said to work on all hair types. Not just naturally curly hair or straight hair.
Should I use a conditioner after rice water?
Yes, using a leave in conditioner after applying and rinsing the rice water treatment is fine. Additional conditioning is moisture to balance out the protein.
Hair Products With Rice Water In Them
Curls and Potions
Curls and Potions arrived on the scene a few years ago and references themselves as the #1 bestselling rice water rinse on the market. Their products include the Chebe Growth Rice Water, Rice Water & Acai Magic Rinse, and the Rice Water & Acai Pre-Cleanse Primer just to name a few.
Chebe Growth Rice Water – $17.99
Rice Water & Acai Magic Rinse – $19.99
Rice Water & Acai Pre-Cleanse Primer -$19.99
Mielle Organics – Rice Water Collection
I've been a long time fan of Mielle Organics since I initially reviewed their Advanced Healthy Hair Formula Vitamins years ago. Once I noticed Mielle Organics also launched a Rice Water Collection my interest was immediately piqued.
CEO, Monique Rodriguez is a former nurse and takes pride in the natural ingredients selected for her brand. As a result, I gained a little more confidence in the rice water for hair growth theory.
Rice Water Reviews
If you are still on the fence about whether you should try rice water for yourself, of check out a few of these reviews.
Skepticism of Rice Water
So rice water seems to be amazing right? Well, not all people think so. Earlier in 2020, founder of Koils by Nature Pamela Booker, went viral in the natural hair community for publicly stating "RICE WATER DOES NOT GROW HAIR". Of course, this caused such an uproar and as a result, Booker invited a Dr. on her Instagram live to support the claim.
Many believe that the protein particles found in food are too large to actually penetrate the hair follicle to cause significant change. In order for these amino acids to make it into your hair shaft, they must be hydrolyzed.
Hydrolysis, in simple terms, is the process of the protein undergoing chemical breakdown to make it small enough to enter the hair shaft. Hydrolyzed proteins can be found in several protein treatments and deep conditioners, like hydrolyzed wheat protein.
Overall Takeaways
As with any new treatment on the beauty market, I say use your best judgment. I don't think there is harm in trying it out for yourself at home just to see if it works for you.
If you aren't the DIY type, I recommend using a pre-made product that has been formulated by a brand you trust. At the end of the day if you don't like it at least you have rice for a nice meal!