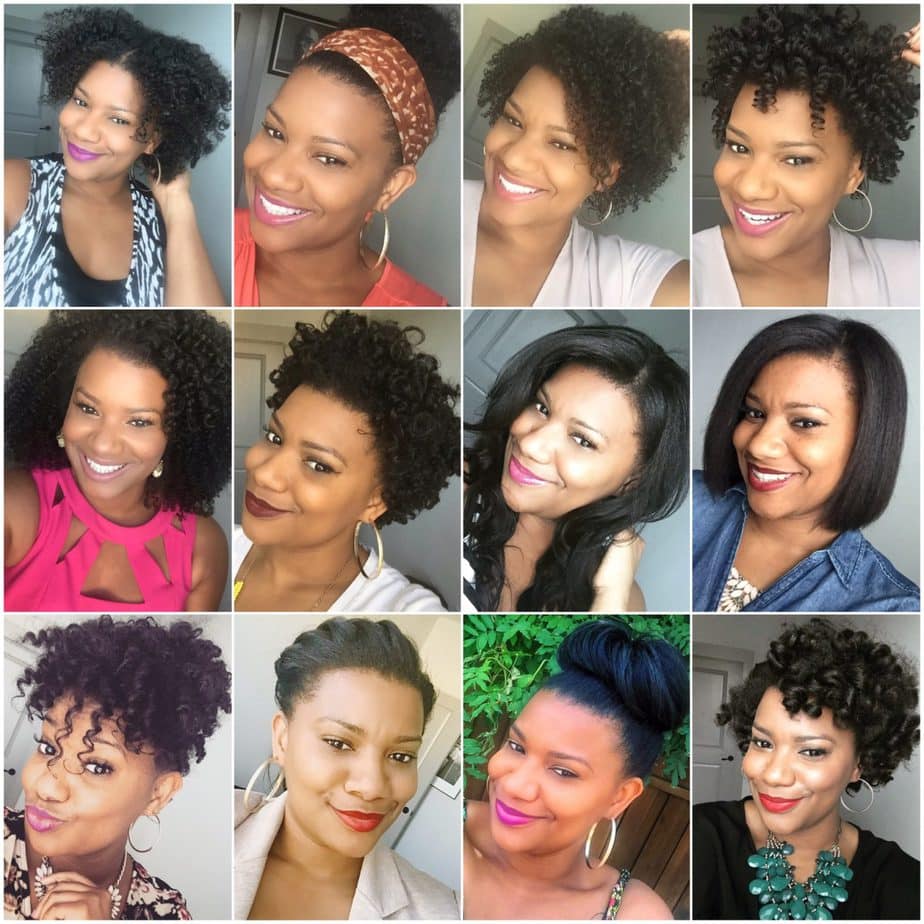 It's that time of year again! Yes, 2015 is quickly ending and it's time to look back on all of the fabulous natural hair styles I tried this year along with the rest of my curl friends.   Last year, Natural Hair Does Care kicked off the first #stylequeencollage and it spread quickly in the natural hair community gaining over 2,000 entries in just a few short days. You can see this year's entries here.  Want to know what my favorites styles of 2015 were? Keep reading!
BRAIDOUTS!
In 2015 I discovered my love for braid outs and my year was seriously MADE! Why hadn't I tried a braid out before this year? I have no idea, but this style was hands-down my #1 go-to-natural hair look of the year.  Providing extreme definition compared to my before #1 go-to, twist outs, braid outs are also easier to install and pretty much the easiest of all natural hair styles to do.  Some of my favorite products for braid outs include the Obia Natural Hair Twist Whip Butter and the tgin Twist & Define Cream.
Braid Out #stylequeencollage

2. Curly & Straight Protective Styles
2015 was also the year of the curly protective style for me.  In January, I made my very 1st U-Part Wig with hair from ONYC, I wore a unit from Finger Comber and rocked curly clip-ins!  Although creating that U-part wig literally took me a whole entire day, that hair still looks amazing and I can pull it out to wear at any time because the quality of the ONYC hair is really good.  Another favorite curly protective style I LOVED this year were my Afro Kinky Curly Clip-Ins & Coarse Yaki (straight hair) Clip-ins from Kinky Curly Yaki.  Seriously…these clip-ins are a life saver and another quick and easy thing to install.  I promise to do a tutorial on these soon because I love them so much.  Both sets of curly hair and straight hair mimics my hair so well tons of people had no idea I was wearing a weave at all.
Protective Styles #stylequeencollage

3. Perm Rods/Flexi-rods
I had somewhat of a love/hate relationship with perm rods with this year.  Only completing these natural hair styles a handful of times (because they take way too long to install) perm rods and flexi-rods, of course, are my most popular styles due to all of the curls.  What I do like about these curly styles is the option for me to take a break from styling my hair for up to 4-5 days.  Low manipulation styles like perm rods and flexi-rods are a great option for women transitioning to natural hair as well. My favorite products for installing perm rods are the Bee Mine Organics Bee-Hold Curly Butter, Creme of Nature Styling Foam & Love Lotta Body.
Perm Rods/Flexi-Rod #stylequeencollage

4. Blow Outs
I love my curls just as much as the next natural girl but…there's still something about a fresh blowout that sends me over the moon!  In total, I think I straightened my hair 5-6 times in 2015.  My first blowout was at the end of January when I got a bob cut, which I absolutely loved.  I even think about cutting my hair and getting a bob cut all over again.  Following the cut, I straightened my hair a few more times, until the Summer when I had a brief stint with heat damage.  Slowly I've grown the damage out and received a few more deep trims to rectify the damage.  Nevertheless, blowouts still remain one of my favorite styles. To keep my hair light-weight but still moisturized my favorite oils are the Briogeo Rosarco Oil  and the Mielle Organics Mint Almond Oil.
Blowouts #stylequeencollage

Of all the natural hair styles listed, which is your favorite?
---
Did you enjoy this article? Subscribe to never miss a post!
[mc4wp_form]
---