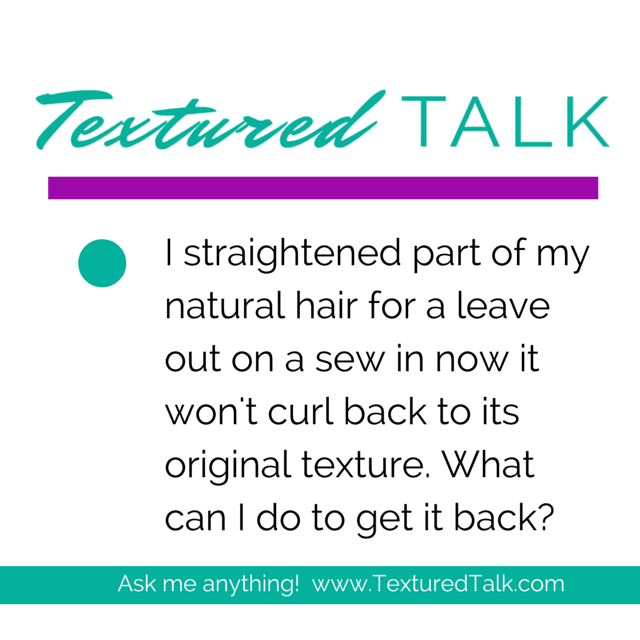 I may have mentioned this before but I LOVE when people ask me questions.  Trust me, every blogger does so never be too shy to ask.  It's the reason we do this…to make an impact to reach you! With that said,  I'm starting a new Q&A segment where I will be answering questions here on the blog when asked, in hopes these questions & answers help someone else stumbling upon this post.  This week's question is all about heat damage and how to "correct" it in order to get your curls back.  No one likes heat damaged hair, it is just not fun.
Question:
I straightened a part of my natural hair for a leave out on a sew-in and now it won't curl back to its original texture…how can I get it back?
My Answer:
Thanks for reaching out to me!  So two things: 1) You could have permanent heat damage or 2) Just temporary curl loss.
Signs of permanent heat damaged hair means there is no curl no matter how many times you wash and deep condition the leave out area…it just stays straight.  This could happen if you are applying heat constantly to that area daily or if the temperature on your flat iron is extremely too hot for your hair texture.  If you have permanent heat damage the best thing is to try and grow it out to avoid cutting the hair.  Once it grows out to a certain stage then you can cut the remaining heat damaged ends. At the end of the day a cut will need to happen with severely heat damaged hair.
With temporary curl loss or what some call "heat-trained hair", maybe your hair still curls a little but not as tight as it used to curl.  To me this means that you have a possibility of getting your natural texture back BUT…it's going to take some consistent work. And I mean WORK! I recently experienced this too so here are a few tips:
Limit daily heat use or avoid it all costs. While wearing your leave out only straighten once on clean, conditioned hair. Then use your scarf to lay down your edges over the next few days. If your want your leave out to have curls I suggest flat twists, pin curls, etc so you don't have to re-curl it every day.  Also ALWAYS use heat protectant before straightening.  Here are some of my favorites.
Shampoo and deep condition your leave out weekly if you continue to wear the sew in.  If you've taken the sew in out of course still shampoo and deep condition weekly.  Clean, moisturized hair is the first step in combating heat damaged hair.  I repeat CLEAN. Before straightening you should make sure hair is washed thoroughly to remove any product build up which will allow you to only need one swipe of the flat iron on each section should you choose to straighten again. Clarifying shampoos are best for removing buildup.
Focus on conditioners with protein for your leave out to help your elasticity and bring the curls back to life.  I used the Aphoghee Two Min Keratin Reconstuctor on an area I had small heat damage to and it worked WONDERS. I love this stuff. Even if you just use it on your leave out area it's worth it. This is a light protein conditioner that when used weekly will help to try and bring your curls back.
They key to all of this is consistency. Consistently deep condition, consistently moisturize, etc. Overall, you have to train your curls all over again by giving it what it wants.
Update: Please note that the above options might not convert your hair back to its original texture but it will help the appearance of your curls over time.
Here are some other articles I wrote that you may like. The first one especially! Thanks for asking your question.
4 Ways to Enhance Your Natural Curl Pattern
How to Transition With a Weave…the Right Way
Product Review: Motions New Heat Styled System Line
Do you also have questions you want me to answer? Submit your questions at [email protected]
---
Did you enjoy this article? Subscribe to never miss a post!
[mc4wp_form]