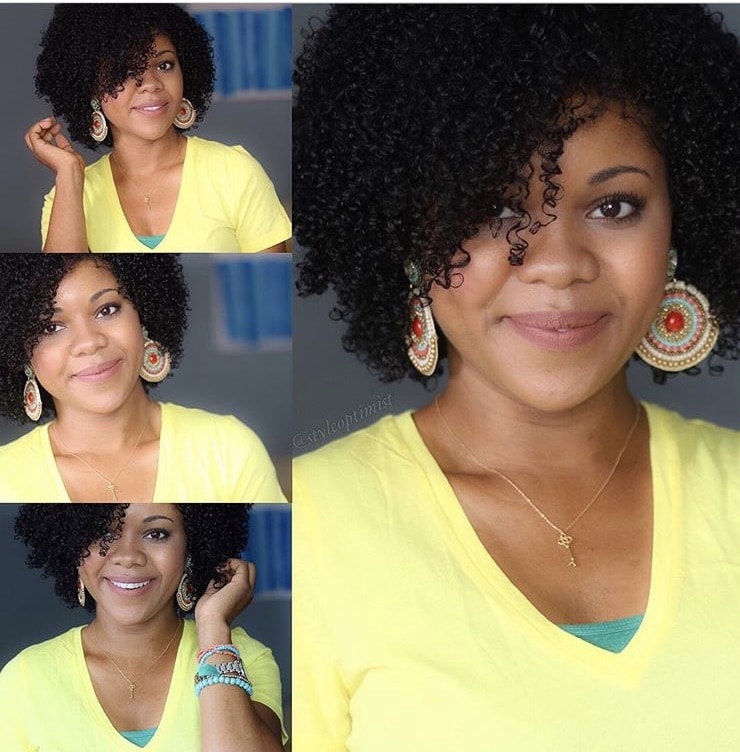 As you know, there is no shortage of natural hair products on the market. Brands continue to emerge and existing brands continue to crank out new formulas and products faster than you can blink an eye.  As blogger, I understand this is incredibly frustrating.  And all you really want to know is if the product actually works! So let's chat about TreLuxe.
How to Define Natural Curls With Treluxe

A little backstory. TréLuxe was founded by Kiprono & Cortney Sigilai. Cortney was early to embrace natural beauty maintenance as a way to accentuate her appearance without chemically harsh products. She eventually came to lead others down a similar path of discovery, recommending countless products and styling regimens to interested women. Kiprono helped finance his way through college by opening up an on-campus barber shop out of his dorm room, advising students on style and grooming maintenance. Kiprono later transitioned into studying the effects of beauty maintenance and personal upkeep on social influence and self-expression. Mixing their talents for people, products, and personal empowerment, the TréLuxe brand was born.
Now on to what you care about…the products! The Treluxe line up currently consists of 4 products:
TreLuxe Untie-The Knot Leave in Conditioner (Best Seller)
The Untie-the Knot Leave in Conditioner does exactly that…melt those stubborn tangles and single-strand knots away. This product is formulated to smooth, easily detangle, replenish moisture, and nourish hair from within, leaving your hair feeling soft, manageable, and ready for styling. The lightweight conditioner blends a variety of high-quality botanical ingredients, and gently sinks into textured tresses, allowing hair to absorb the nutrients. This provides you with the right foundation for your best curls. Plus it smells amazing!
**Active Ingredient**: Squalene – Squalene makes up about 10% of the oils that are naturally produced by the glands in your scalp, and is renown for its ability to regulate moisture.
2. TreLuxe Reflex Curling Serum
The TreLuxe Reflex Curling Serum is sort of like a secret weapon in my opinion. It's not a gel, but it still defines curls like crazy. The thin consistency allows the product to easily spread throughout your curls for maxium definition. The benefits are it reduces frizz for fine, thin, and/or wavy hair without weighing hair down and defines curls without hair stiffness for flexible styling.  This product can also be used to install perm rods or flexi-rods.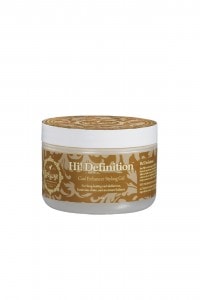 **Active Ingredient**: Tomato extract & amino acids to increases curl elasticity and reduce moisture loss, while defining curls.
3. TreLuxe Hi-Definition Styling Gel

If you're more of a gel-type girl the TreLuxe Hi-Definition Styling gel is bae. It gives a medium to high hold while increasing the hair's elasticity, strengthens by stabilizing bonds within the hair's cortex, and improving the texture of hair. This creates a smooth, polished appearance. It's also a great fighter against frizz as it is infused with avocado, sage, and honey extracts, and is specifically formulated to provide enhanced curl definition and luminous shine.
**Active Ingredient** – The Color Safe CurlsTM natural blend fights free radical damage & helps protect hair during times of sun exposure.
4. TreLuxe Curl Supreme Styling Cream (Another Best Seller) 
Last but certainly not least is the Treluxe Curl Supreme Styling Cream. If you like thick and creamy products with Shea butter this product will become bae. 🙂 This thick, smooth, and rich styling cream provides days of hydration and moisture to your curls, coils, and protective styles. Formulated with natural butters, light oils, and active botanicals, you get the right amount of slip, curl clumpage, and moisture for your best curls. Perfect for ladies with the coiliest of hair textures, as well as those with moderately curly hair who want to style with less hold and more moisture.
**Active Ingredient**: The TreLuxe 360 CurlsTM complex penetrates the hair's cuticle to fortify weak hair strands + provide deep moisture.
---
Tutorials: How to Define Your Natural Curls with Treluxe
BiancaReneeToday – CURLY – Type 3 Hair
Style Optimist – Curly/Coily – Type 3c/4a
Queen & Curls – Coily/Kinky – Type 4 Hair (4a, 4b, 4c)
The Notorious Kia – Coily/Kinky – Type 4 Hair
---
Did you enjoy this article? Subscribe to never miss a post!
[mc4wp_form]
---