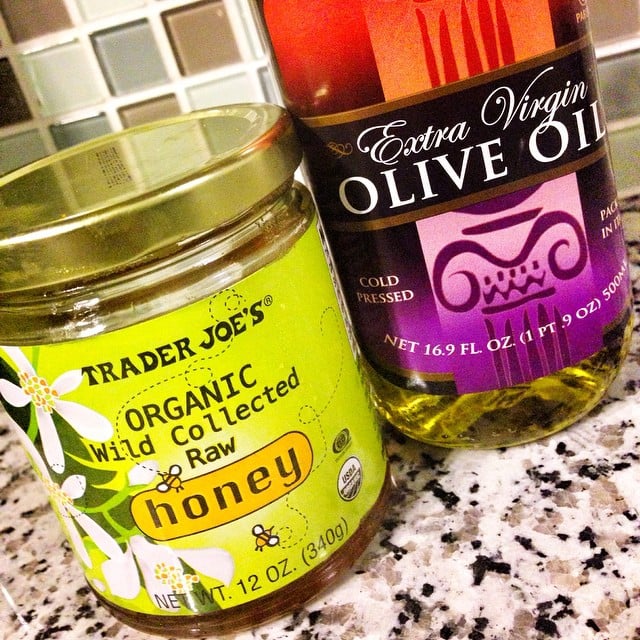 Temperatures are dropping, the air is getting colder and for some, your hair is probably getting drier by the day.  A few weeks ago I tried this quick olive oil & honey pre-poo (pre-shampoo) treatment on my dry strands and was very pleased with the results.  I can't even explain the softness of my hair afterwards!  So, the big question on your mind is probably what's so great about honey & olive oil? This post will break down this quick remedy for dry hair.
Honey works as a humectant to attract and retain moisture to the hair.  It doesn't have to be a special brand, I just chose raw organic honey from Trader Joes because it's where I grocery shop on a weekly basis.  Olive oil is amazing for so many reasons but in short, it promotes scalp growth and works well with fighting dandruff.  Just doing a hot olive oil treatment without the honey is great for dry hair as well.
Below are the quick steps I took for the honey & olive oil pre-poo.
Measurements: (I have short to medium length hair so adjust accordingly for your hair type)
1 Tablespoon of honey
2 Tablespoons of Olive Oil
Step 1: Mix honey and olive oil parts in a bowl
Step 2: Melt the honey and olive in microwave (this helps with applying to hair)
Step 3: Apply to wet or slightly damp hair in sections.
Step 4: Allow the treatment sit for about 30 mins under plastic cap or wrap hair in warm towel
Step 5: Shampoo and condition, style and enjoy!
What are some of your favorite pre-poo treatments?