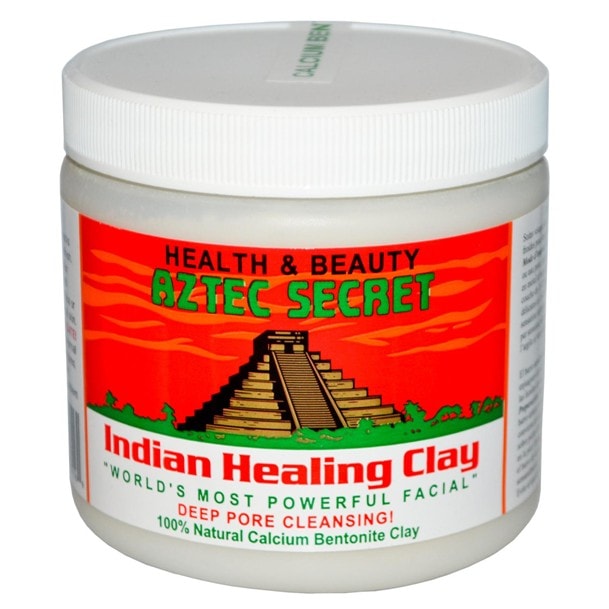 An Aztec clay hair mask can be a great natural alternative to traditional hair products, and it can provide a number of benefits for naturally curly hair women. Typically, curlies use this option when they need a serious hair detox from tons of product buildup. Constant use of heavy butter and creams can do a number on your hair, so you'll want to start with fresh and clean hair to best results on your next style.
This hair mask can be a great addition to any hair care routine, as it can help to nourish, strengthen, and cleanse the hair while also adding volume and body.
So what is an aztec clay hair mask, and why is everyone so wild about them? Let's find out more.
What is an Aztec clay hair mask?
An Aztec clay hair mask is a hair treatment made with Aztec healing clay, also known as bentonite clay. The clay is mixed with water or apple cider vinegar to create a paste applied to the hair. It is left on for a period of time, usually around 15-20 minutes, before being washed out. It is commonly used for improving hair growth, removing buildup, balancing scalp oils, and strengthening hair. However, many also use it as a face mask, bath soak or underarm prep for natural deodorant.
I've tried an Aztec clay mask before, and let me tell you…it gets your hair REALLY clean. Basically, you are detoxing your hair, so following up with a nice moisturizing conditioner is a must! I prefer conditioners with BEHENTRIMONIUM METHOSULFATE personally to help with detangling,b but this is your choice.
Benefits of an Aztec clay hair mask
First and foremost, Aztec clay is rich in minerals, including silica, calcium, iron, and magnesium, which can help to nourish and strengthen the hair. It can also help to improve the overall health of the scalp, which can, in turn, promote healthy hair growth.
In addition to its nourishing properties, Aztec clay is great at removing excess oil and impurities from the hair and scalp. This can be especially beneficial for those with oily hair or a flaky scalp, as it can help regulate oil production and reduce dandruff.
Another benefit of using an Aztec clay hair mask is that it can help to add volume and body to the hair. The clay has a slightly gritty texture, which can help to add lift and fullness to the hair when applied and rinsed out.
Here are a few more benefits of using an Aztec clay hair mask:
Aztec clay is highly absorbent, which means it can help to draw out impurities and toxins from the hair and scalp. This can leave the hair looking and feeling cleaner and healthier.
The clay can also help to improve the overall texture of the hair. It can make the hair feel smoother and more manageable, and it can help to reduce frizz and flyaways.
Some people also find that Aztec clay can help to add shine to the hair. The clay can help to smooth down the cuticle, which can give the hair a healthy, lustrous appearance.
Aztec clay is a natural product, which means it's free from synthetic chemicals and additives that can be harsh and dry on the hair. This makes it a great choice for those looking for a more natural and gentle approach to hair care.
Overall, Aztec clay is a versatile and effective natural hair care ingredient that can offer a wide range of benefits for women. Whether you're looking to nourish and strengthen your hair, improve the health of your scalp, or simply add some volume and shine, an Aztec clay hair mask may be just what you're looking for!
Aztec clay mask for hair recipe
So how do you mix up this famous hair mask and what tools do you need?
Ingredients:
1/4 cup Aztec clay
1/4 cup apple cider vinegar
Non metal spoons for mixing
Bowl of your choice
How to use the Aztec Clay Mask on your Hair
Instructions:
In a small mixing bowl, combine the Aztec clay and apple cider vinegar. Mix well until a smooth paste forms.
Add the honey, melted coconut oil, and lavender essential oil (if using) to the clay mixture. Mix until everything is well combined.
Section your hair and apply the mask to dry or slightly damp hair, focusing on the roots and ends.
Leave the mask on for 15-20 minutes (longer if you have very dry or damaged hair).
Rinse the mask out of your hair thoroughly with warm water.
Follow up with a moisturizing conditioner.
Note:
Aztec clay may cause mild stinging sensation while applying. If it's too much you can decrease the amount of ACV.
If you have color-treated or chemically-treated hair, you should test the mask on a small strand of hair before applying it all over to ensure it doesn't cause any damage or discoloration.
There are a few things to keep in mind when using an Aztec clay hair mask. The clay is very absorbent and can be drying if left on the hair for too long, so be sure to stick to the recommended time frame and rinse the mask out thoroughly. If your hair is naturally oily or prone to buildup, you can use the mask more frequently. However, if your hair is dry or damaged, you should use the mask less frequently.
If your hair feels dry or brittle after using the mask, you may want to decrease the amount of apple cider vinegar used or add more coconut oil or honey to the recipe for added moisture.
You can experiment with adding other ingredients to the mask such as avocado, yogurt, egg, and more, as they are all known to be great for hair.
Aztec Clay Mask Before and After
Here are a few amazing videos from curly hair bloggers showing the before and after effects of Aztec clay on natural hair.
Have you tried the famous Zztec clay mask before?
Also Read: AYURVEDIC HAIR CARE BENEFITS & HOW TO GET STARTED
** This article has been updated and contains affiliate links; however, all opinions and views about the product are my own. Any revenue earned through my affiliate link is used to help support Texturedtalk.com**