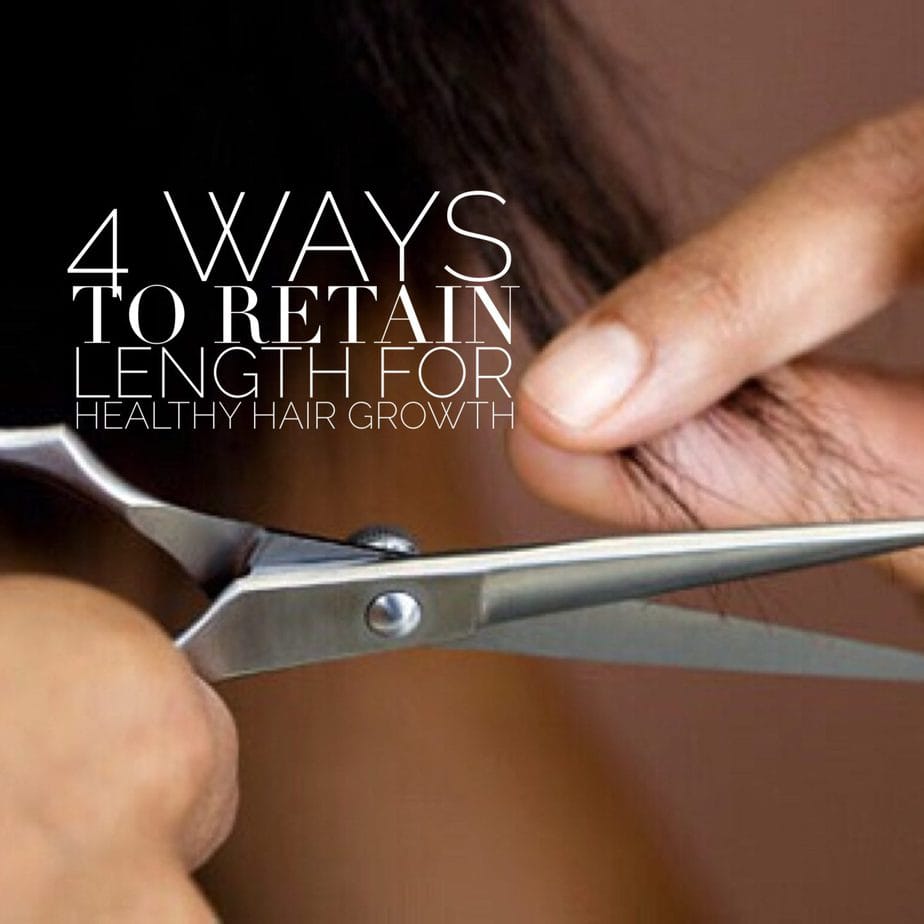 Has your hair come to a stalling point and it just doesn't seem to grow past a certain stage?  If so, you could have an issue with retaining length vs. actual hair growth.  I've read (on more than one occasion) hair grows about 1.25 centimeters or an half inch per month.  While growth differs for each person depending on lifestyle and genetics, the main take away from this statement for you should be: your hair IS growing.  Retaining length means you are properly maintaining the half inch of hair growth each month to see a considerable difference over time.
Many women have an issue with retaining length because they are unaware of how continuing certain bad habits can lead to breakage .  If you are not sure what those bad habits are or how to retain length for natural hair growth then these tips is for you!
1. Consistent Trims (And Possibly a Real Hair Cut)
As the age-old saying goes, trimming your hair makes it grow faster.  Well…that's not exactly true.  What the saying really means is trims enable you to retain growth because split ends and dead hair is removed.
The rate of hair growth doesn't magically speed up after a trim, but the amount of hair breakage is dramatically reduced.
As a result the rate of hair growth and breakage is not counter-acting each other in what I like to call the one step forward and two steps back syndrome.  For a long time I was a fan of the "light dusting" trim method trying not to sacrifice length.   However, once I received a real cut, beyond a trim, my hair started to really grow.  I simply had to make a hard decision and cut off all the damage to set a healthy foundation for growth.  My revived regime is a trim every 8 weeks.
2. Proper Detangling
Since naturally curly hair is prone to be a bit dryer than other textures, more than likely detangling is a large part of your hair care regime.  Although frustrating, the best thing you can do when detangling is SLOW DOWN.  Do not rush through this process as you may cause further breakage to your strands and please do not dare attempt to detangle on dry hair.  Instead, opt for pre-pooing to help with manageability and invest in good conditioner with great slip so those single strand knots are able to melt away.  Inexpensive conditioner options with great slip popular among many naturals are Aussie Moist, Tressemme Naturals and Kinky Curly Knot Today just to name a few.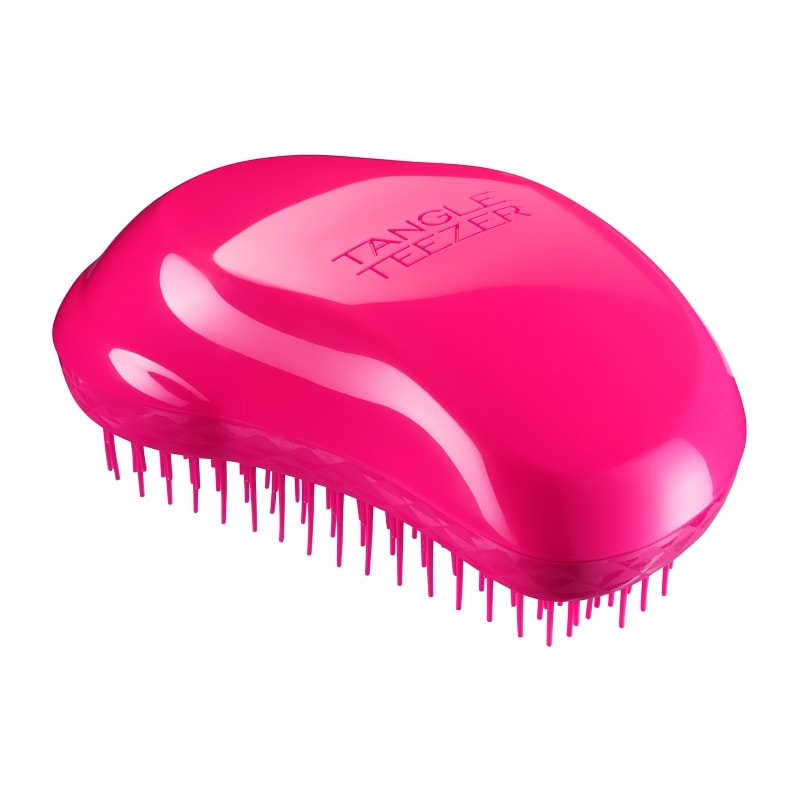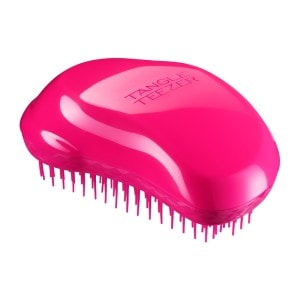 Also a new secret weapon I've been using is the Tangle Teezer…trust me this thing is a life saver and definitely a new staple in my weekly wash routine.
3. Improve Your Hair's Elasticity (Yes Shrinkage is A Good Thing!)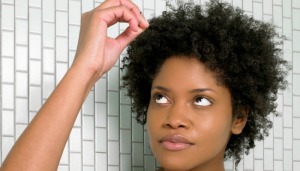 Elasticity is best defined as your hair's ability to stretch and return to its natural state.  In-elastic hair occurs when bonds that lie beneath the hair cuticle are interrupted by either harsh chemicals, heat damage, excessive dryness or excessive water contact also known as hygral fatigue.  All of these actions can lead to limp, weak hair and when stretched beyond its limits literally snaps.  Reconstructive treatments like Affirm's 2 Minute Keratin Re-constructor or other reconstructing protein treatments assist with improving elasticity.  Ouidad's Curl Recovery Melt Down Extreme Repair mask is also a great conditioning option.  It's a little on the expensive side but this product lasts forever seeing that I still have my jar from a few months ago.
Not a fan of protein treatments?  Simply implementing a deep conditioning regime is a great first step in the right direction.  Properly moisturized hair is less susceptible to breakage and you will find over time your strands remain moisturized for longer periods of time.
4. Protective  Styling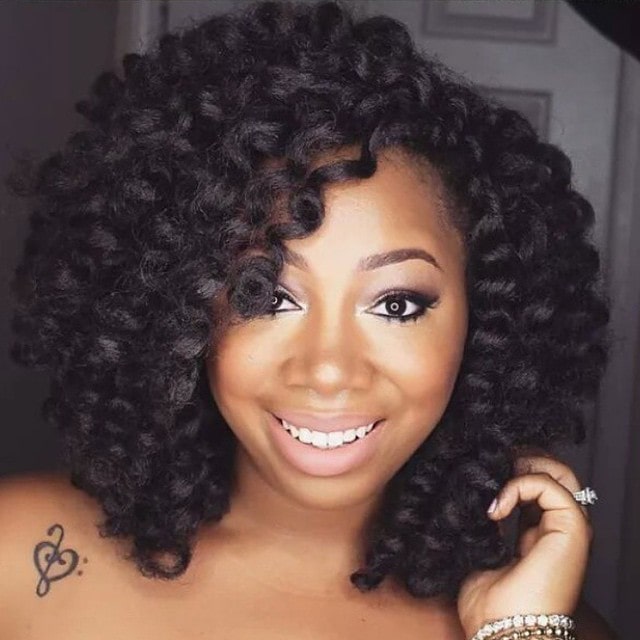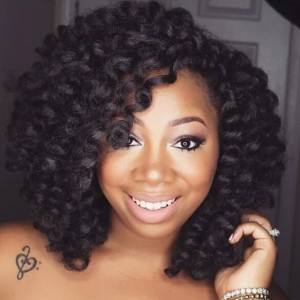 Continuing the conversation of breakage, protective styling decreases the amount of daily manipulation to the hair.  With the emergence of crochet braids, wigs and naturally curly weave styles the possibilities are endless.  Naturals are no longer boxed into a category of wash and go or twist-out.  Take advantage of these fabulous options and give your hair a break.  If you really want to see impressive growth combining protective styling with the other 3 tips will definitely help your journey to long healthy hair growth.
---
Did you enjoy this article? Subscribe to never miss a post!
[mc4wp_form]
---