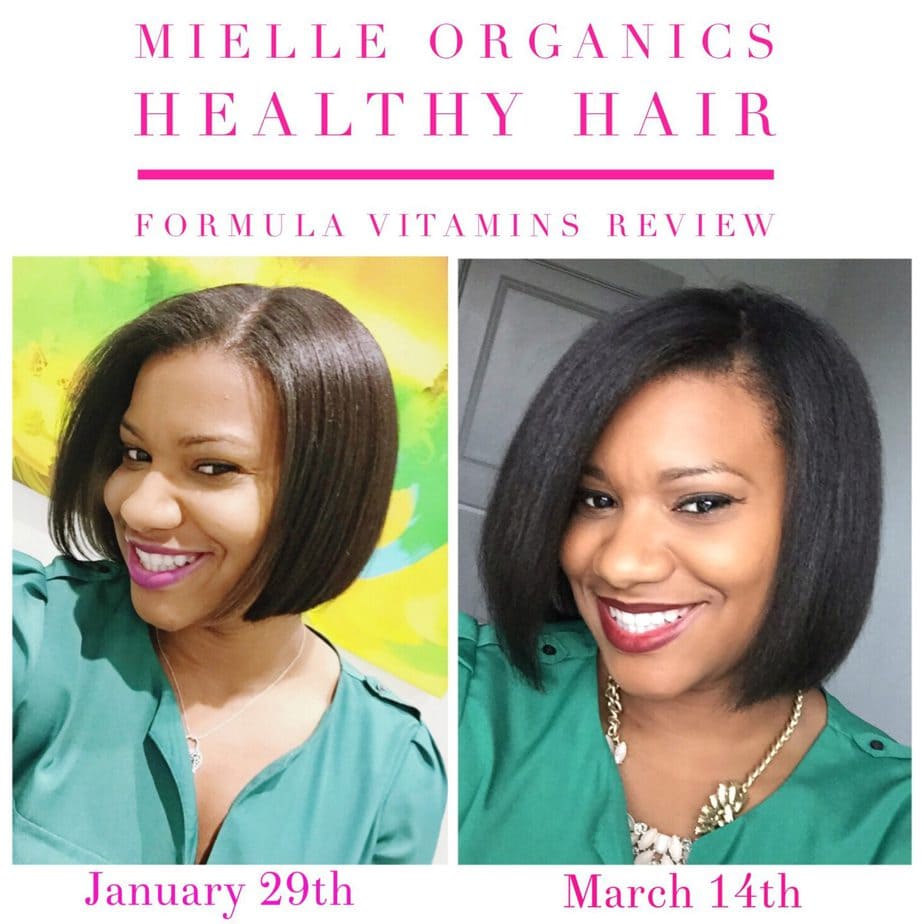 Last week I discussed the importance of maintaining a healthy scalp to promote hair growth.  Continuing my healthy hair series, this week I'm providing tips on taking hair pills to further assist with growth and providing a full review of the Mielle Organics Advanced Healthy Hair Formula Vitamins.
On the first day I launched my blog Mielle Organics contacted me to review a few products from their new line.  Surprised was definitely an understatement because I kept thinking how did this brand find me? I'm brand spanking new to this blogging world!  Needless to say, a few weeks later I received a bottle of their Healthy Hair Formula Pills and Mint Almond Oil.  As the Mielle Organics tag line goes, I was ready to take #takethechallenge towards healthier hair.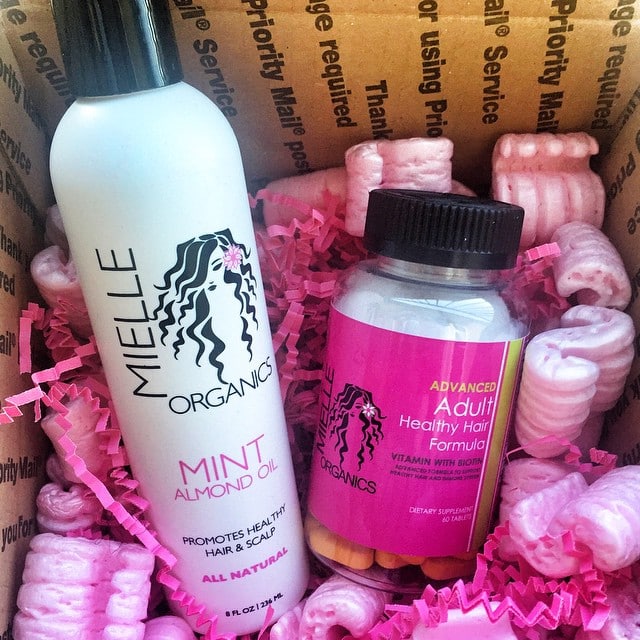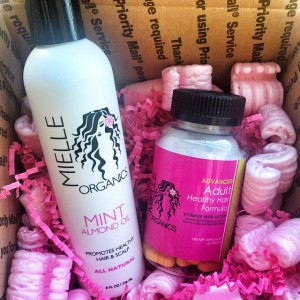 I used the Mint Almond Oil right away.  It smells AMAZING and I love the little tingling feeling from the mint ingredient.  The Mint Almond oil is also very light weight which is something I look for in natural oils enabling me to use on curly or blown out hair.  For the Healthy Hair Formula pills I wanted to be a bit more strategic to get the best results.  Below are a few tips, my weekly regime and final thoughts on the pills.
Mielle Organics Review
Prior to taking the pills:
In order to GROW hair you must first understand how to RETAIN length.  Before taking the pills I received a fresh hair cut to remove all split ends, setting a healthy foundation for growth.  Weeks leading up to this point I experienced a lot of breakage and thinning.  I knew that in order to see true results I needed to rectify the current situation, repairing my ends to assist with retaining length.
 Don't be afraid to cut your hair!  There's no point in taking pills to help your hair grow if it's going to break off at the same rate.
While taking the pills:
The directions recommend taking 2 pills daily with a meal, which is so important.  I accidentally took the pills one day on a slightly empty stomach and let's just say the feeling wasn't great.  Another important note, do not substitute the pills for a healthy diet simply because of the list of ingredients and minerals on the label.  Your body and hair still needs the support of a balanced, nutrient rich diet filled with omega 3s, dark leafy green veggies and of course water.  Make sure your water intake is the standard 8 glasses a day or more depending on your weight.  If you hate taking pills like me, consider taking one pill during breakfast and the second during lunch.
I continued my normal weekly regime of shampooing and deep conditioning my hair, business as usual.  I also continued to wear my hair in its naturally curly state only flat ironing twice just to check how my ends were holding up since the cut.  Although lightweight, the Mint Almond Oil worked great as a sealant for the LOC method when I twisted or rolled my hair.
Ingredients:
Vitamin B12, Niacin(vitamin B3), Vitamin C, Vitamin E, Vitamin A, Biotin, Copper, Folic Acid, MSM , Pantothenic Acid, Riboflavin, Thiamine, Zinc, Saw palmetto.
MSM is one of the major ingredients to note.  MSM is a naturally occurring sulfur found in many foods and believed to aid in the hair growth process.  Hair grows in three cycles: Growing, Resting and Shedding and your hair is in one of these 3 cycles at all times.  Although the rate of hair growth is genetically determined, MSM is said to help to increase results during the Growing Cycle.  According to Mielle Organics, MSM helps hair grow thicker and faster.  It revitalizes inactive hair follicles by increasing scalp circulation, removes toxins and assists nutrients like biotin, pentothal and calcium to build strong healthy hair.
 Noticeable Results:
Length: I didn't take exact measurements but I'll say my hair grew about an inch over the course of 6 weeks.  Referencing the picture above pay attention to the distance from my jaw line to collar-bone in order to see the difference.
Texture: As I continued to my normal regime I noticed that my hair was definitely thicker than before in its naturally curly and blown out state. My hair was also softer.  I can't say the thickness was explicitly due to the pills because of the cut I received prior to and my wide variety of products.  However, I will say I think the pills helped to increase thickness.
 Skin: Mielle Organics states the pills were formulated to support healthy hair without the breakouts and I'm happy to report I did not have any breakouts with these pills.  Yay!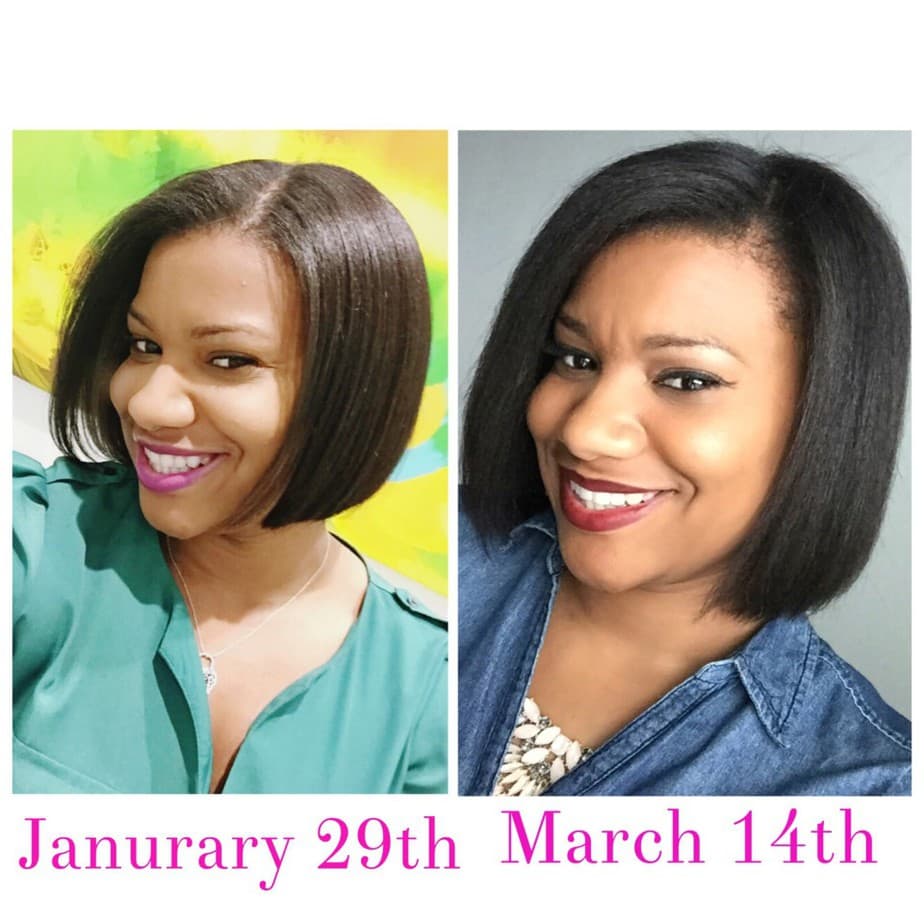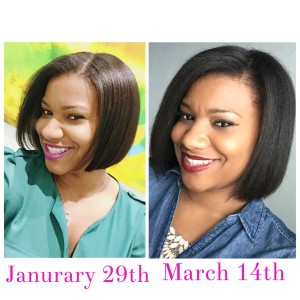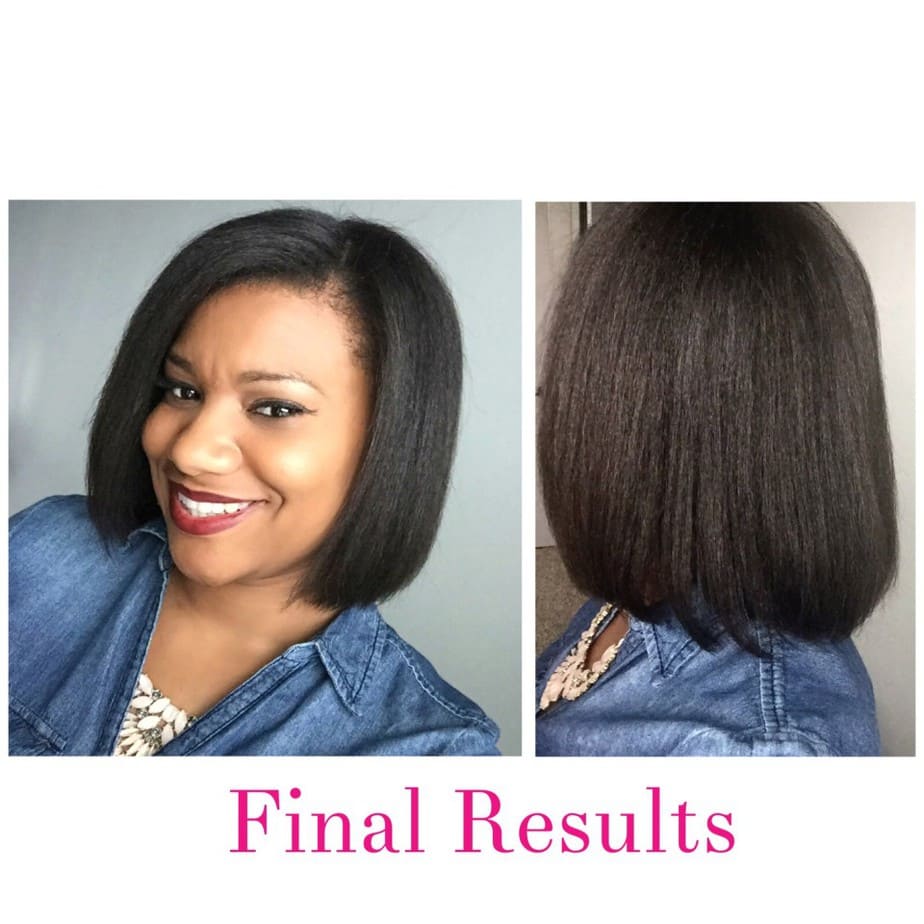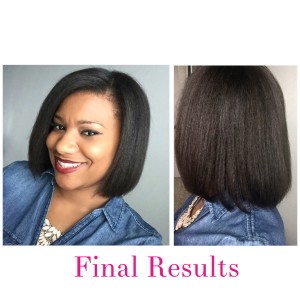 Overall Opinion 
[shopify embed_type="product" shop="textures-natural-hair-care.myshopify.com" product_handle="mielle-organics-advanced-healthy-hair-formula-vitamins" show="all"]
I've tried just about all of the hair growth pills including Hairfinity, IT Works Hair Skin and Nails, The Mane Choice and just simple biotin pills.  Although I never documented my journey with those pills I can distinctively feel and see a difference in my hair with the Mielle Organics Advanced Healthy Hair Formula vitamins.  If you're still on the fence about which pills to try, I'll say give these a try.  Mielle Organics also formulates healthy hair gummies for children just in case you want your little one to join the fun!
---
 Did you enjoy this article? Subscribe to never miss a post!
[mc4wp_form]
---