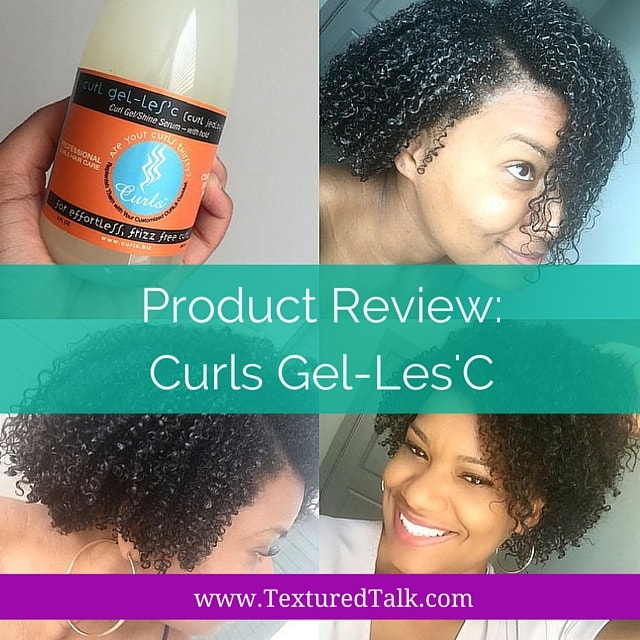 In April I received a surprise package from Curls for their new Curls Gel Les'C product.  Having worked with Curls before to help promote CEO Mahisha Dellinger's book tour here in Dallas, I was happy to further build a working relationship with a brand I admire.   As a result, my excitement of trying this product was at an all time high.  
Unfortunately, my hair was not "wash and go" ready.  What does that mean?  The biggest mistake I see a lot of women make is being under the impression a certain product will magically create curls.  Styling products like defining custards, curl creams and gels simply enhance the natural curl pattern you already have, not create curls.
Since I was in the process implementing my regime to improve my own curl problems, I decided to wait a few months before trying.  Fast forward to June and my confidence in my wash & go ready hair was at an all-time high!
Product Review: Curls Gel-Les'C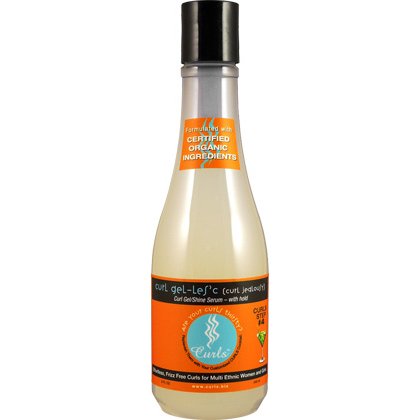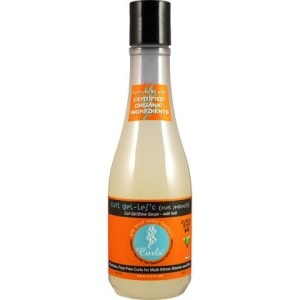 Product Claims:
Curls Gel-Les'C Curl Serum/Gel  – (Gel-like Silicone Free Serum Styler – Defines, defrizzes, and holds curls with sheen) This botancial based, organic curl enhancing, shine promoting styler is lightly scented with cucumber-melon and citrus. Great curl enhancing frizz fighting solution for all curly hair types and textures.
Ingredients:
Purified Water, Polyquaternium-11, Sorbitol, Certified Organic Aloe Barbadensis Leaf Juice, Polyquaternium-37, Vegetable Glycerin, Certified Organic Coconut Milk ( Cocos Nucifera Fruit Juice), Certified Organic Linden Seed Oil ( Tilia Cordata Flower Extract), Certified Organic Flaxseed Oil ( Linum Usitatissimum Seed Oil, Certified Organic Chamoile Extract (Anthemis Nobilis Flower Extract) Certified Organic Rosemary Extract (Rosmarinus Officinalis Leaf Extract), Phenoxyethanol, Caprylyl Glycol.
I love products with aloe vera juice so this was already a great sign!
Consistency:
As the product states, it's not quite a gel but it's not quite a serum either. Confusing right? The texture is very thin, but with great slip.  Upon first touching the product I thought it wouldn't work because it is extremely light weight and my hair usually responds well to thick and creamy products.
How I Used the Product:
The directions on the label state the following:  Apply Curl Gel-les'c to freshly cleansed/conditioned hair, while it is still wet.  Gently work through curls from root to end.  Allow to air dry.
The key for me was applying the product on SOAKING WET hair in the shower.  This step isn't required but worked best for me.
Here are the steps I followed:
1. Washed and deep conditioned hair.  Also used the ApHogee 2 Min keratin Reconstructor to help with elasticity
2. Applied the Curls Gel-Les'C in small sections on soaking wet hair in the shower
3. Used Deman Brush to clump curls and praying hands method to smooth
4. Applied leave in conditioner to each section also smoothing
5. Allowed hair to air dry for a few hours then I  diffused the hair to speed up the process.
Overall Results:
I have to admit my expectations were not high because I judged the product simply by its cover; however, I was completely wrong.  Although the thin consistency worried me, the product clearly defined my curls very well.  The key to a successful wash and go is how well the curls clump while still wet.  Each little section of my hair had its only curly party going on so I knew once it dried the curls would be amazing.  The best part is my hair did NOT dry crunchy and sticky. YES!  Later during the say once my hair completely dried my curls were soft, which is a major plus.  Overall, I say this product was a win.
Have you mastered the art of the wash and go? Let me know!
---
Did you enjoy this article? Subscribe to never miss a post!
[mc4wp_form]
---