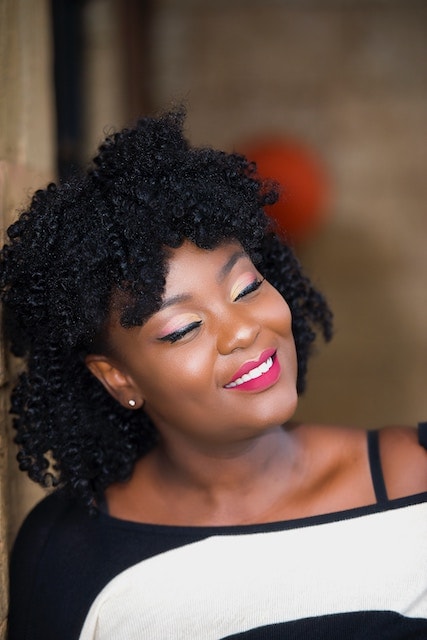 Finding great natural hair stylists in Dallas can be a pretty tough task, especially if you are new to the city. As a Dallas native and natural hair enthusiast, I've taken some time to put together this list to help all of you who are struggling to find someone.
Women ask me all the time the best place for someone to take care of their natural hair in Dallas. Through my personal experience and research here are 5 of the best natural hair stylists in Dallas that you need to know about today.
5 Best Natural Hair Stylists In Dallas
1. Tanya Steele
Location: Sola Salon Studios, 1106 W Arbrook Blvd #100, Arlington, TX 76015
I learned about Tanya Steele when she was at Huetiful Salon in 2015, which also caters to natural hair, and she has since opened her own salon studio. As a stylist with 30 years in the game, your natural curls are definitely in the most trusted hands in Dallas. Tanya helped me when I went through my No Heat Challenge in 2016 and continues to keep my hair in top shape to this day.
Whether you are looking for a bomb wash and go, twist out, or silk-press Tanya is definitely your girl. Recently, she started offering a cloud treatment which provides intense moisture for dry, thirsty curls. She's also the queen of color and will make sure your color dreams are supported by healthy hair first.
Tanya is always the first person I recommend for natural hair stylists in Dallas.
2. LaMonica
Location: 14902 Preston Rd Unit 506, Suite #19, Dallas, TX 75254
I first heard about LaMonica through another natural hair blogger friend in Dallas. She was responsible for giving her some amazing blonde highlights while still keeping the integrity of her natural curls in tact. At that moment I was hooked! Any stylist that can color natural hair without damage is certified Grade A in my book!
By perusing her Instagram you can tell LaMonica is well versed in just about any natural hairstyle your heart's desire can dream. She is also the owner of her own salon suites, SBL Salon Suites & Spa. As you can continue your search for natural hair stylists in Dallas, definitely keep her on your list.
3. Sesslee, Stylist & Hair Educator
With over a decade of experience, Sesslee has worked with major brands such as Sally's, Curls, and Silk Elements on advertising projects. Although Sesslee does not have a salon space anymore, her focus is now natural hair education which is just as important.
Sesslee provides hands-on natural hair workshops like Flat-Twisting 101 or Healthy Hair For Kids. I first learned about Sesslee at Huetiful salon as well. She also launched FLOURISH, her own line of natural hair care products. You can find her products and tickets to her next hands-on workshop on her website.
4. Haiya
Location: 3526 Cedar Springs Rd. Dallas, TX 75219
Haiya is another beloved natural hair stylist I found on Instagram due to some stylist stalking and through following other natural hair bloggers. Although I haven't tried her out personally, her work is undeniably good! Cut and color is her jam! (And you guys already know how I feel about stylists and color.
Haiya is a Bolivian and Cuban self-taught stylist with the unique gift of enhancing the texture her clients were born with. She developed her own technique while working on various hair types at high-end salons. Her calling came when she realized there were several curly-haired women that not only needed a quality cut but also guidance to maintain and understand the potential of their natural beauty.
5. Whitney Eaddy aka The Growth Guru
Locations: Frisco – 10050 Legacy Drive Suite #306 Frisco, TX 75034 & Dallas – 15203 Knoll Trail Dr #125, Dallas, TX 75248
I met Whitney once at a blogging event in Dallas and have watched her business expand and grow since then. Seeing her business, Her Growing Hands, take off has been amazing and watching the results she achieves for her clients is even better. She's coined herself The Growth Guru for a reason!
With 2 salon locations, one in Dallas and one in Frisco, Whitney's reviews at both salons are amazing. Whitney possesses a pure passion for healthy hair care and growth as she's solely helped several hundreds of women along their healthy hair journeys.
Services at the Her Growing Hands salon include a wide range of natural hairstyles as well as wig installation and wig maintenance.
Have you found other great natural hair stylists in Dallas? If so, drop a comment and let me know!