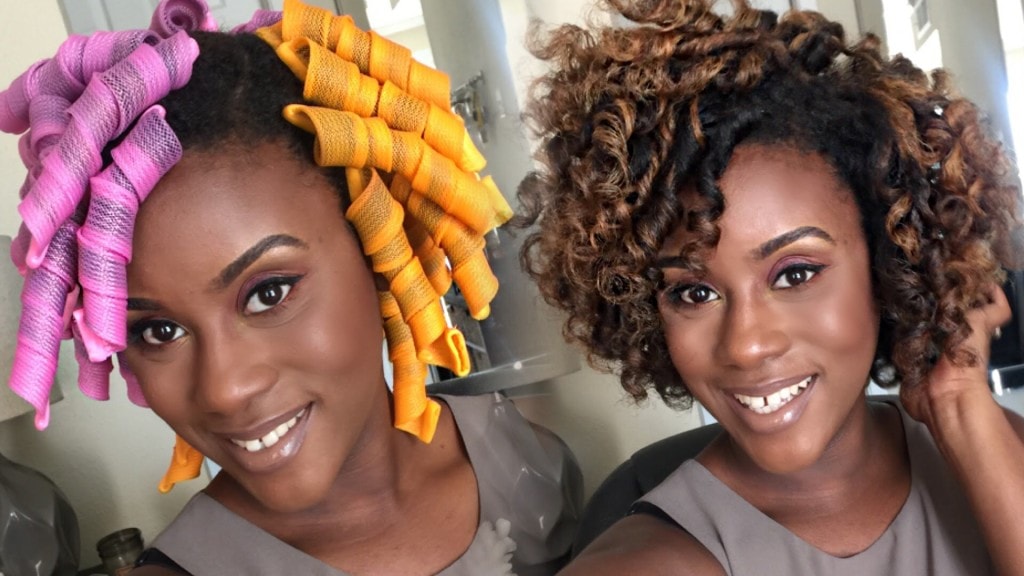 Photo: Courtesy of Helecia aka @IknowLee
Still haven't mastered the art of flexi-rods, twist-outs or perm-rods? Well, curl formers might be your saving grace to getting soft, heatless curls.  Curlformers hit the market a couple of years ago as an easy curly solution for all hair types.  However, some women haven't had much luck with the tricky installation.  As with anything, there is a learning curve involved.  Since my job is all about making your healthy hair journey as easy as possible, I've compiled the best tutorials illustrating how to install curlformers on natural hair and how to install them on multiple natural hair textures. But first, here is a list of all the items you will need and an overview of the pros and cons.
Pros:
Easy to install and a great way to achieve heatless curls
Great to use while transitioning if you are battling two textures – relaxed ends and natural hair growth
Quicker drying time compared to perm rods and flexi-rods
Easier to sleep with compared to perm rods and flexi-rods (although still quite annoying)
Take down time is faster than perm-rods and flex-rods
Cons:
Curls do not last as long as flexi-rods or perm rods  (in my opinion)
Requires lots of curl formers for a complete set
Application stick snags hair if not installed correctly
Expensive for a full set: Up to $60 via www.Curlformers.com but there are also knock-off brands you can try if you choose
What You'll Need To Get Started:
1 set of curl formers to fit your hair length.  There are 9 different sizes to choose among:

Super Long Spiral Curls
Extra Long Spiral Curls
Long Spiral Curls
Short Spiral Curls
Extra Long Barrel Curls
Long Barrel Curls
Extra Long Corkscrew Curls
Long Corkscrew Curls
Short Corkscrew Curls

Moisturizing leave-in conditioner of your choice
Foam setting lotion of your choice.  My favorite is Love Lotta Body Wrap Me Foaming Mousse or Cream of Nature Foaming Lotion but any style-setting product can get the job done
Light oil of your choice to separate and take down
About an 1- 1 1/2 hours of free time install
Patience if you choose to sleep with the curlformers overnight! Otherwise, a hooded dryer for quicker drying time.
How to Install Curlformers On Natural Hair:
1. If you haven't checked out Mini-Marley's You-Tube channel this is a great tutorial to get you started.  Plus she makes it look SO easy by breaking down each step with close up shots as well.
2. OK, just in case you didn't catch on in video #1, here is another detailed tutorial by Helecia also known as  @IknowLee on social media.  Helecia uses a foaming product for hold, which is suggested above at the beginning of this post.
3. Next, Tiff Stacy gives her 7 tips to know before installing curlformers.  This video doesn't show her installing the curlformers, however; her advice is extremely helpful.  You don't want to miss this video and should definitely watch before installing.
4. But will they work on 4C hair? Why yes! If you are wondering if curlformers work on 4c hair Just Me & 4C has the video for you.  Even she admitted to a little shock at her results.
5. And finally, AuCurls Naturelle shows us how to install curlformers on natural hair using the larger barrel curl size.  She's been using curlformers since her transitioning days and clearly still loves the look!
Have you tried curl formers before? Comment and let me know!
---
Did you enjoy this article? Subscribe to never miss a post!
[mc4wp_form]
---