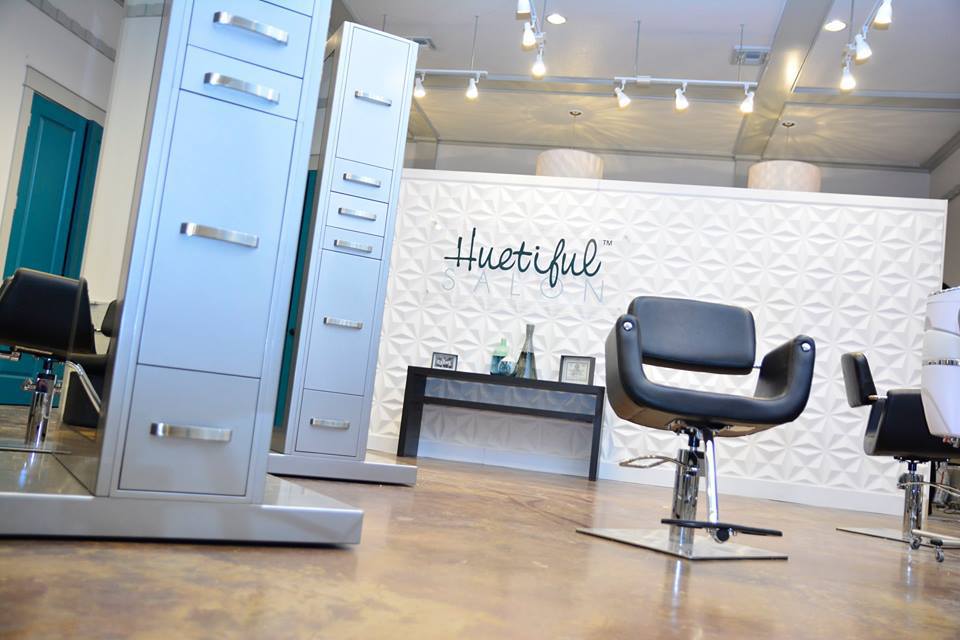 Ever have one of those moments where you fall so in love with a brand or product you will pretty much support whatever they come out with next? Well, that's exactly how I feel about Huetiful and their 3rd newest salon location – Huetiful Salon Dallas.  Located at 2410 W Abram St. in Arlington, TX,  the new natural hair care salon is well needed in the Dallas/Ft. Worth metroplex where catering to textured hair in salons are few and far in between.
If you are familiar with the Huetiful Hair Steamer, you will be even more excited to learn the salon comes equipped with a stronger, more powerful version.  The professional steam treatment is included with every service, further promoting the importance of moisture for textured hair.  Hair steaming allows up to 5 times more moisture to be infused into the hair than regular conditioners alone. Some of their services include:
Curly hair styles:  Bantu knots, twist-outs, finger coils, curly updos, braid outs, rod sets and wash & gos
Blow Outs + Huetiful signature nanoSMOOTHING Treatment
Hair Coloring Services
Hair Cuts &  Deva Cuts
Loc Maintenance
Prices vary for curly hair styles based on the amount of time needed. For example; how small or large you would like your twists, coils or bantu knots.  Also Read: 5 Reasons to Invest In A Hair Steamer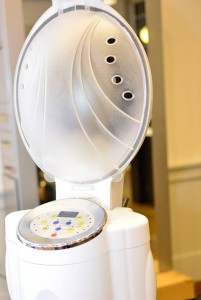 What sets the Huetiful Salon apart from others includes being open 7 days a week, appointments as early as 7 am and as late as 8 pm and there are no booth rentals.  Each stylist is part of the Huetiful team and company which resonates an extremely professional environment that also transcends into the hair care.  Appointments are booked and scheduled in a timely fashion (no double booking) therefore clients never have to wait.
I got a chance to meet with Huetiful founder, Ken Berkeen a few weeks ago with some other bloggers and he filled us all in on the foundation of Huetiful, why experienced stylists are the core of a successful salon and how he plans to change the way everyone approaches textured hair.  With a previous career at Proctor & Gamble, Ken always wanted to work in the hair care arena.  After his wife received an amazing steam treatment from a nearby salon, her rant review of how amazing this tool was for her hair set a light bulb off for Ken.  How could he package and make this readily available in every woman's home to promote healthy hair?
Ken's goal for Huetiful is to really transform the way people see and approach textured hair care.  When people ask if Huetiful is a black hair care salon is answer is always no.
"At Huetiful we don't see race or color, we see texture." – Ken

A few more details of today's style by @tanya_huetiful . This was the first time I let someone else flat twist my hair and trust me it was worth it!! Definition popping! ❤️❤️❤️ The only product used on this twistout was the Huetiful Foam Wrap Lotion and their silicone free finishing serum.
The Huetiful brand also includes a wide array of professional products including shampoos, conditioners, foam setting lotions and deep conditioning masks.  My personal favorite is the Huetiful Foam Wrap Lotion. When I say this stuff is GOOD…I'm not exaggerating.  Last week I booked an appointment with Tanya Steele at the Dallas/Ft. Worth location and she truly worked magic on my hair.  Determined to get a Deva Cut as a way to kick-start my year of no heat, I first had a consultation with her about the cut.  Tanya advised that if I wasn't going to wear my hair in its wash and go state majority of the time, then the Deva Cut wouldn't work well for me. Instead, she gave me a very well constructed  layered bob to help cut off the rest of my heat damage.  After blowing my hair out on low heat, she used the Huetiful Foam Wrap Lotion and a little of their finishing serum to install 9 flat twists. My results…amazing!
Even better, my appointment was at 9:30 am and I was leaving out the door at 11:30 am, with a full day to spare!
If you're a resident of the DFW area and have yet to find a natural hair stylist, I highly suggest you give Huetiful Salon a try! Book your appointment at huetifulsalon.com.
Huetiful Salon Photos by: I'sha Gaines of Honeybenatural.com
---
Did you enjoy this article? Subscribe to never miss a post!
[mc4wp_form]
---