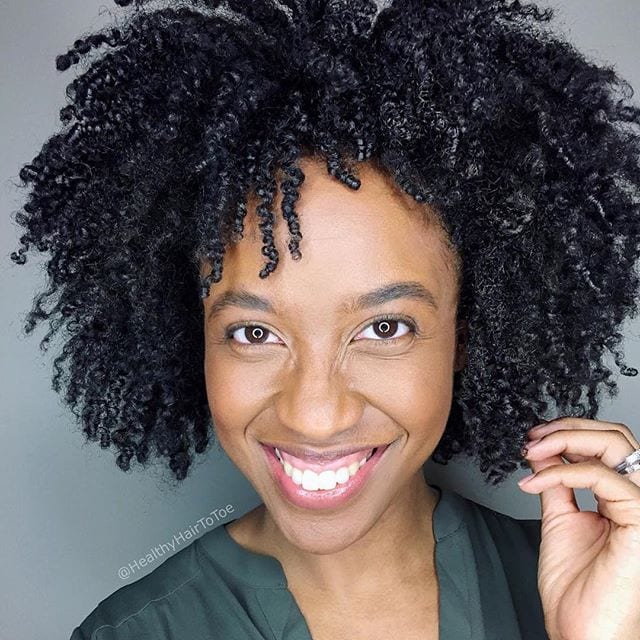 Photo: @healthyhairtotoe
Oh the amazing-ness of a great wash and go.  You sit on Instagram, scroll through all the pictures under the #washandgo hashtag and think to yourself, " I wonder if my hair will turn out like that?".  Wash and gos are seriously one of the hardest things to achieve on earth…in my opinion. Do I use a gel or a cream? Should the product be applied on soaking wet or towel dried hair? Do I rake or scrunch the product through? Oh the questions!
Luckily for you, I'm going to show you the easiest way to achieve a wash and go.  But first here are a few cardinal wash and go rules:
5 Rules to Achieving A Wash and Go Easily
1. Understand the term "wash and go" literally does not mean you can wash your hair, hop out the shower and keep it moving.  There are levels to this! Wash and go is simply just the term used to describe the style. Which leads us to number 2.
2. Work in sections. In order to make sure all of your curls are enhancing and clumping beautifully, you must work in sections. It is impossible to take one quarter size amount of product and expect it to work for your entire head.  Take each section and liberally apply the product of choice to your hair in order for your curls to clump. You will notice a big difference.
3. Understand what products enhance your curls the best. Gels, creams, custards, mousses, serums. Each serves a unique purpose depending on your texture.  The best way to know is trail and error.
4. Apply product strategically.  Decide if your hair best responds to products applied with styling tools like a Denman brush or if using just your hands and fingers will work.  Each method yields different results.
5. Be patient and allow ample time to dry.  Whether using a diffuser to dry or air drying your wash and go, this is the most important step. Try not to manipulate the hair while the product is setting and drying to form the curls. Disturbing your hair at this point will only cause frizz.
Now, of course, an instructional post wouldn't be complete without a video tutorial! Below Liane of @chronicurls provides the easiest way I've ever seen for perfect wash and go results.  What I loved the most is the easy, non-messy approach she used for styling.
After shampooing, the decided to re-saturate the hair with a spray bottle vs. tackling this style in the shower, which we know can get a little messy.
Wash & Go Friendly Products for You to Try:
Eden  Body Works Natural Curling Jelly
Aunt Jackies Flaxseed Elongating Curling Gel
For more wash and go tutorials also check out Best Wash & Go Tutorials.
Need help growing healthier, longer hair? Check out the Healthy Hair Growth Guide. 5 simple steps to grow and retain lentgh for the hair you want.
[shopify embed_type="product" shop="textures-natural-hair-care.myshopify.com" product_handle="healthy-hair-growth-book" show="all"] [shopify embed_type="product" shop="textures-natural-hair-care.myshopify.com" product_handle="the-ultimate-healthy-hair-regimen-guide" show="all"]
---
Did you enjoy this article? Subscribe to never miss a post!
[mc4wp_form]
---