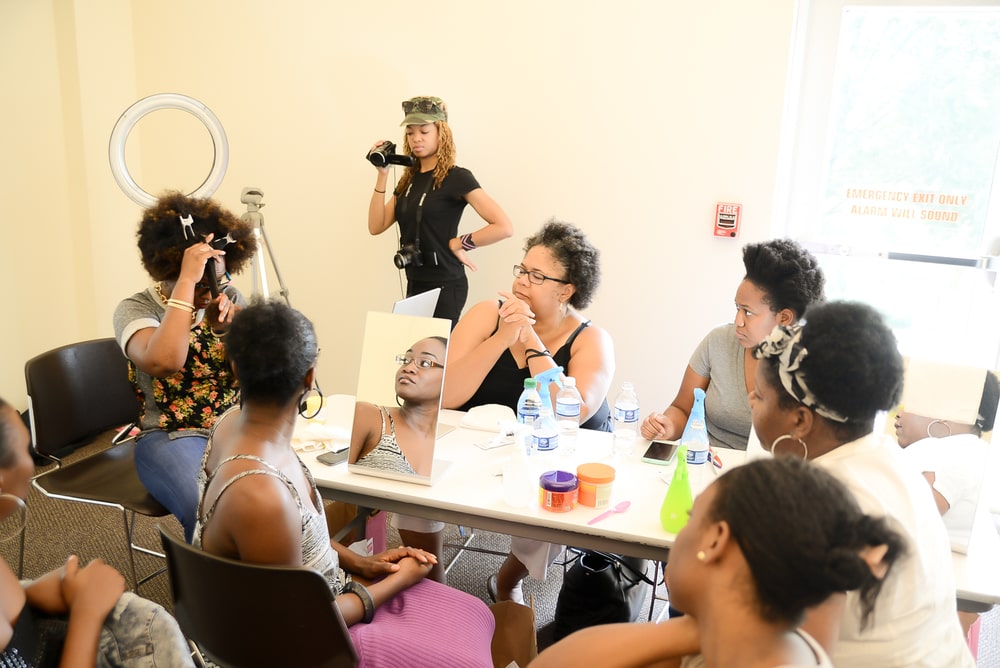 More than likely if you have been natural for a few years by now you have attended a few natural hair events. Honestly, it's one of my favorite things to do simply because I can talk about hair all day. Natural hair events have actually become a running joke among my friends when someone asks about my weekend plans.  "What natural hair event are you going to this week?".  I laugh it off because if I'm not attending an event, chances are I'm speaking on a panel.  Here's 5 things I've learned and taken away from attending natural hair events and how you can leave with more than just hair tips at your next event.
5 Reasons to Attend Natural Hair Events
 1. Hands on natural hair education and advice
The primary reason a lot of natural hair events are created is to bridge the gap between what you see online with bloggers and how to apply these skills to your unique hair texture.  Events are filled with demonstrations, question and answer segments and sometimes in person natural hair styling. If you are newly natural or transitioning, natural hair events can help answer your post pressing questions.
Natural Hair events are great for networking with CEOs and founders of your favorite natural hair care brands.
2. Opportunity to connect with brands and brand owners
Have you been admiring a product or brand owner waiting for your chance to get to talk to them? Natural hair events are perfect for that just that! Even if the CEO and founder of your favorite hair care company is not there, a brand rep will usually be present. Use this time to ask specific questions about the product, their passion for starting or as just a simple thank you.
3. Meet other naturalistas and expand your support group  
When I first moved back to Dallas, I had maybe two friends I could call up to hang out with. Within the first month, I attended a natural hair event and connected with so many new people. Almost 2 years later that connection matured into bond with a group amazing women who continue to support my efforts. If you are also new to city, use natural hair events as a way to meet new people and form a support group of like-minded women.
4. Free products and samples
Who ever said going natural was easy, lied! However, natural hair events can at least save you a few dollars through the free products and samples most events give to guests.  A lot of times swag bags for guests will even include full-size bottles and styling tools.
5. Expand your network as a blogger/vlogger
Looking to build your audience and expand your network as an up and coming blogger? Natural hair events are the perfect way to also connect with other bloggers for collaborations and brands as mentioned before.  Let your face be known, especially by local women in your area. They, more than likely, will be the first people to support you once an in-person connection is made.
Upcoming Dallas Events I'm Attending & Speaking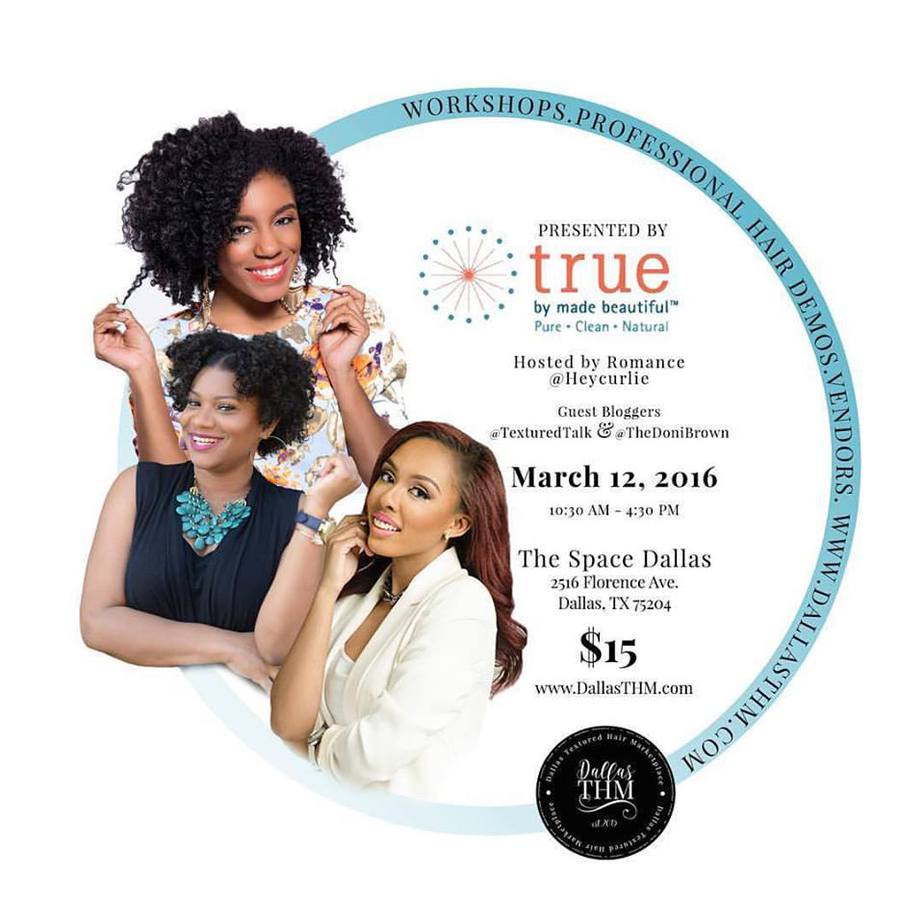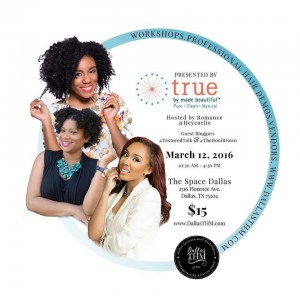 Dallas Textured Hair Market Place – March 12th, 2016 & every second Saturday
I'm on the panel for this event and I couldn't be more excited! The Dallas Textured Hair Marketplace was uniquely created with you in mind. Started by Julian Addo of Bella Kinks, its aim is to truly gather the local natural hair community together 8 times a year, every 2nd Saturday from February – September, to bring you direct access to educational workshops, leading industry brands that cater to natural hair, cutting-edge and fierce content creators and highly sought after natural hair professionals.  RSVP at http://www.dallasthm.com/.
And most exciting, the Pop-Up Shop for TEXTURES Natural Hair Care will be in full effect for you to shop your favorite products.
Luster's Pink Oil Hosts Dallas Pink Palooza! – March 14th, 2016
The highly recognized brand African-American owned hair care brand is taking their show on the road with a "Pink Palooza" event of 2016 on March 14th at the Brickhouse Lounge in suburban Dallas. Their guests will be able to celebrate the launch of their highly anticipated new hair care line which also includes, natural oils and refreshed packaging of the traditional Pink products.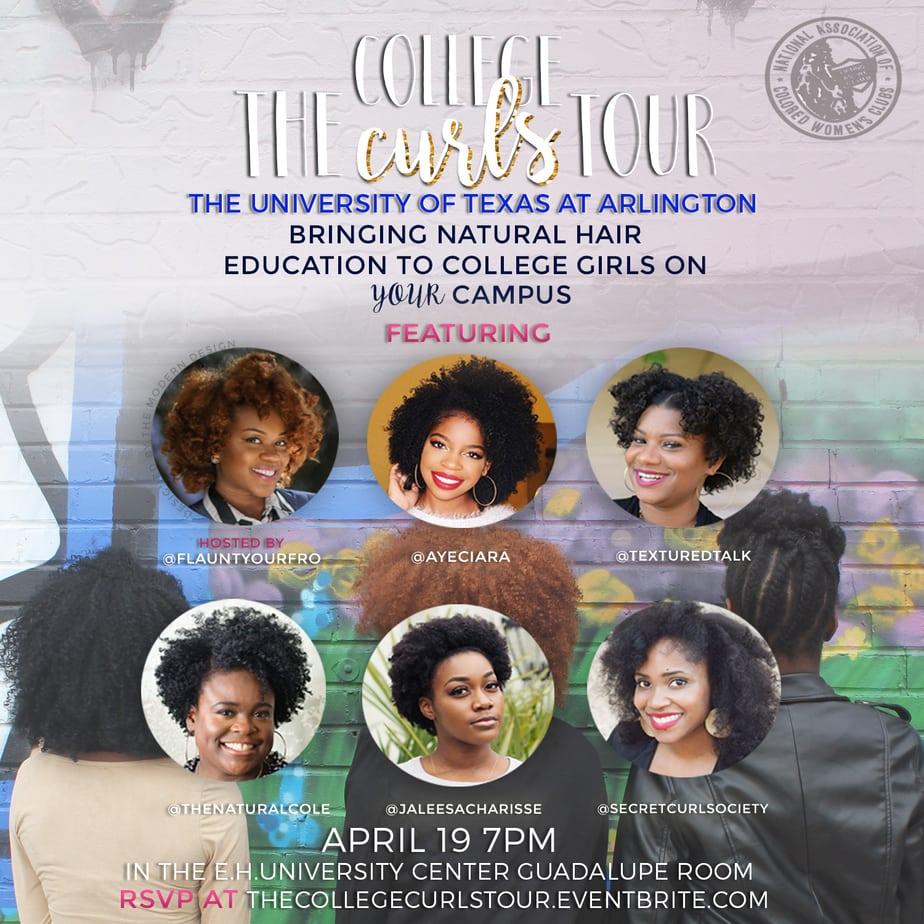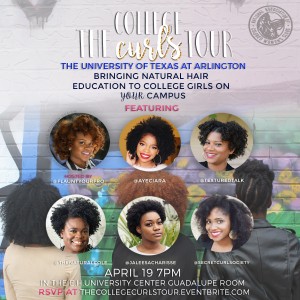 The College CURLS Tour – April 19th
Flaunt Your Fro presents The College Curls Tour's, first destination at the University of Texas at Arlington.  Including myself, featured on the panel includes creator and host of The College Curls Tour as well as natural hair blogger and college curlie Marrica Evans (@FlauntYourFro), natural hair enthusiast and college curlie Ciara (@AyeCiara), natural hair educator and creator of My Natural Hair: A How To Event Cole Patrick (@TheNaturalCole), natural hair enthusiast, college curlie, and blogger Jaleesa (@JaleesaCharisse), and CURLS educator Janelle Sands (@SecretCurlSociety).
Enjoy sponsored swag bags thanks to Curls, TGIN, Uncle Funkys Daughter and more. RSVP: thecollegecurlstour. eventbrite.com
My Natural Hair: A How to Event by The Natural Cole – April 2016
My Natural Hair: A How to Event is a unique hands-on experience teaching women how to style YOUR specific natural hair. Each attendee is asked to come with freshly washed and detangled hair and are placed at their styling station with personal mirror, styling tools and bag full of products from over 10 brands.  Visit http://thenaturalcole.com to stay updated on the date in April.
Have you attended any natural hair events? What was your favorite?
Photo credit: Honeybenatural.com.
---
Did you enjoy this article? Subscribe to never miss a post!
[mc4wp_form]
---