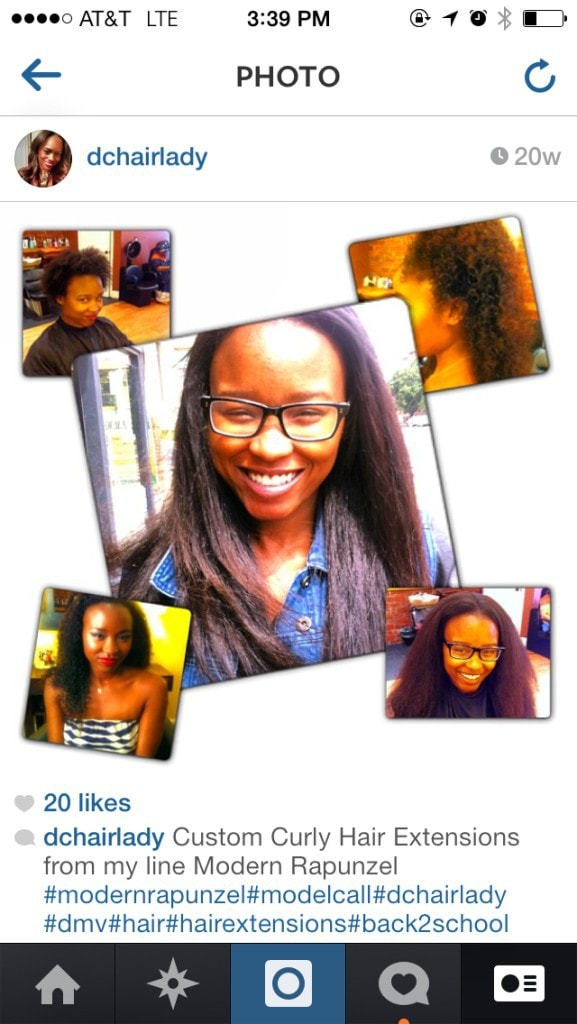 If you are a "new natural" by now I'm pretty sure you've figured out the natural hair game is no joke.   As I mentioned in a previous post about the top 5 things I wish I knew before going natural, maintaining your hair is a LOT of work.  And although twisting, braiding, rolling, and pinning your hair produces amazing styles there is a such thing as over manipulation, which can lead to breakage, thinning and overall damage (I was a victim of this).  Transitioning can be an extremely frustrating, so much that several women just throw in the towel and quit.  Don't give up, we've all been there!  Instead, find a great protective style to help with the process.  One of the most popular and successful protective styles: a sew-in weave!
Transitioning with a sew-in weave as a protective style can produce amazing results, however; there's a wrong way and RIGHT way to transition with a sew-in.  Having my experience with transitioning the WRONG way, (I once left a sew in weave in my hair for 3 months…don't ever do that!), I thought it would be very helpful for you to know the proper way to transition before you jump head first into this process.  I've partnered with my long time friend and personal stylist Marissa Robinson of Bill Lawrence Salon in Washington, DC to give her professional tips, asking her the top questions I think are imperative to know while maintaining this style. Enjoy!
How to Properly Transition with Sew-in weaves
Textured Talk: What's the maximum amount of time someone should leave a sew-in installation in their hair?
Marissa: Even though your hair extensions might stay intact after 2 months it's highly recommended that they are removed in 8-10 weeks.  Getting accustomed to wearing hair extensions may give false comfort, your hair IS growing underneath and you don't want the weight of the hair extensions to cause tension, damaging your mane.
TT: How can the hair remain moisturized and healthy while transitioning with a sew-in?
M: The key to keeping your hair healthy while wearing hair extensions is to make sure it's healthy before your install.  Getting regular steam/deep conditioning treatments prior to and during your install accompanied by a trim will preserve your healthy hair and encourage growth.  If your hair is weak consult a professional hairstylist about protein treatments prior to installation.  Setting a healthy hair foundation maximizes healthy results.  Also during installation, braiding the hair with anti-fungal oils such as carrot, coconut or tea tree oil to promote growth is a healthy option.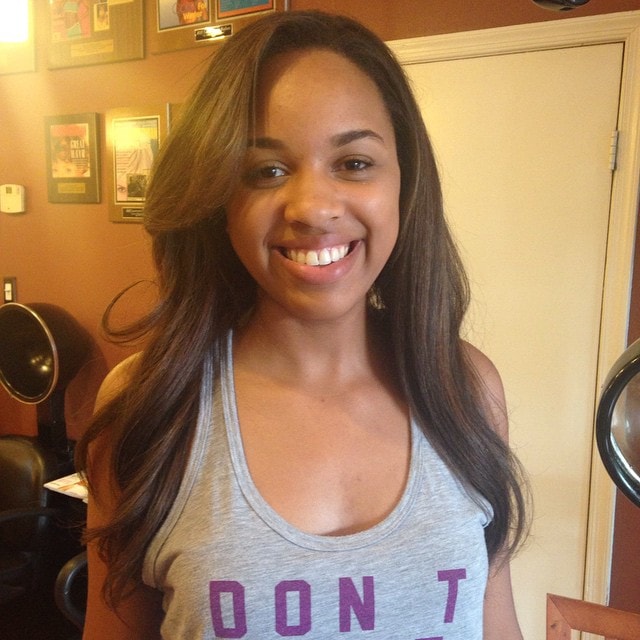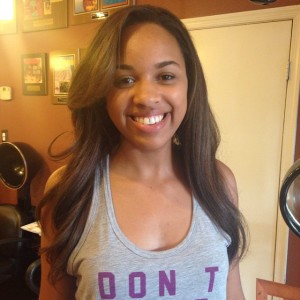 TT: Speaking of moisture, what is the proper way to wash the hair while maintaining a sew-in style?
M: To properly shampoo your hair, you first want to examine the foundation.  Getting familiar with your new hair before it is wet will give you a clear understanding of where to place your hands when shampooing.  Once you've identified where your scalp is, palm your head with both hands, insert your fingers where you feel your scalp and proceed with a clarifying shampoo massaging thoroughly back and forth.  Using clarifying shampoo will cleanse the extensions and your scalp of build up that weighs the hair down and causes scalp odor.  You can use also use it on your hair at least one time followed with whatever your hair needs (moisturizing, therapeutic or a normal shampoo).  The biggest difference between what you  normally do is that you are not moving your hands in a vigorous motion, this will dismantle your installment. Conclude each shampoo with a thorough rinse between each track. Shampoo 3 times and conditioner in extensions is not always necessary (based on texture and desired style) but primarily focus on your hair.
TT: What are some best practices for the hair "breathing" period in between new installs?
M: Once hair extensions are removed, it's important to let the hair breathe.  Following up with a steam/deep conditioning treatment, and a trim, a blow out or any tension-free style is greatly advised.  This allows rest from the weight of the hair extensions on your new growth, circulation, and moisture from the steam/deep conditioning treatment, and starting fresh and clean with the shape and texture from the trim.  Once hair has remained dormant for 8-10 weeks, it grows out of the last shape and into a new one, creating density due to length and creating more coarse hair because of the braids.
TT: What can women do to blend their "leave-out" without heat damaging the hair?
M: Blending your hair with extensions is easiest when you choose a texture that compliments your own.  Have a consultation with your stylist, before your service and request to have the least amount of your hair out.  Choose a stylist that is knowledgeable in the service you desire and they will give you options in texture and installation to customize the most natural look for you.  When styling your hair at home only use heat on your hair after it's been freshly shampooed and conditioned.  The constant use of heating tools on unclean hair will cause damage.  Once your hair reverts and you need some help blending, go to your products and accessories.  Use an edge control in either an oil base or matte finish (depending on the desired look), along with a scarf to tame unruly edges.  Also, you can use hair accessories such as head bands, scarves, novelty hair pins to add variety to your style.  Adding pretty hair pieces can not only hold hair in place (alone or with the help of a small twist or braid stretching the edges without heat) but they add style to your coif redirecting the focus to your overall look.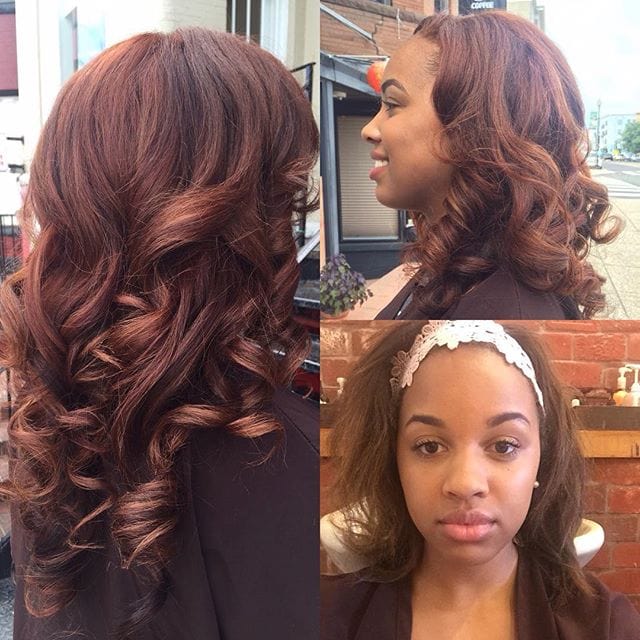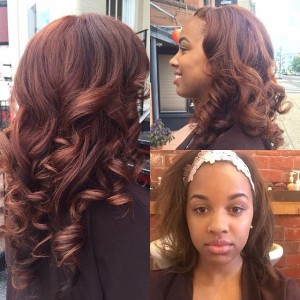 TT: And finally, what's the best way to protect your precious edges while wearing a sew in?
M: The best way to protect your edges is to wear a closure.  If you are not a fan of the closure make sure you properly communicate your concerns with the stylist to rotate the ways your hair is installed, so you're not creating tension on the same areas.  Use a leave in conditioner as well as deep conditioning while you have extensions to keep the edges moisturized.  Practice great healthy hair habits as mentioned above ( no constant reuse of heat).  Sometimes give your edges a break and wear a textured style by braiding the weave with your hair to create a desired texture. Last but not least try a bang, a great face framed cut with a bang always serves style and shows no edge in sight, while still giving a natural appearance.
Thanks so much Marissa! You can also find Marissa on Instagram at @dchairlady.
---
       Marissa Robinson is part of the highly skilled and gifted team at the Bill Lawrence Salon in Washington, DC. She has become a trusted authority on beauty, a texture expert and natural hair care specialist, with extensive training in colors, cuts, updos, make-up and hair for television and film, and hair extensions.  Marissa pursued her craft under the phenomenal tutelage of the AVEDA Institute, furthering her skills a student in the Vidal Sassoon Academy in London and Advance Haircutting study with Gary Gerard at the International Beauty Show in Las Vegas.  Featured in Essence and Ebony magazines for New York Fashion Week, Marissa counts Comedian and Actress Sherri Shepherd among her clients, which include Washington, D.C.'s movers and shakers.  Marissa takes great pride in achieving the power of the makeover for her clients. "I love the beauty in a makeover, from cuts to color to texture transitions, the ability to transform a client's outlook about themselves is nothing short of amazing!"