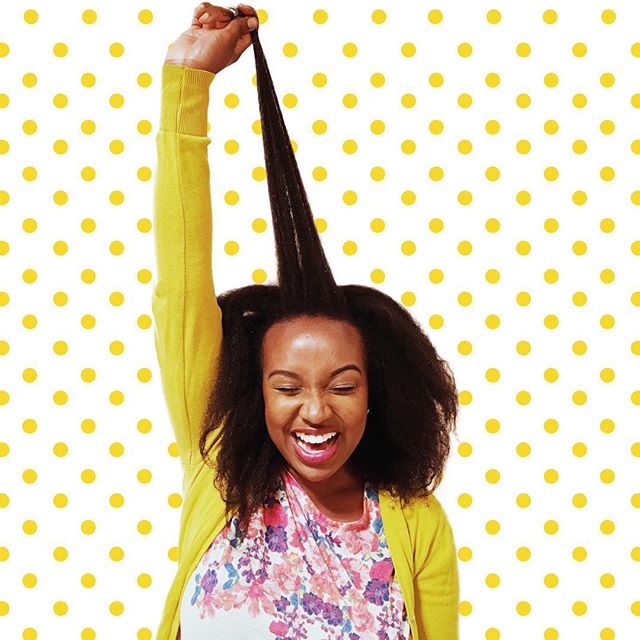 Featured Photo: @Cravingyellow
Have you been trying to figure out the best ways to stretch natural hair without heat? Of course, every girl loves her natural curls but stretching your hair before styling can result in a totally different look.  The problem most women fear; however, is heat damage! Growing out heat damaged hair is the most annoying thing I've ever experienced in my natural hair journey.  Eventually, I cut the remaining damaged ends but, that option is off the table for a lot of women.  As a result, here are a few cool ways you can stretch your hair without heat the next time you're about to style your hair.
How to Stretch Natural Hair Without Heat
The Banding Method:
Probably the easiest way to stretch natural hair, the banding method consists of placing a hair tie or stretchable hair band along sections of your hair to elongate your curls.  This method is best used while the hair is still wet because your hair is in a state where it can be easily manipulated.  The below video by Curly Twirls has the step by step instructions.
2. The Braidout Method:
The braid-out method is hands down my favorite way to stretch my natural hair without heat.  Not only does it give me more curl definition compared to a twist-out, my braid-outs also last longer.  The braid-out method is also a style I feel almost any woman can do, unlike a flat twist, which can be a little complicated.
3. The CWK SSS Plates:
You may have seen these floating around on Instagram and wondered what they were all about. CWK Girls offers multiple ways to stretch your hair and curls without heat.  Although from first impression it seems complicated, Naturally Elite's review below demonstrates the ease of use and installation.
4. African Hair Threading Method:
One of the most interesting methods I came across is the African Hair Threading method.  Similar to the banding method, but on a smaller scale, the African threading method allows for a safe way to stretch natural hair without heat as well.  Some have suggested using authentic African thread; however, I believe regular thread will work just as well.  Be prepared however because the process is very time-consuming.  Follow along with Lulu as she takes you through her method.
If you're looking for more ways and tips to reduce heat on your natural hair, don't forget to join my No Heat 2016 Challenge!  What's your favorite way to stretch natural hair without heat?
---
Did you enjoy this article? Subscribe to never miss a post!
[mc4wp_form]
---