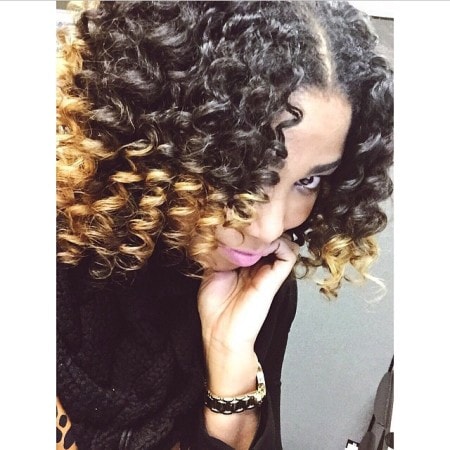 If you've ever tried to install flexi rods on natural hair you know they can either be a girl's best friend or her worst nightmare. However, if you want to achieve amazing flexi-rod results on natural or transitioning hair there are a few golden rules to follow and a few things to focus on for this style.
Flexi Rods On Natural Hair: What To Know Before You Start
 1) Flexi rods on wet natural hair vs dry hair
Most recommend starting with dry, stretched hair when installing flexi-rods.  Not only does it make the installation process a little easier, but it also cuts the drying time in half.  
When you install flexi rods on dry hair it allows the final style to be longer as the hair is already stretched. You will also use less product when installing flexi rods on dry hair or hair that is stretched or blown out.
If length is not a concern, starting with wet hair is still a great option. Installing flexi rods on wet natural hair enables the style to last longer.
The only downside is a longer drying period if you choose to begin with wet hair. Most of the time you need to sit under a dryer for at least an hour.
2) Products & Application
I've watched a lot of videos and the best results when installing flexi-rod on natural hair are those that include a water-based product such as a foaming lotion or gel, followed by a cream or butter product, which works as a sealant.
Some product combinations are Carol's Daughter Nourishing Hair Milk Styling Foam or Eco Styler Gel partnered with Carol's Daughter Hair Milk or Karen's Body Beautiful Hydrating Cream.
Another water-based option is using a leave-in conditioner to keep the hair moisturized.  There are several product combinations to use, so feel free to try whatever products work best for you.  
Also be sure to distribute evenly on each section, raking the products through with a comb or brush.
3) How to use Flexi Rods: Technique & Drying Time
For technique, there are 2 options.
The traditional rolling of the hair on the flexi rod from end to root
Twist and roll option.
Both flexi-rod techniques are shown below. The most important tip of all is allowing the hair to dry COMPLETELY. When the hair is fully dry the curls last longer and you can reduce frizz. And who doesn't love a style that can last for days?
Check out the amazing flexi-rod tutorials below for more detailed instructions…
1. First up, great video by Mini Marley for installing flexi-rods on transitioning hair.
2. Second, vlogger favorite Sumetra Reed illustrating the most common technique, rolling the hair slowing up the flexi-rod from end to the root.
3. And of course no tutorial list is complete without a little Naptural85! Perfect for longer hair and she's also using what she calls the "cheat" technique by rolling and twisting the hair from end to root.
Which method works for you?
---
Featured Photo Credit: Instagram @JardanP