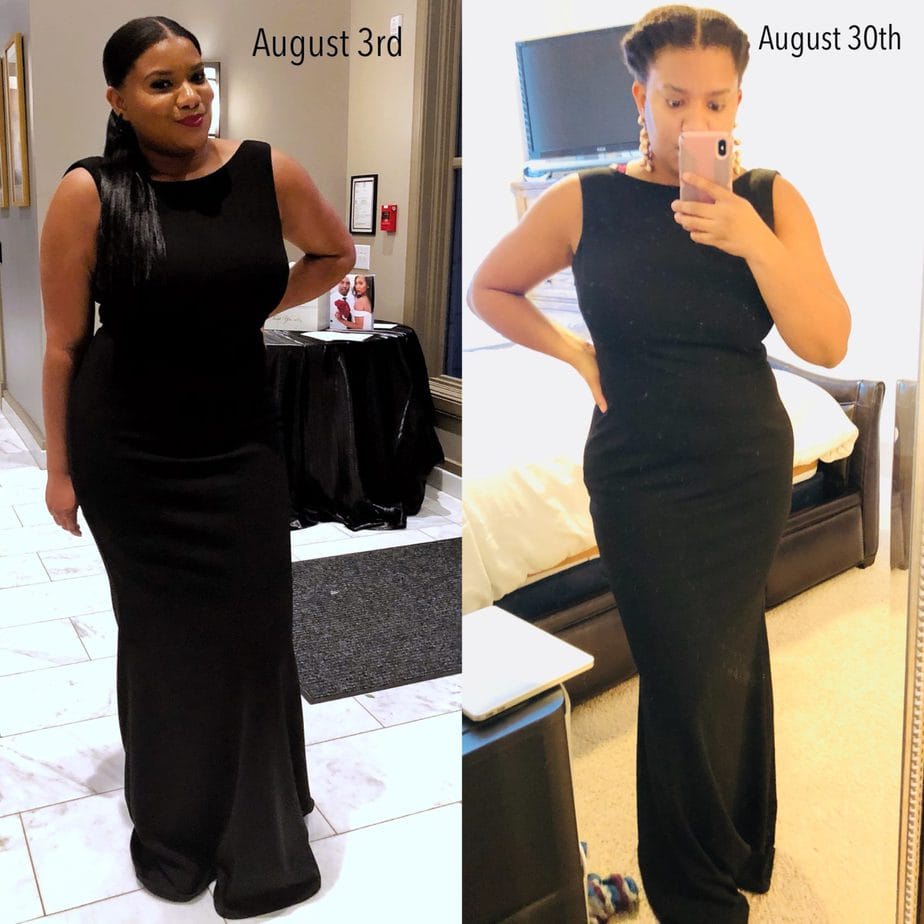 If you read my previous fitness post you will remember I talked about intermittent fasting and how it's been a huge impact on my fitness journey.  Well, today I'm here to go into a little more detail and give my opinion on what works and what absolutely does not work.  If you have heard of intermittent fasting but not sure if it is for you, then you have come to the right place.
Intermittent Fasting for Beginners: Dos & Donts For Success
First, let's get clear on the definition of intermittent fasting.  Intermittent fasting is an eating pattern where you cycle between periods of eating and fasting.  This method doesn't specifically restrict the things you can eat, but the number of hours instead.
For example, I'm currently on the 16/8 plan.  This means I eat for 8 hours of the day between the hours of 12 PM – 8 PM and fast for the next 16 hour between 8 PM and 12 PM going into the next day.
Does the 16 8 diet really work?
So what about the morning breakfast you ask? The underlying idea is for the body to burn more fat during the 16 hours of fasting/ non-eating.  Because you are only eating between a certain number of hours, it is important that you follow a few key rules to survive.
DOs:
DO drink tons of water to stay hydrated.  Dehydration can often be mistaken for hunger. Stay hydrated to help within the first couple of days
DO load up on slow-burning vegetables.  This will help with keeping you full during the 16 hours of fasting/ non-eating
DO meal prep and eat every 1 1/2 –  2 hours.  Below is what a typical meal day looks like for me:

12:00 PM Breakfast
1 :30  PM Snack
3:00   PM Lunch
5:30   PM Snack
7:00   PM  Dinner

DO take a daily multivitamin, preferably with fiber.  My favorite vitamin currently is SmartyPants Vitamins Adult Complete and Fiber.
Don'ts:
Don't start your first meal of the day with a sugary breakfast.  Avoid bagels, donuts, muffins, etc.  Most people are trying out intermittent fasting as an option to drop a few pounds. The same healthy eating habits apply to intermittent fasting.  Opt for a high protein, low-fat breakfast instead.
Don't surround yourself with people not supportive of your plans.
Don't think that the fasting hours mean you can't consume liquids.  While on the 16-hour portion of the fast you are allowed to have tea, coffee, and water of course etc.  Some plans allow you to have a protein shake following a workout.
How much weight can you lose in a month with intermittent fasting?
In the first month, I lost 6 pounds working out and intermittent fasting.  In month 2 I lost an additional 5 pounds!  Please note I also worked out 4-5 times a week during this time which I talk about more on my Instagram.
My workouts were already pretty intense. My gym focuses on small group personal training with HIIT workouts and stregntgh training.  We do a little cardio within the workouts, but strength training had a huge part in my workouts.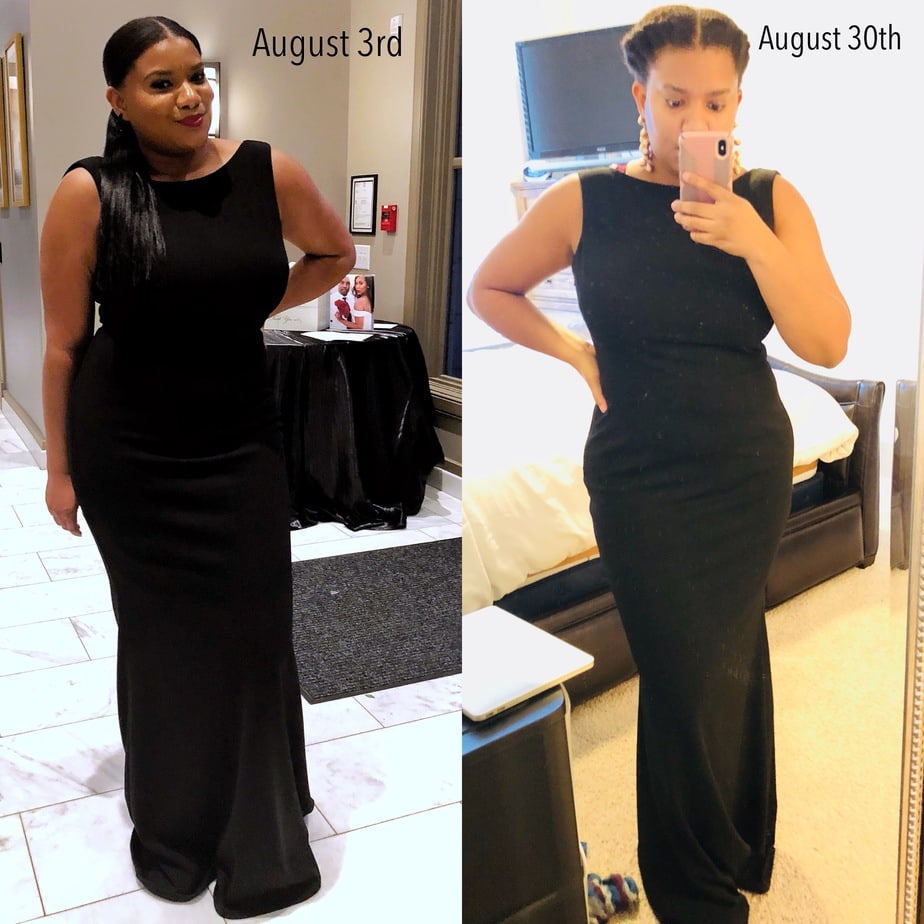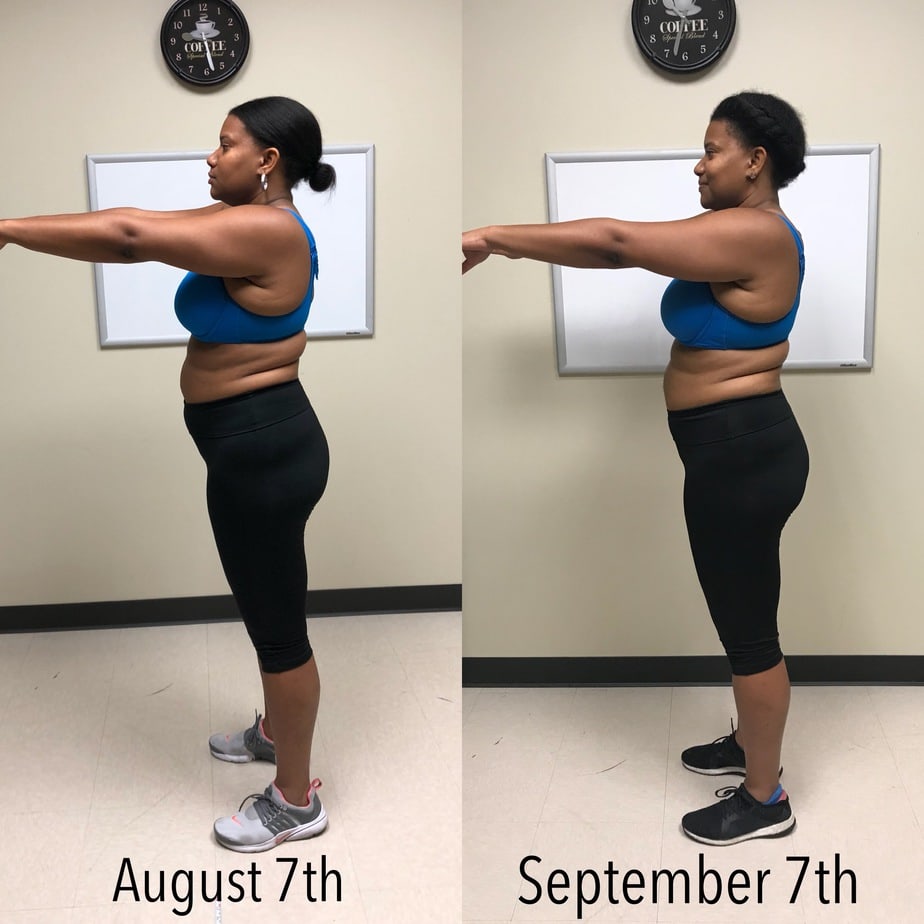 The comparison photos above doesn't look like a drastic change but even a small change is a good start. Also I want to be realistic. Eventhough I was working out 4-5 times a week and fasting the photos may not seem like a huge change but my fat mass and lean mass definitely saw the results!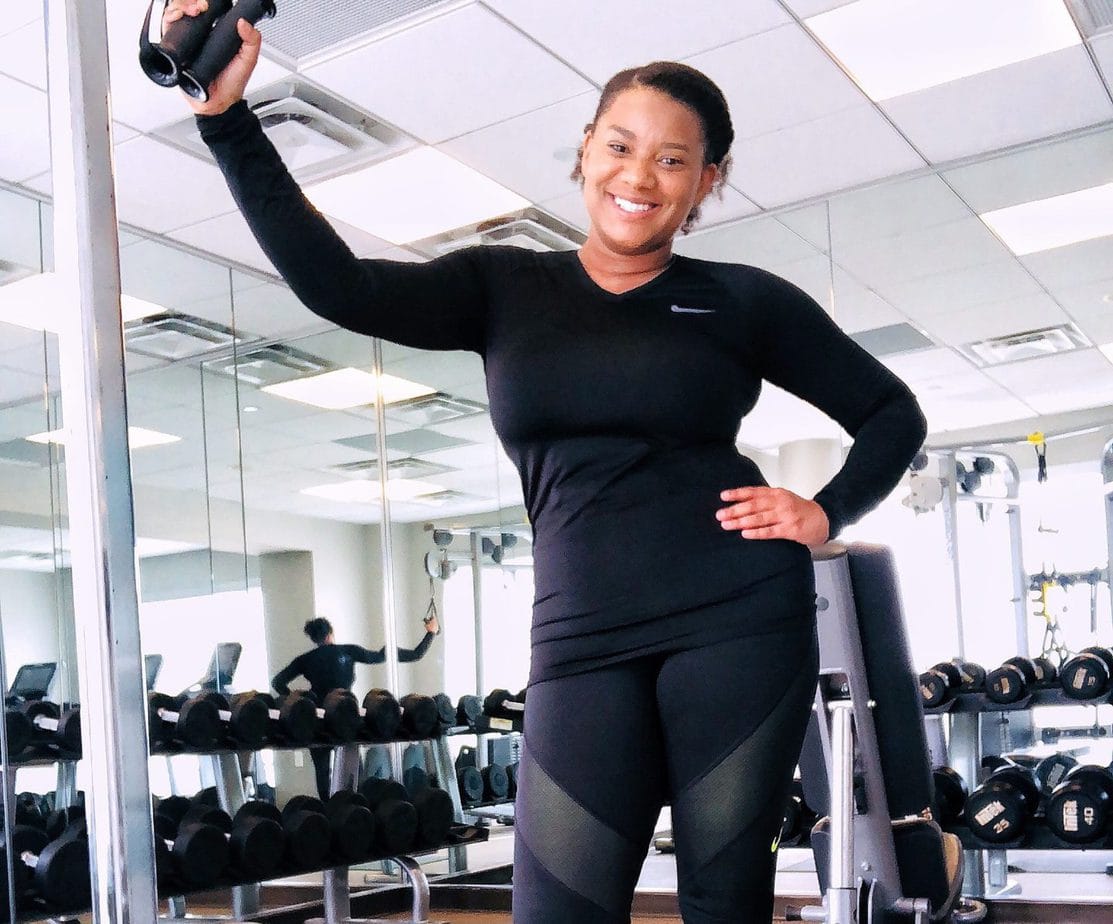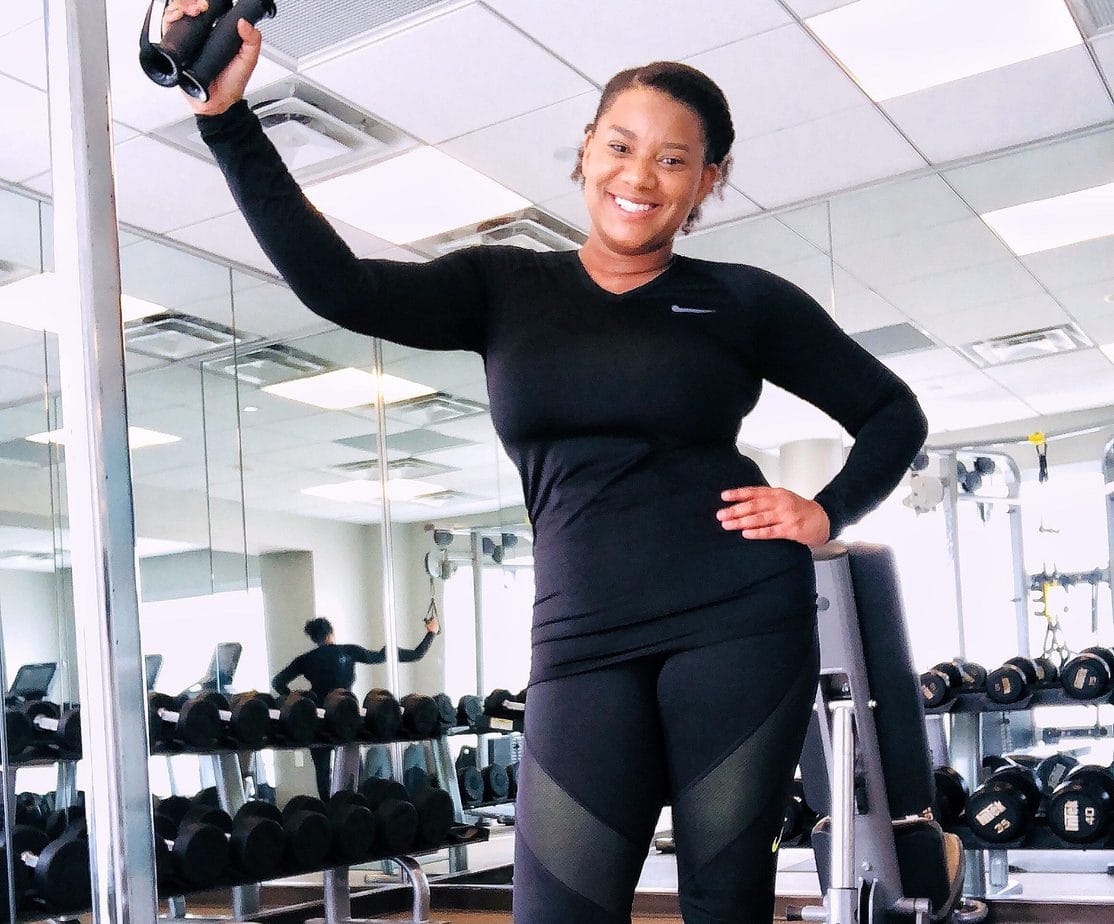 Although it might be difficult when first starting if you stick with it, I think you will love intermittent fasting.  It takes a while to get used to but eventually it just becomes part of your normal routine.
Eating breakfast at noon and finishing up with dinner is totally normal to me now.  Stay hydrated friends!
Have you tried intermittent fasting? How were your results? Comment and let me know!
PIN  IT  & SHARE
---
Interested in staying in the loop? Drop your name below to keep  up with what's going on with me!
[mc4wp_form id="3874″]