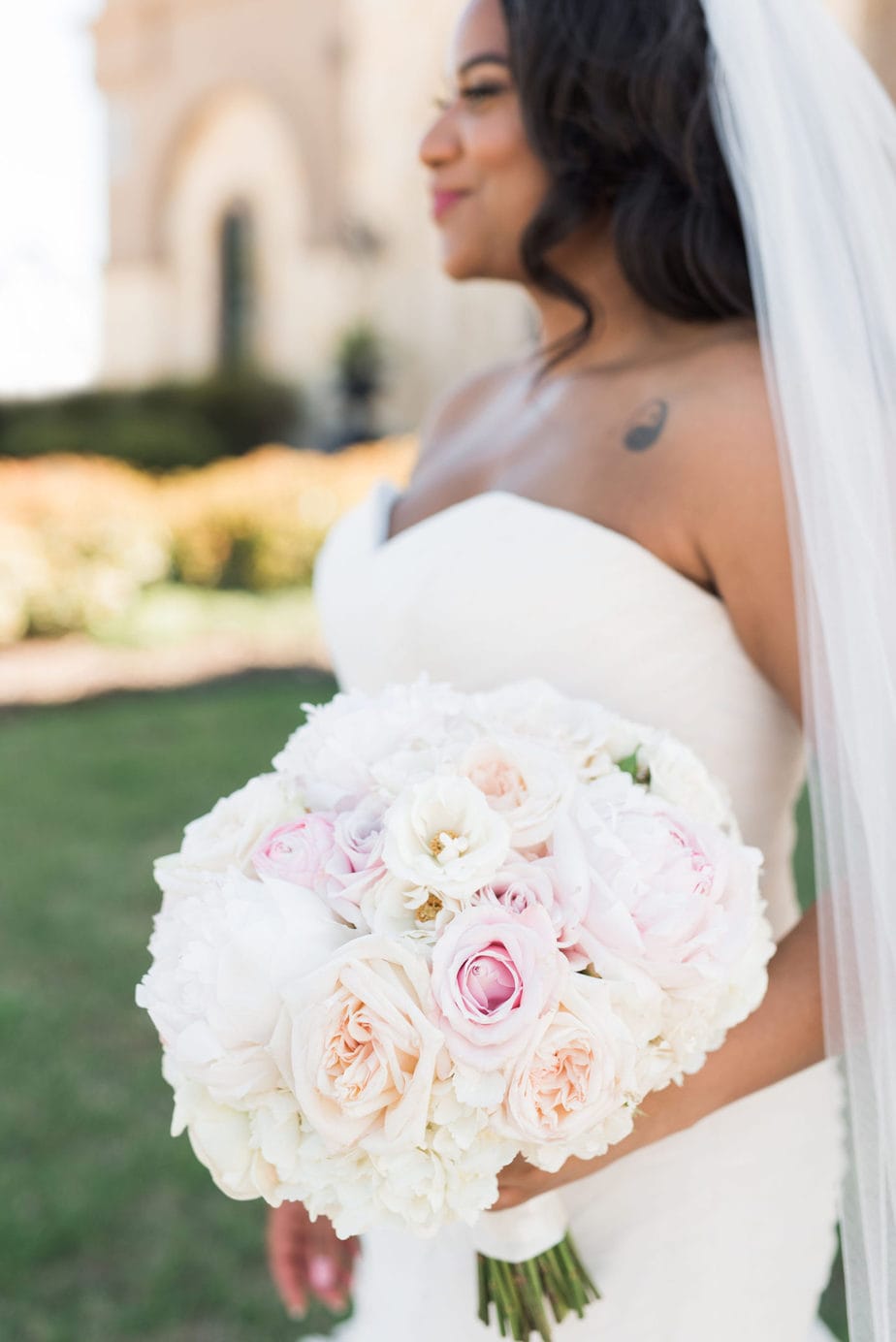 He put a ring on it! (Yes I've been wanting to use a Beyonce line in a blog post). Hopefully, you have come across this post because you are currently engaged and in the planning phase or thinking of getting married sometime soon. If you are already married then I'm sure you will be reading and nodding your head along in agreement.
Either way welcome! As the excitement wears down from your engagement you will soon begin to think of ways to save money on your wedding.
Next, you will ask yourself, why are weddings so freaking expensive?! Trust me, this was my question as well. And honestly, I eloped in my head and was two seconds from planning a destination wedding. However, we ultimately decided on the full-out, traditional wedding with all the hoopla and activities.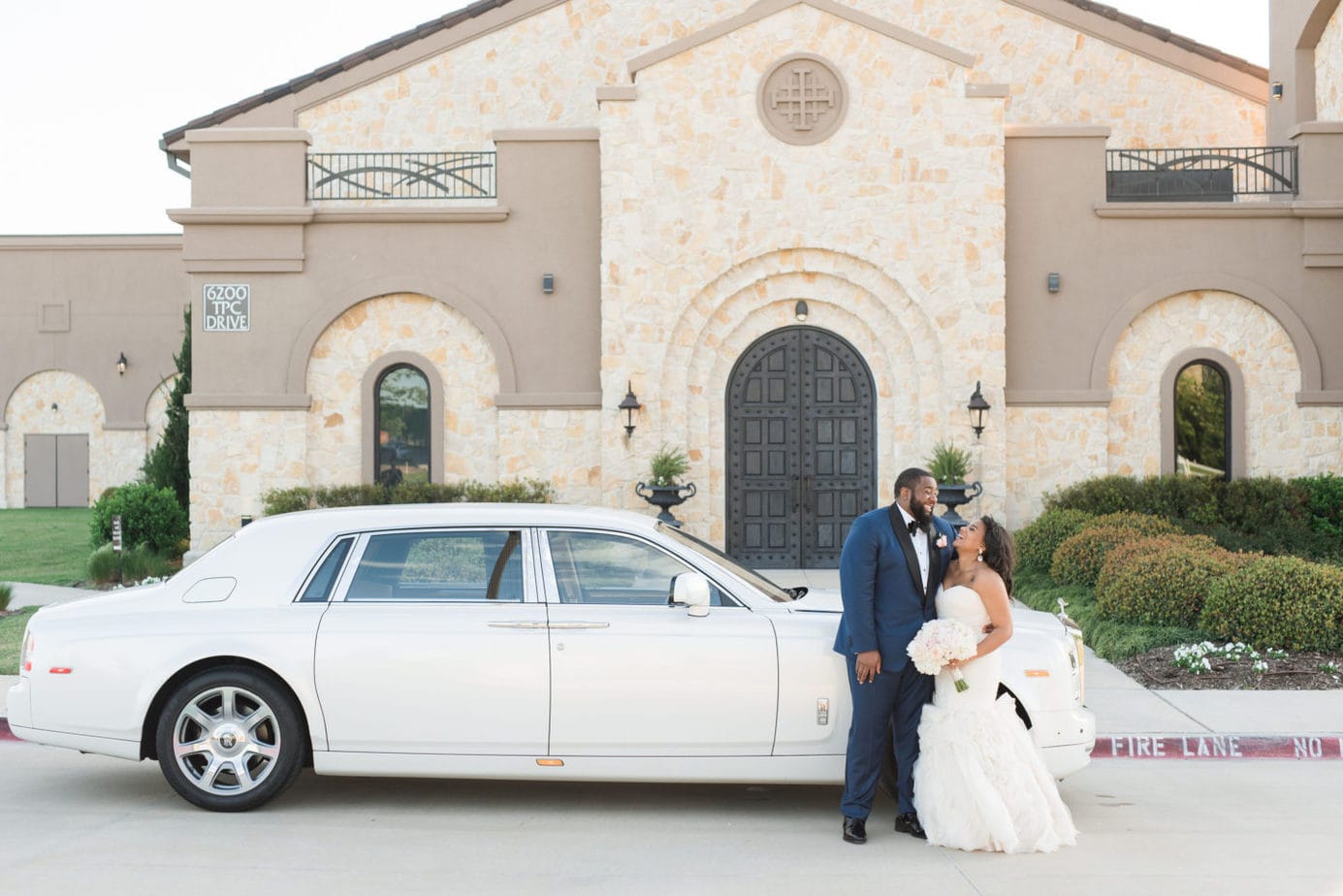 In retrospect, I don't regret anything. My day was great! However, I am here to help you with some lessons learned from my 12 + months of planning with hopes you will take some nuggets from this post in order to save you some coin. Here are the top things I wish I saved money on while wedding planning and the things I absolutely think you should splurge on for your big day.
How to Save Money On Your Wedding
SAVE: Invitations
I absolutely loved our invitations, but can I be 100% honest? It's paper. People will look at it for 60 seconds. And then it will sit on their countertop or in a drawer to be thrown in the trash at the end of the year. I'm not saying it is a total waste of money but…it is a waste of money.
I honestly wished we would have sent electronic invitations because half of our guests didn't RSVP by the due date UNTIL we sent an email reminding everyone. And then people still asked questions like "Where is the venue?" So, yeah save money on your wedding by skipping the formal invites. If you insist on paper invitations, just know you don't need the heavy card-stock, embossed lettering invites. Keep it simple, cute and affordable.
Tip: Use Zola.com for online RSVPs. We created our wedding website with Zola and my favorite part was having the app to track everything at my fingertips from food selections, registry items, and RSVP responses. And it's FREE!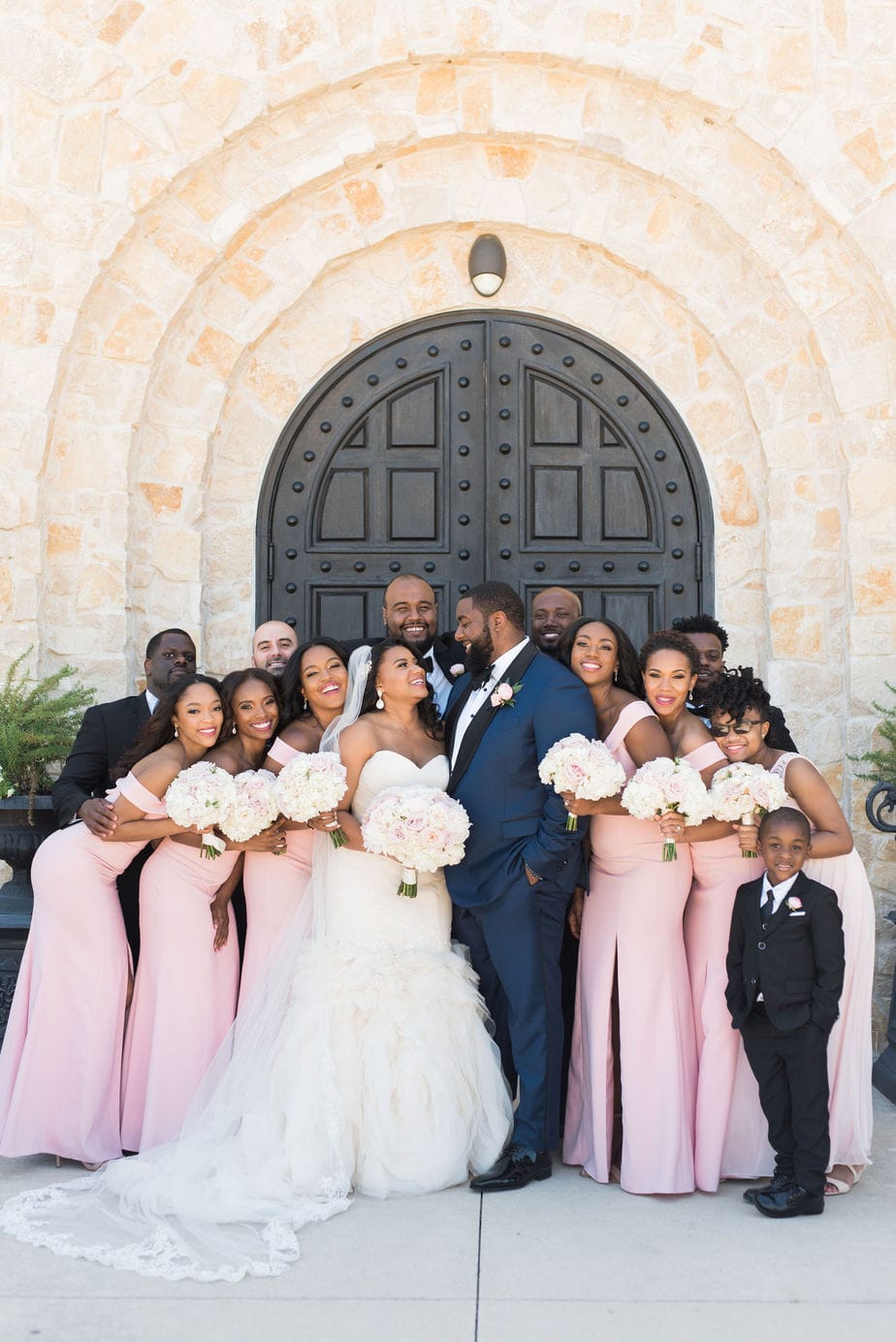 SPURLGE: A Wedding Planner or Wedding Coordinator
While my budget didn't allow me to have a full-service planner, I opted for the Wedding Management package which allowed a planner to come in 8 weeks prior to the wedding. For me, this was absolutely perfect as I am already a super organized person.
I did most of the heavy lifting like finding a venue, ordering invitations, choosing the food, etc. My planner came in 8 weeks out to handle the final details, take over communication with all of my vendors and lead the team across the finish line. BEST. MONEY. EVER. SPENT.
There will be so much going on and so many moving parts, having a planner will reduce your stress level and just let you take in the day. It also eases the anxiety and questions of your family and bridal party. Even as a super organized person, there are still things I needed help with or just didn't think of when it came to my big day because I didn't know to ask.
Looking for a planner in Dallas? Check out Swank Soiree. My planner was Krystal and I absolutely loved working with her!
SAVE: Food & Drink
Three things you must remember:
People will cancel at the last minute.
People will not show up at all without a heads up.
People WILL pay for alcoholic drinks if it is an option.
Those are my three biggest take-aways when it comes to planning for food and drink for your reception. My suggestion, guarantee 5-10% less than your confirmed RSVP count for dinner to save money on your wedding. Once your final number is turned in to your caterer, more than likely you are locked into that rate. Overall, I had about 7 no-shows the day of my wedding, which at $X a plate, adds up pretty quickly!
We also decided to do an open bar up to a set amount of money. When the funds ran out (which happened pretty quickly also might I add) the reception turned into a cash bar. And you know what? People continued to drink and purchase drinks!
Don't break your budget if an open bar doesn't fit. People will pay and will continue to drink to keep the party going.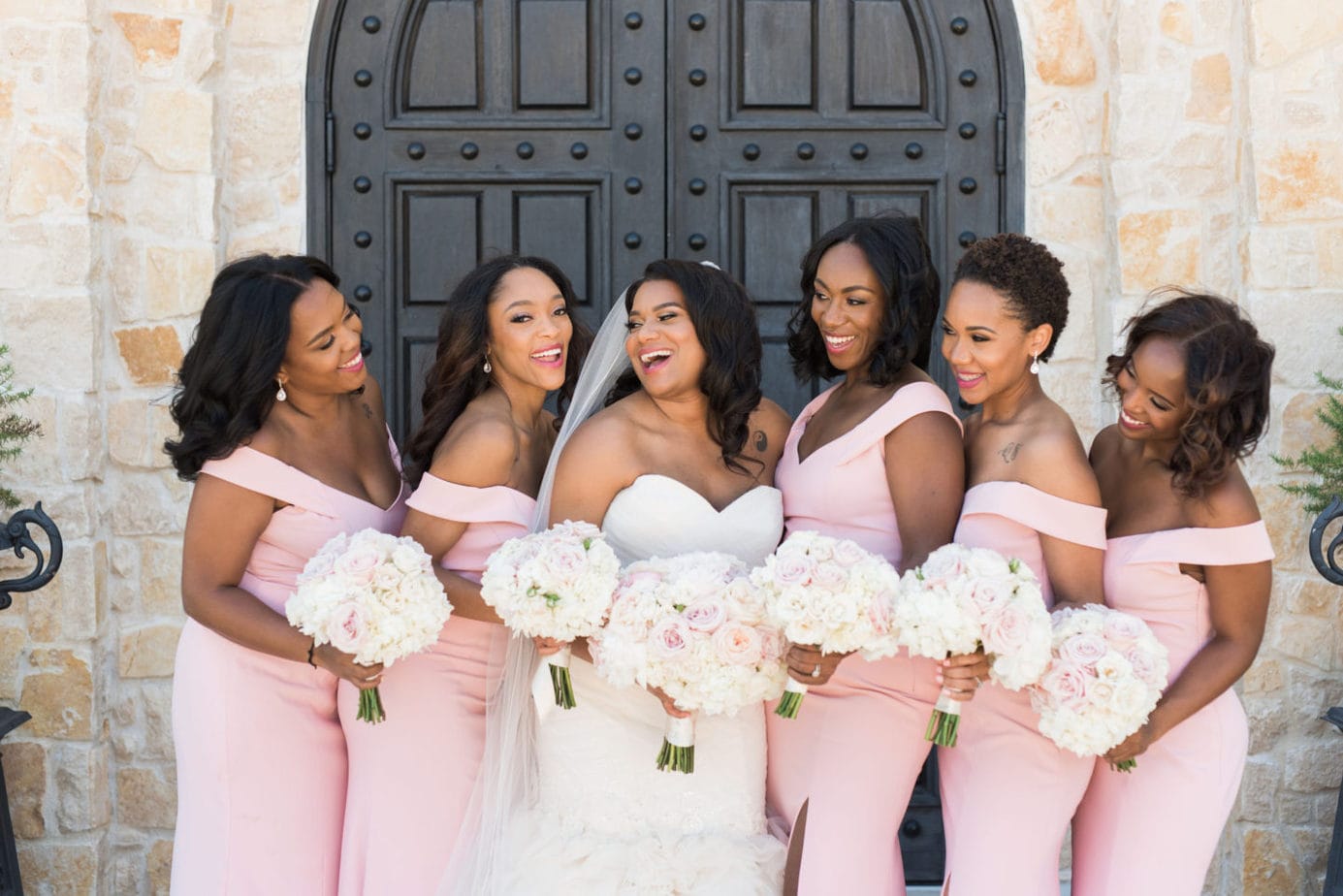 SPLURGE: Glam Squad
As a beauty blogger, you all should have known this was a no-brainer! Not only do you want to look your best, but you want your bridesmaids to look just as fabulous standing next to you. Invest in a quality make-up artist so everyone looks polished and their best. Trust me this makes the world of difference in your wedding photos!
Hair is honestly a toss-up depending on your bridesmaids and the style you want everyone to have. However, opting for a uniform style is always works well to cut down on confusion. This also reflects well in your photography.
I provided professional make-up for each of my bridesmaids and the same hair stylist completed everyone's hair. We opted for a middle part with soft curls for every bridesmaid. Super easy and not a ton of work.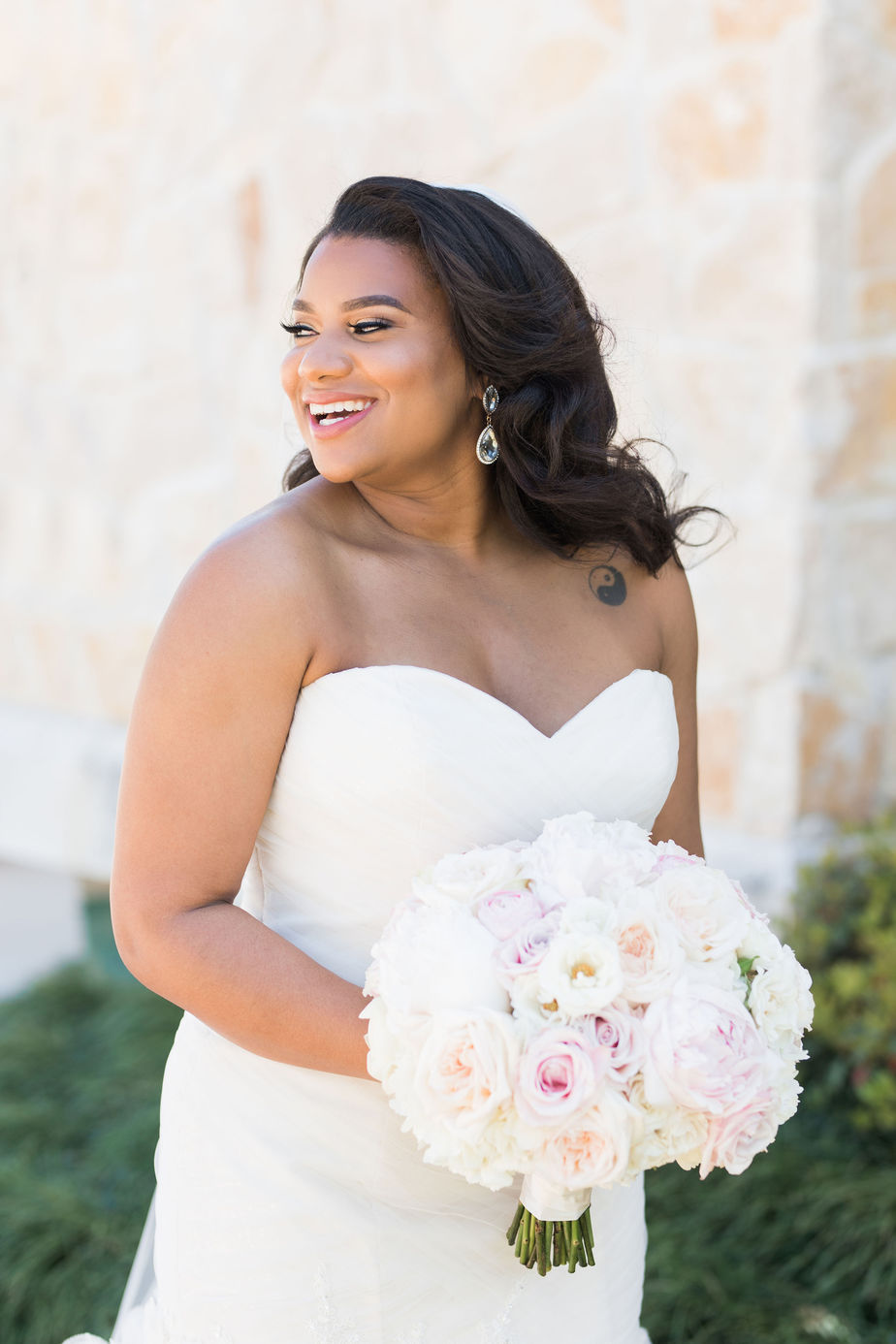 SAVE: Jewelry
If you know me you know I love earrings – I never leave home without them. I knew I wanted large statement earrings for my wedding day but I also had a limited budget.
So, I went the costume jewelry route and purchased earrings at Sam Moon, a large Dallas costume jewelry discount store. I ended up getting 7 pairs of earrings (mine, 5 bridesmaids and my mom) for less than $75 total. Winning!
Save money on your wedding as well and find a quality place to get inexpensive jewelry.
SPLURGE: A Dope DJ!
Sometimes we get so caught up in the planning and formality of a wedding, brides forget this is ultimately one big party! The reception is 90% of your wedding day and you want to make sure you have a DJ that can keep your party lit.
No one wants to be at a boring wedding. Invest in a great DJ that understands you and your groom's wants and style of music. If your DJ does not offer a consultation to meet with you and your groom before the wedding – hire another DJ.
Meeting with your DJ prior to the wedding is so important so he/she gets a feel for your music vibe as a couple and clearly understands the tone of the wedding. Shout out to our DJ – DJ Rose Red! If you need a DJ in Dallas, look her up. She was awesome!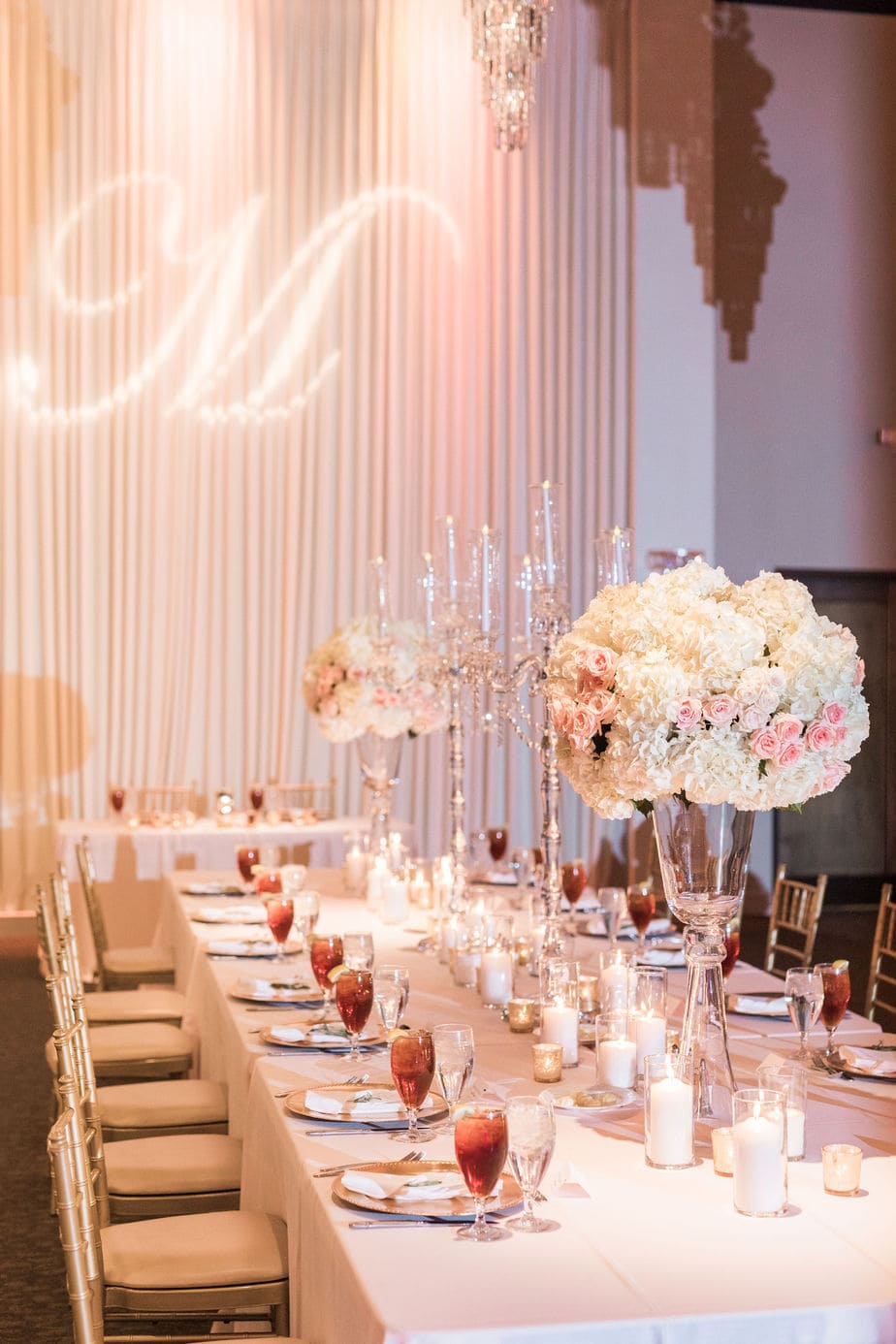 SAVE: Decor – Get Your DIY On!
While the decor is important and sets the tone for your wedding as well, you can totally DIY a lot of stuff. I purchased online editable templates from ETSY for my seating chart, menus cards, and name cards for $5 – $10 each. Once they were complete, I sent it to Fed Ex for professional printing. For the name cards – I bought a table tent template from Office Depot for $30 and printed those myself at home.
Although I did spend money on flowers for our bouquets and medium-sized arrangements, I used fake rose petals to decorate the aisle. My florist wanted $845 for REAL rose petals. I think not! I purchased pre-separated fake rose petals on Amazon for $20.00. No one will be on the floor trying to determine if your rose petals are real.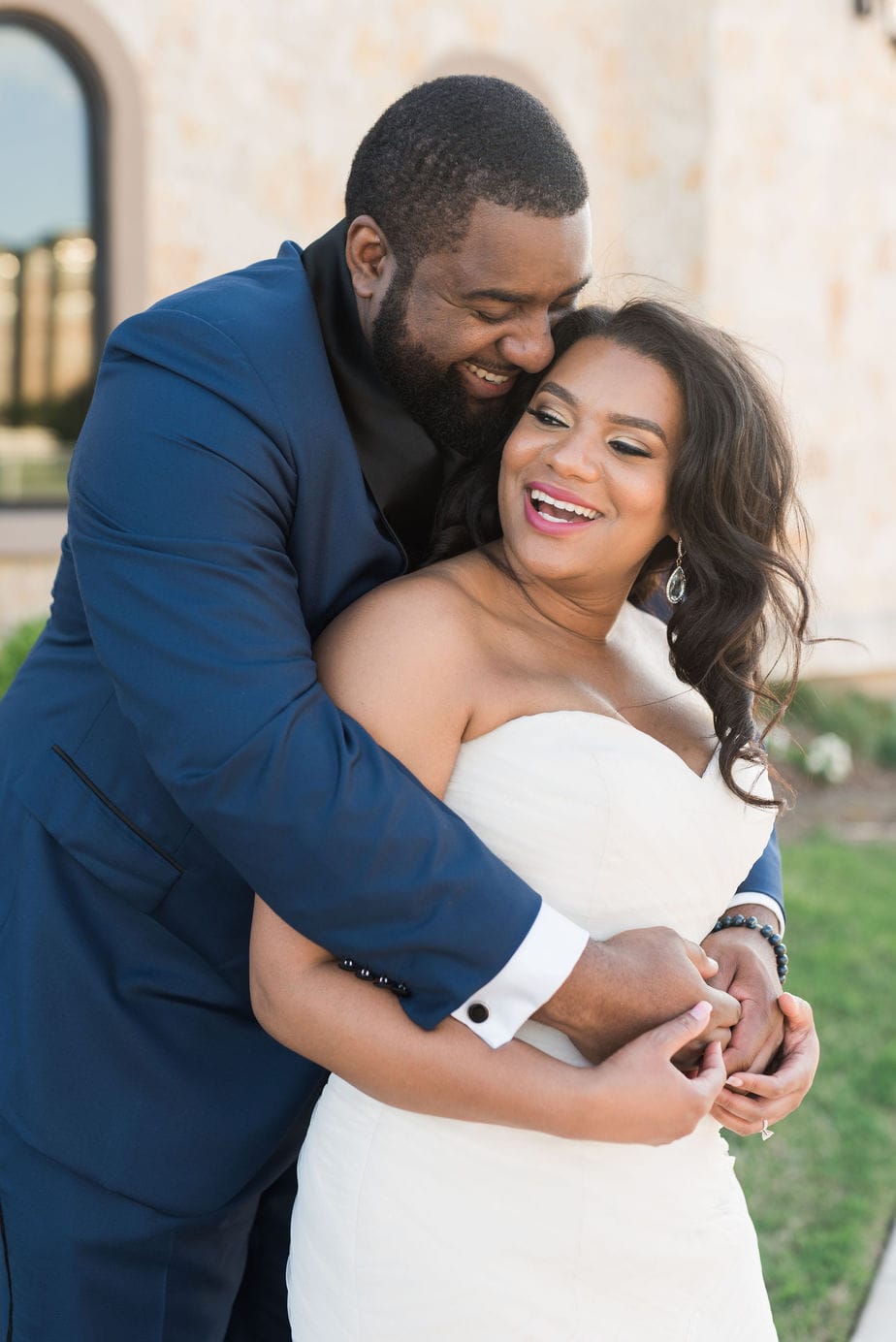 SPLURGE: Professional Photography
As the age-old saying goes: "You get what you pay for". This could not be more true with wedding photography. Luckily our wedding photographer was the same person who shot my surprise engagement. We already knew the quality of her work and honestly afterward I stalked her Instagram. Hiring her as our wedding photographer was an easy decision.
Photography is a splurge because these are literally your MEMORIES! Videography can sit on a computer or on a flash drive, but photos can be framed, bounded in a leather book and seen often. Take some time to research really great photographers and save money from those invitations and jewelry to increase the photography budget.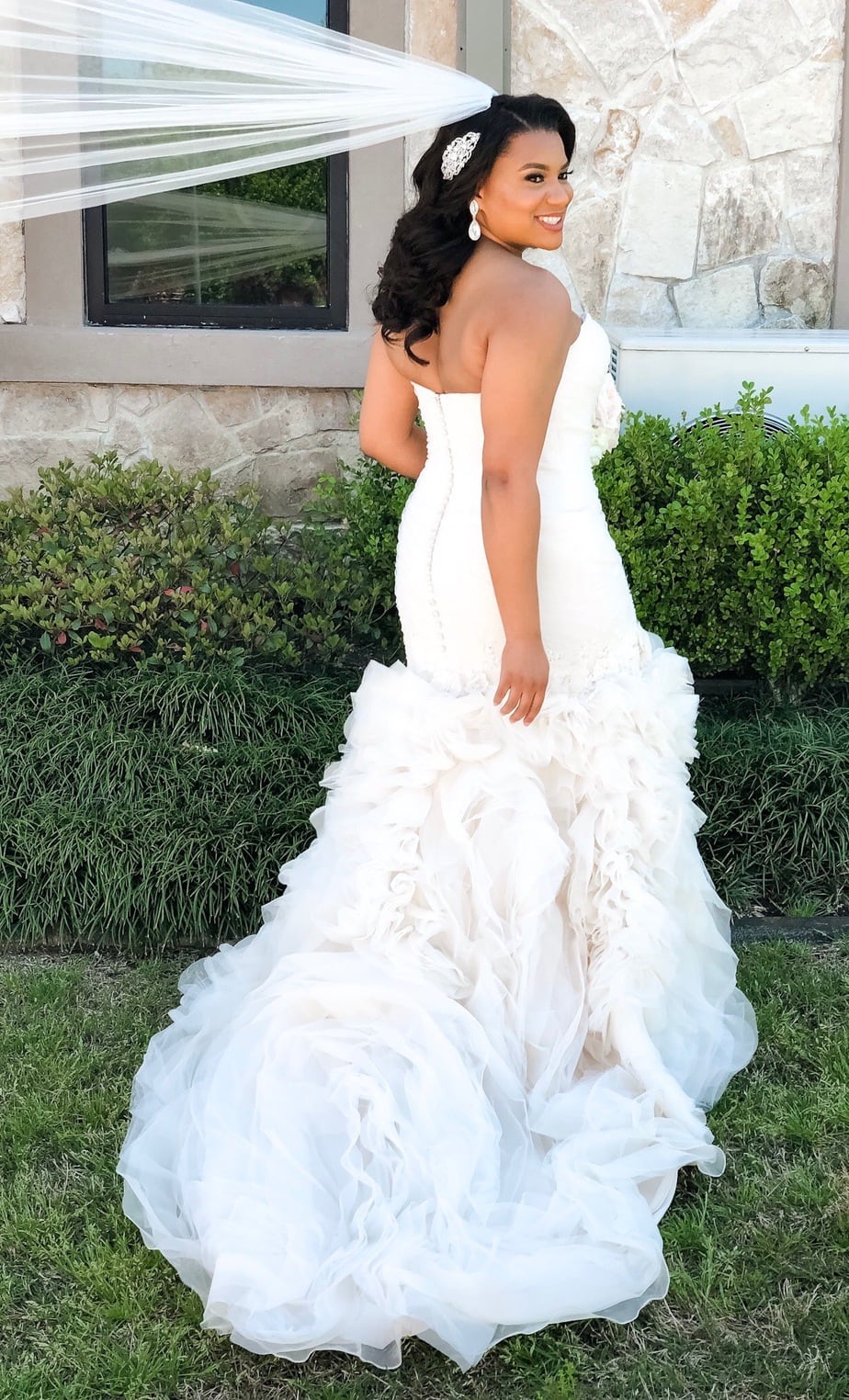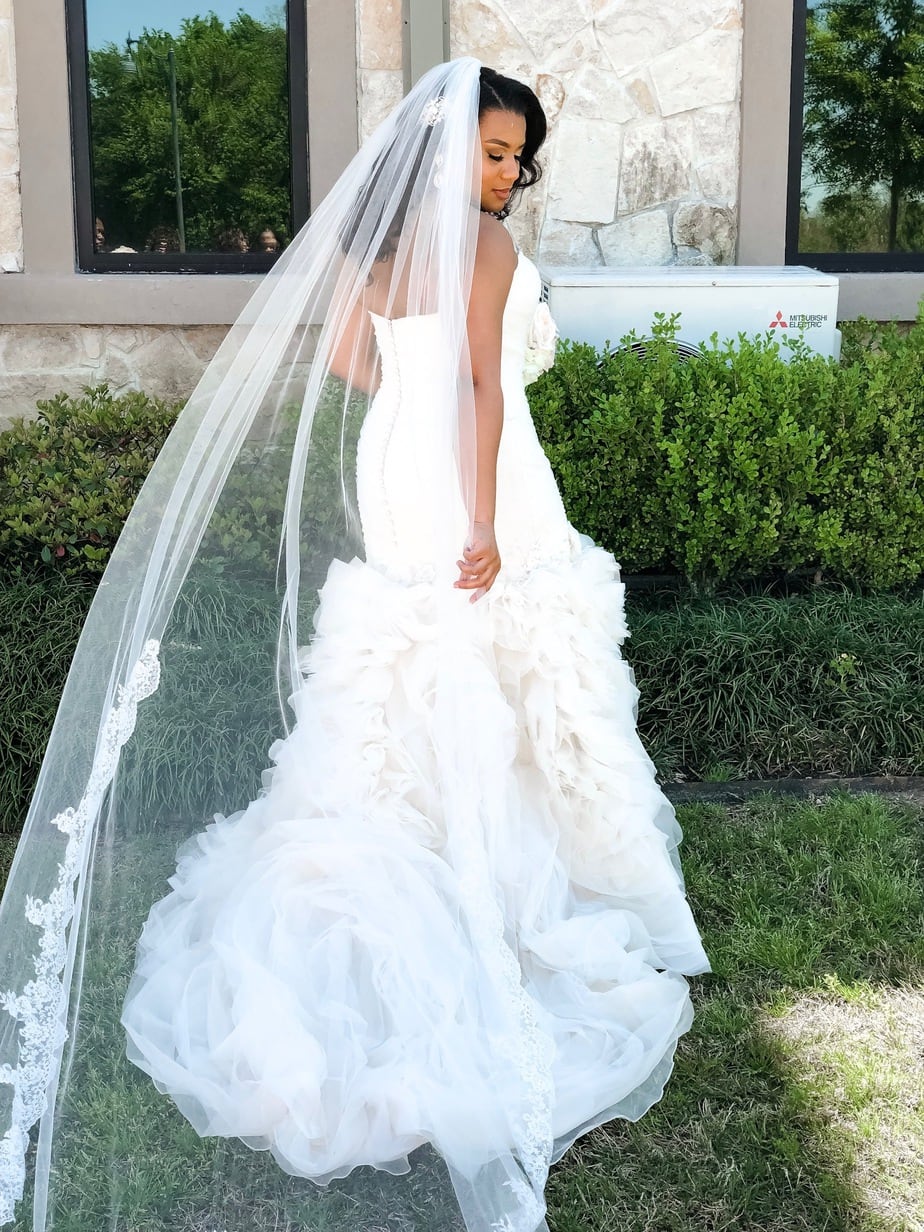 SAVE: The Dress! (If you can)
This will not apply to every bride as the dress means different things to different people. I've known women to spend as little as $100 to $15,000 on their wedding dress. To each it's own.
Luckily I was able to find my dress at a going out of business sale. The owner was retiring from the wedding dress business after 35 years and had a blowout sale. My planner let me know. (Another reason to have a planner!) I ended up getting my dress and final alterations for less than $1,000. Major win in my book!
Look for closeout sales in your area or a major neighboring city. Get on the store's email list as there will often be trunk shows of designers and bride events in order for you to save additional money.
Overall Lessons Learned & Wedding Hacks
Don't do things to make other people happy at the expense of your happiness at your wedding. Ultimately the things you are stressing about no one will notice or care.
Create a budget and stick to it! Everyone says this and eventually goes over budget anyway, right? My personal hack: add a line item for contingency/unexpected things: Expenses you never thought about will pop up and last minute emergencies will happen. Set aside funds at the beginning so this doesn't break your budget.
Get organized: Take advantage of Google Drive so you can easily save wedding information with other people who need it the most. Create a Google Drive folder for all of your vendor contracts so you can easily send it to your planner.
Groom's Tip: Ask your groomsmen to sign up for deals and coupons to help them save money on tux rentals
Bride's Tip: Use Rent the Runway for Bridesmaids dresses. However, choose a dress that will flatter everyone's body type and not need a ton of custom alterations
If you are doing most of the planning yourself don't be afraid to ask for help. Assign people specific roles so everyone is clear on how they can contribute. After all, this is a great celebration…people want to be involved and want to help!
Are you preparing for your big day? Are you already married? How did you save money on your wedding? Comment and let me know!
---
Did you enjoy this article? Subscribe to never miss a post!
[mc4wp_form]