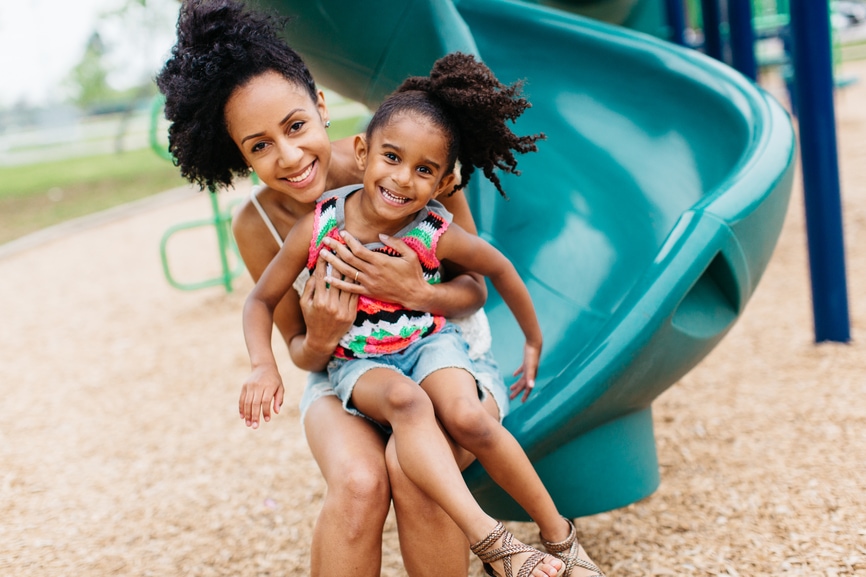 Fall is officially on the horizon and yes it's that beautiful time of year…back to school time!  Recently I've been asked to post more information about natural hairstyles for kids. Whether you were rocking a fresh press n' curl, relaxer or some cute braids, we all know the back to school hair styles hair had to be on point!  Also, if you are like my mother, Sundays still reign as the unofficial "hair day". Here are a few easy natural hairstyles for kids you can try out this school year.
3 Easy Natural Hairstyles for Kids
1. Two Stand Twists With Bantu Knots
Business in the front…party in the back! The twos-twist out with Bantu knots style is a great way to have a little control up front for those super hectic days at school. This can serve as a sort of guarantee her hair isn't all over the place by the end of the day. The two strand twist-out in the back is a quick way to get some curls and texture.
2. Easy Top Knot Bun
I seriously can't get enough of blogger Yolanda Renee and her girls Taylor & Skylar. She has tons of videos on her channel related to natural hair styles for kids but this super cute and simple bun caught my eye. Perfect for any mom to try no matter the skill level.
3. Curly Fro-Hawk
This amazing mother of three mommy blogger also has tons of helpful videos on her channel to help any mother navigate the world of natural hair styling. What I love most about this style is it is truly a set it and forget it type style that can last almost a week with proper care.
4. Half Braid/Half Pony Tail
Seriously, I love this style for myself at 30 years old! I know a lot of mothers struggle with hair labeled "4C/kinky". I've had so many mothers tell me the hair is simply too thick, with too much shrinkage to do anything. In this tutorial, this mom gently blows her daughter's hair out to help with styling.  If you choose this route don't forget your heat protectant!
5. Multi-pony Twists/Twist-out
Keep the twists in each ponytail or pop the twists open days later. Either way this curly do is sure to be one your mini-me will love.
Now that we have the styling out of the way, here are also 5 natural hair care kid-friendly brands we love.  And I promise they also won't break the bank!
---
Did you enjoy this article? Subscribe to never miss a post!
[mc4wp_form]
---