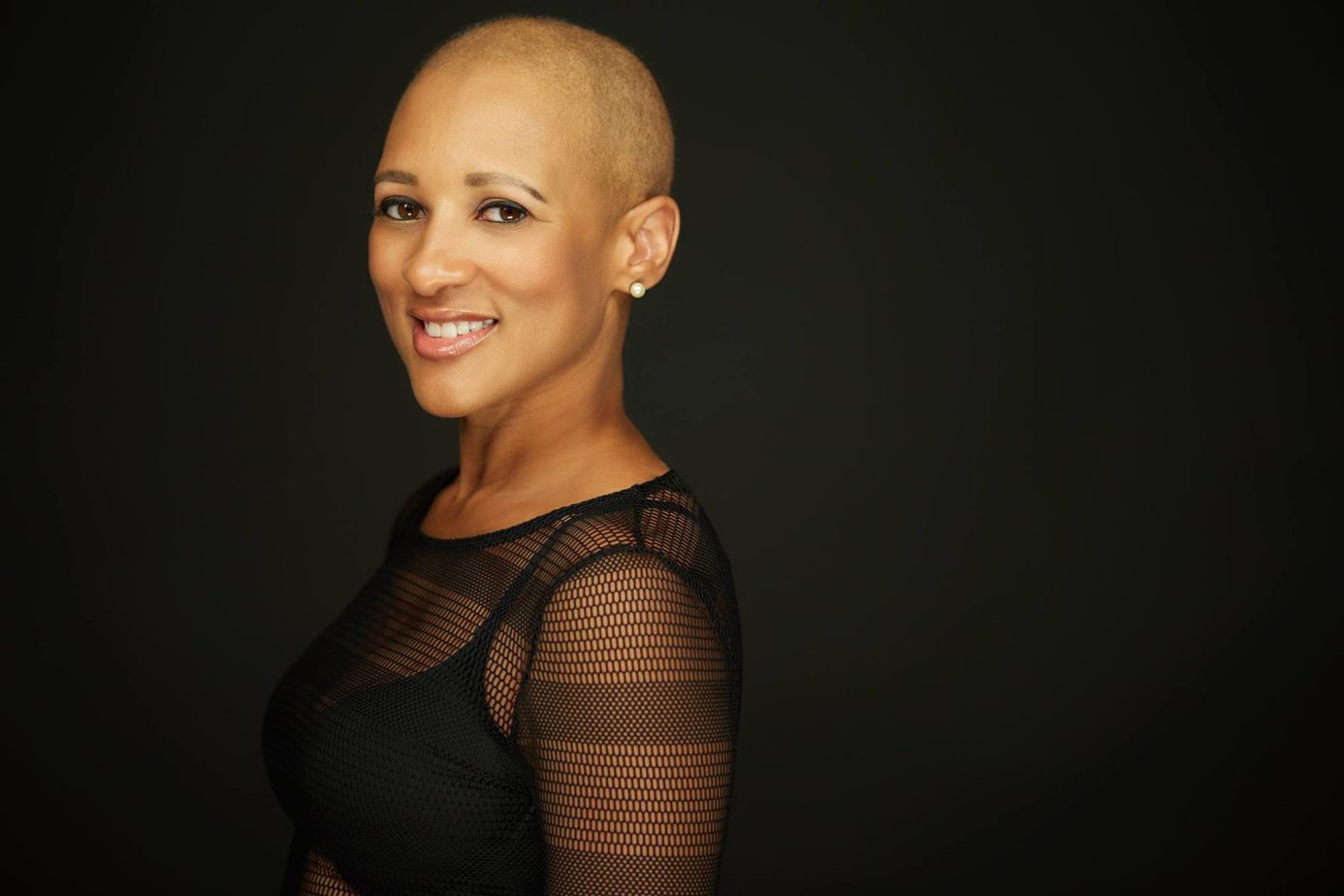 We all know October is Breast Cancer Awareness month.  Each year we see Breast Cancer Awareness walks, our sports teams adorn pink and events are popping up left and right.  But what caught my attention this year was not the pomp and stance October usually brings but the very personal, micro-journaling type sharing Chris-Tia Donaldson, CEO of tgin, posted to her social media.  In an industry where hair is praised and often the center of the conversation, Chris-Tia opened up about her journey with breast cancer recently and posted a very candid and bald photo of her to Facebook.  Over the course of this month, she is sharing her journey with breast cancer on her social media accounts through an informative series entitled: "This is Only A Test: What Breast Cancer Taught Me About Faith, Love, Hair, and Business."
Like many women, Chris-Tia noticed a lump in her breast while showering.  According to BreastCancer.org, about 20% of breast cancers are found by physical examination rather than by mammography.  She kept waiting for the lump to go away but it never did, so Chris-Tia made an appointment with her OBGYN after 3 months of being in denial.  Admitting that Cancer has always been on her mind since her mom passed of non-Hodgkins Lymphoma at the age of 49, Chris-Tia tried to reduce her chances of Cancer by adopting a healthy lifestyle, exercising regularly and abstaining from eating meat.
The post that interested me the most was her mention of genetic testing and the BRCA gene of which most women are unaware.  Due to a history of Breast Cancer in my family, I decided to undergo genetic testing last year so I was thrilled once I saw someone else talking about this preventative method. So often, we hear about mammograms and self-examinations but rarely is the push for genetic testing brought up in conversation.  I even had one doctor tell me I'm too young for a mammogram and they didn't think it was necessary – even with my family history.  It wasn't until a year later another doctor suggested genetic testing for the BRCA gene just to be on the safe side.
Most inherited cases of breast cancer are associated with two abnormal genes: BRCA1 (BReast CAncer gene 1) or BRCA2 (BReast CAncer gene 2) . – BreastCancer.org.
BreastCancer.org further states that most people who develop breast cancer have no family history of the disease.  However, if you do have a family history of breast cancer, ovarian cancer, or both, heredity could have played a role in the cancer's development.  Most inherited cases of breast cancer are associated with two abnormal genes:BRCA1 (BReast CAncer gene 1) or BRCA2 (BReast CAncer gene 2).  Women who inherit a mutation, or abnormal change, in either of these genes — from their mothers or their fathers — have a much higher-than-average lifetime risk of developing breast cancer and ovarian cancer.  Chris-Tia's doctor insisted she get tested for the gene mutation.
Ultimately Chris-Tia ended up getting a lumpectomy, but that didn't stop her from pressing forward with running the business of tgin.  With new products like an edge control and curl definer lined up to launch soon, Chris-Tia made it her mission to test her products while in production as much as she could before completely shaving her head a month before starting chemotherapy. 
What's been your experience with breast cancer or preventative testing? Comment and let me know!  Follow Chris-Tia and her journey on Instagram to see what else she shares as the month continues.  Also, shop products from tgin texturesnaturalhaircare.com.
---
Did you enjoy this article? Subscribe to never miss a post!
[mc4wp_form]
---