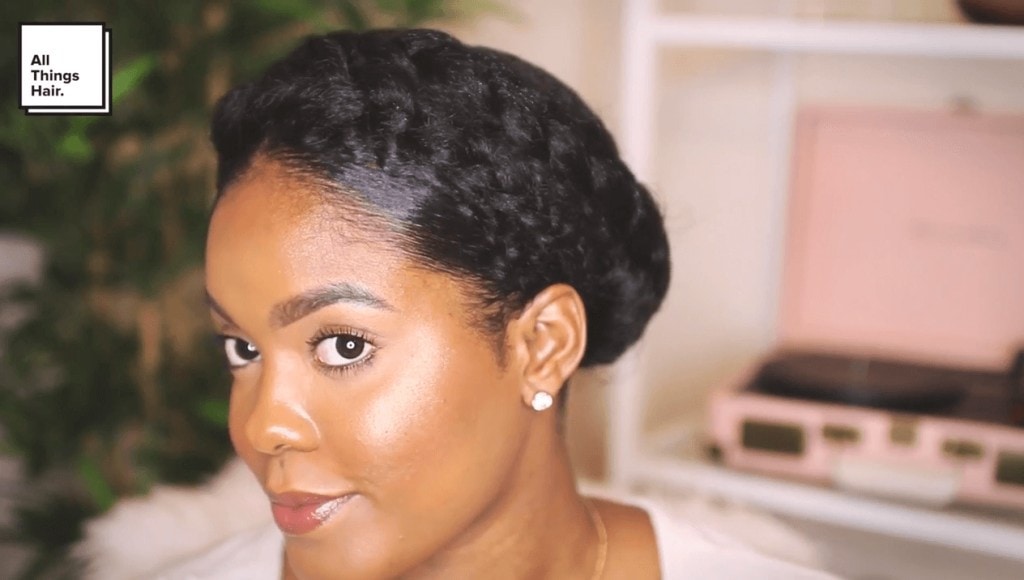 Photo Credit: Allthingshair.com
Have you ever seen a style on Youtube or Instagram and wondered how to do the same thing?  There are a lot of styles I can figure out how to do but the goddess braid is one I have yet to master.  I have the halo twist style together, but it's something about braiding I've yet to figure out.  What I've also come to notice is a lot of my friends haven't quite figured out this style either! Lucky for you, I've rounded up the easiest tutorials for you to figure this thing out once and for all.
3 Super Easy Goddess Braid Tutorials
Of course, you can't start to tackle a new style without a plan.  There are always a list of essential items needed. For a successful goddess braid, you will for sure need these things.
Never start on dry hair. The foundation for any good style is healthy moisturized hair. Use a nice hair lotion or hydrating spray.
Don't forget the edges! Edge control is a must.
Bobby pins…because you can never have too many!
---
Up first we have a tutorial by Mini Marley, who I absolutely LOVE! She partnered with the All Things Hair channel to create this video. I love that she starts the video explaining how to properly moisturize your hair and then proceeds to add the extra hair for length and thickness. I definitely think this is a style you can achieve in about 15 mins. Try it out!
2. The next goddess braid tutorial is for you if you're looking to achieve this style on your blown out and flat ironed hair. I understand, not everyone  has super thick curly hair and not everyone wants to add weave to their hair – I get it! Jaleesa Moses's tutorial is perfect for just that reason.  In 5 minutes she breaks down this goddess braid tutorial step by step, using minimal product all while making it appear soo easy. Love! This is also a great style to try when you are trying to push off wash day for at least one more day and still want to look cute. (Trust me we've all been there!l lol)
3. Lastly, if you don't want to add weave or complete a goddess braid from stretched, flat ironed hair Jane's tutorial is pretty easy to follow as well.  I like the side part of this look just to break up the style and give it a different feel. She also starts on moisturized hair and doesn't skip on those edges!
Have you tried the goddess braid style yet? Comment and let us know!
---
Did you enjoy this article? Subscribe to never miss a post!
[mc4wp_form]