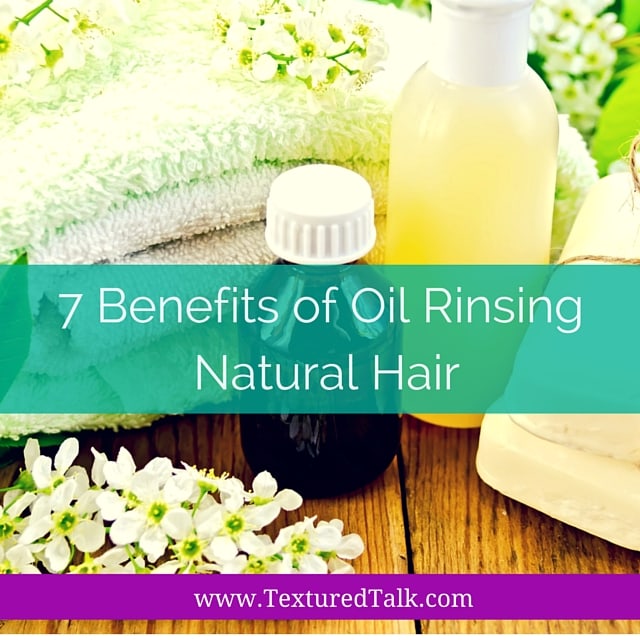 What Is Oil Rinsing?
Oil rinsing is a step usually completed after shampooing the hair right before applying conditioner. Once the hair is clean and while the hair is still soaking wet, a generous amount of oil is applied all over the hair coating everything from root to tip. Penetrating oils such as olive, coconut, and avocado oils are recommended for use due to their low molecular composition, which enable them to bind to the water inside the hair cuticle to prevent hygral fatigue. Conditioner can be applied while the oil is still in the hair followed by a final water rinsing session removing the excess oil and conditioner. Oil rinsing also helps with fighting against excessive drying during the shampoo process, as it seals moisture into the hair. The other added benefit of oil rinsing is the ability to add natural oils back into the hair, which could have been stripped away while shampooing.
7 Benefits of Oil Rinsing Natural Hair
Prevents dryness from shampoo
Seals in moisture
Easier detangling / reduction in single strand knots
Increased moisture
Reduced frizz
Prevention of hygral fatigue
More soft, shiny, and manageable curls
A few quick tips:
Before oil rinsing start with clean hair.  Some have suggested completing an oil rinse after co-washing; however, I do not suggest this option.  Starting with freshly washed, extremely clean hair will reduce additional product buildup.  I tried oil rinsing last week and overall I did like how my curls looked afterwards but…I also completed my rinse after co-washing.  A few days later my scalp was extremely itchy, which rarely ever happens, mainly because I'm sure the pores on my scalp were too clogged with oil and other products I'd used over the few days.  Read more about maintaining a healthy scalp here.  Overall, my curls were shiny and soft so I definitely think I will try again..but with clean hair!
Step by Step of How to Oil Rinse
Here's a video by AuCurls Naturalle Curls detailing how she completed her oil rinse.
Have you tried oil rinsing? How did you like it? Let me know!
---
Did you enjoy this article? Subscribe to never miss a post!
[mc4wp_form]
---