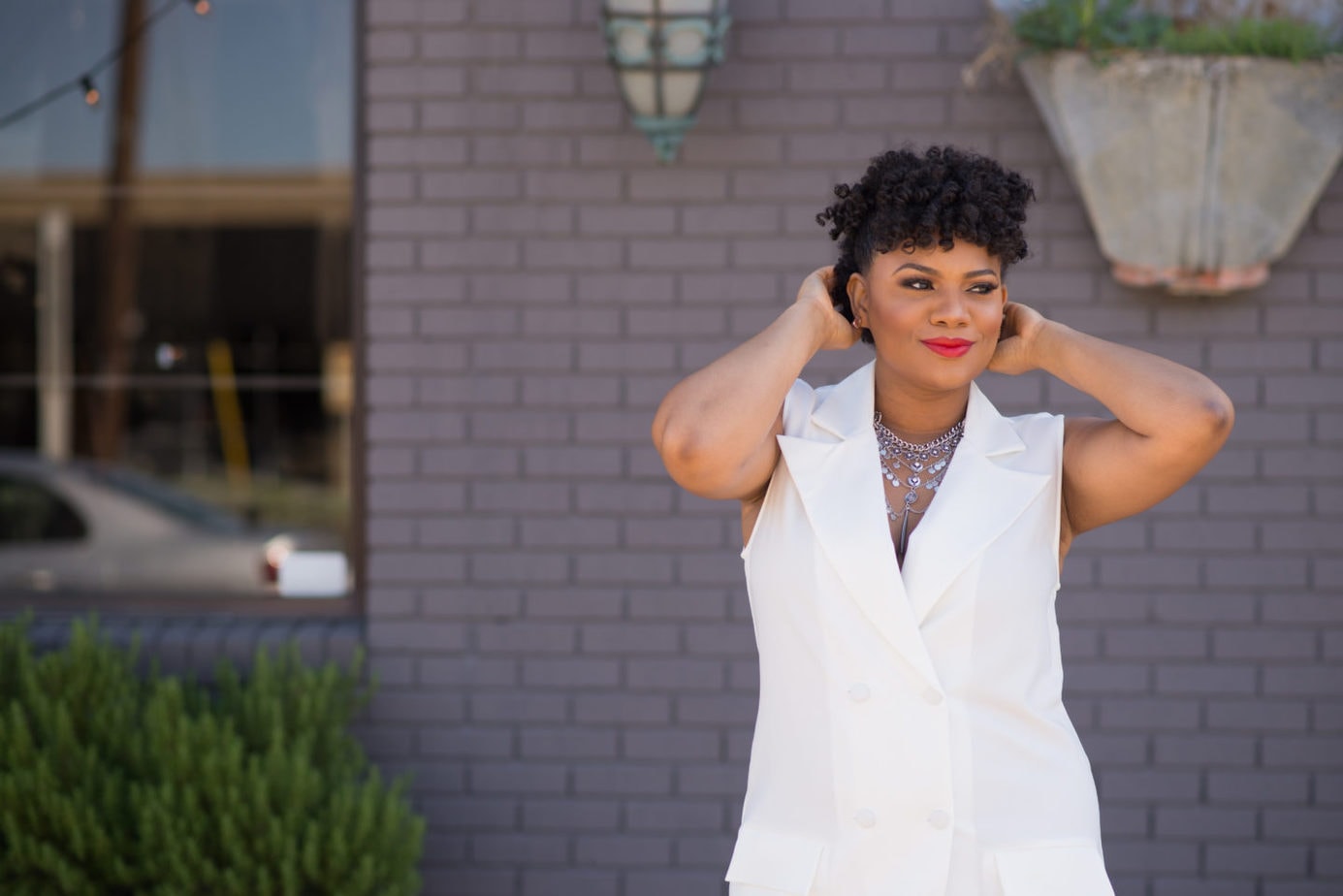 After blogging for a year I published a post entitled 10 Things I Learned During My First Year of Blogging.  A year later I still refer to this post and refer my friends to the article whenever I'm asked questions about the basics of blogging.  Blogging is one of those things I always thought came quite naturally to me. It was nothing to just pop open my laptop and start typing away about whatever came to mind. As I enter my third year of blogging, I still possess a love for writing but I would be lying if I didn't say year two of blogging was very different from my first year.  Different, not in a bad way of course, but different in an eye-opening, self-discovery type of way.
I look at everything as a learning lesson.  Year two was different for me for a couple of reasons.  I started my new business TEXTURES Natural Hair Care, brought on contributing writers for the first time and overall questioned the added value I was bringing to my readers on a daily basis.  A part of me was even tired of writing about natural hair.  Here are 10 ADDITIONAL things I learned during my second year of blogging.
---
10 Things I During Learned My 2nd Year of Blogging
1. A strong foundation sets the course
Year one of blogging for me rocked! I was pumping out 2 to 3 blog posts per week plus contributing to other sites. I grew my email list, posted consistently on social media and saw my page views reach up to 40,000 per month. During my first year of blogging there wasn't a webinar or email course I didn't utilize to learn everything I could about blogging. What I developed in year one was consistency and quality work. My readers came to expect new articles once a week. During this second year, things slowed down tremendously. In the beginning of the year, myself along with a few contributors were still pumping out info but it slowed down a lot in these a last few months. Thankfully, due to my strong foundation of articles and some killer SEO, I was able to still bring in thousands of page views a month purely off of google searches and Pinterest (we'll talk about Pinterest later). Although things were slow (in my head) for the Textured Talk this year, I'm glad came out the blogging gate with full force.
2. Constant promotion around the clock is key
This is something I touched on a little in my first post but I really focused on this in year two. Since Facebook has bought the world it seems and who knows what algorithm they will release next, constant promotion around the clock, sharing old blog posts to Facebook and Twitter helps so much. The average lifespan of a social media posts is very short. Think about how quickly your timeline moves. So even on those days or maybe weeks where I didn't post any new content, I just loaded up Co-schedule to automatically share old posts throughout the month.  I was actually shocked when I looked back to my google analytics and noticed I was averaging 1500 page views a day without posting new work. This is definitely a strategy I will continue going forward.

3. I can't do everything
With launching Texturesnaturalhaircare.com and still working a full-time job I hit somewhat of a breaking point earlier this year. I finally realized I can't do everything so I brought on contributing writers for a short period of time, which helped a ton! It was also very interesting to get a different writing style on the blog for a while and hear things from a different perspective.  Once I stopped using contributors I decided to tighten up on my priorities and take a few things off of my plate.  Anything that wasn't helping me move towards my future goal had to stop.
500 super engaged subscribers out-weighs 1500 non-responsive subscribers any day.
4. Be smarter about email – clean list and drop the

dead

weight. It costs!

So remember how much I ranted and raved about your email list in the year one post? Well, after you build your email list it's time to get smart about how this thing works. Yes, my email list was growing each month and with that, the monthly price tag for Mailchimp grew as well. Newsflash: running a blog isn't free! One day, after getting tired of paying the monthly price I checked to see how many people were even opening my emails and clicking on links. SHOCKER. About a third of my subscribers were not opening my weekly emails and less than that clicked on links. I have a solid number of super engaged subscribers but guess what…I'm paying for all of that other deadweight. 500 super engaged subscribers out-weighs 1500 nonresponsive subscribers any day.  Those 500 will read, share, comment and even purchase products from texturesnaturalhaircare.com.  I also went 3 weeks without sending an email and my page views stayed consistent (Again that SEO is killer). Since then I've cleaned my email list. If you stopped receiving my emails that's why. #Iaintsorry

But of course, you can re-subscribe here. 🙂
5. Engagement, engagement, engagement!
Posting pretty pictures are cool, but engagement rules everything around social media.  If you are looking to work with brands especially, your focus on engagement should be key.  Are people commenting on your posts and sharing it with their friends? Are they asking you questions seeking more information? Long gone are the days (in my opinion) when brands are only focused on numbers because let's be real, followers can be bought. Here are a few ways to get engagement on your posts:
Post high-quality photos. The iPhone works wonders these days. No need for an expensive camera
Make sure the photos are also interesting, aesthetically pleasing and tell a story
Make sure your blog content adds value
Have a call to action at the end of each blog post and even in social media posts
6. I need to get serious about video…it's not going anywhere
Sadly, video is still something I struggle with but I'm getting better…I promise! Once I noticed that when I logged on to Facebook and nothing but videos were at the top of my timeline I knew I needed to get on the ball.  I've successfully recorded and posted 8 videos to my Youtube Channel so far and the goal is to stay consistent for year 3.  Overall I've learned to stop OVERTHINKING everything I do. Some of my favorites videos are just a camera, ring light, and someone talking about what they love. I the meantime, enjoy one of my recent videos below.
7. Pinterest is BAE
Did you know Pinterest is the second most used search tool next to Google? I knew Pinterest was important but this second year of blogging has shown me exactly how much.  At least a third of my blog traffic comes from Pinterest alone and I don't even pin that much.  Imagine what could happen if I pinned on the regular or even every day.  If you are a newbie blogger don't sleep on Pinterest! But also make sure you know how to get the most out of Pinterest. There are a few great Pinterest resources  to look into like Melyssa Griffin.
8. It's OK to talk about more than hair!
As I mentioned earlier, during this second year of blogging I started to want to talk about more than just hair.  This rang especially true around the increased murders against black men in July.  And although there have been countless murders over the past 2 years, the recent ones of Philando Castile and Alton Sterling, which were blasted so publicly over social media set everyone back including me. I started to question if people even cared about my writing about hair simply because there are so many other things going on in the country. To expand my horizon I blogged a little about other things that made me happy such as personal finance and fitness.  Thankfully, people responded really well when I stepped outside of the hair box. I learned it's ok to share more about yourself. People want you to be real, not structured and confined to just want thing.
I started to question if people even cared about my writing about hair simply because there are so many other things going on in the country.
9. The opportunities for monetization are endless
Oh how much I've grown over the past 2 years. To think, when I first started I thought people blogged for free and didn't make any money. HA!  According to Makealivingwriting.com, there are over 79 websites paying writers $50 or more per article. The opportunities for monetization are endless. From paying to post on your Instagram, sponsored videos, email courses, to consultations there are few things you can't monetize. However, monetizing these ways are not for everyone.  I personally choose not to work with a lot of brands because 1) I'm too busy building my own brand and 2) I hate being on someone else's time. However; this is an extremely lucrative option for many influencers and can work out well. Don't  knock the hustle just make sure it's right for you!
10. Remember why you started
When all else fails and everything starts to get overwhelming just remember why you started. I admit, sometimes that can be hard. Social media distraction is enough to make you want to loose your mind at times. In addition, it's so easy to be caught up in the hype of what everyone else is doing & what appears to be popping that you think you need to do it too.  However, continue to think about why you started and why readers come to your blog. Why are they choosing your site over thousands of others? Once you really sit back to remember why you started things will become clear. Take it from there and keep grinding!
Are you a blogger? What have you learned since you started blogging? Comment and let me know! Also, don't forget to share!
---
Did you enjoy this article? Subscribe to never miss a post!
[mc4wp_form]
---