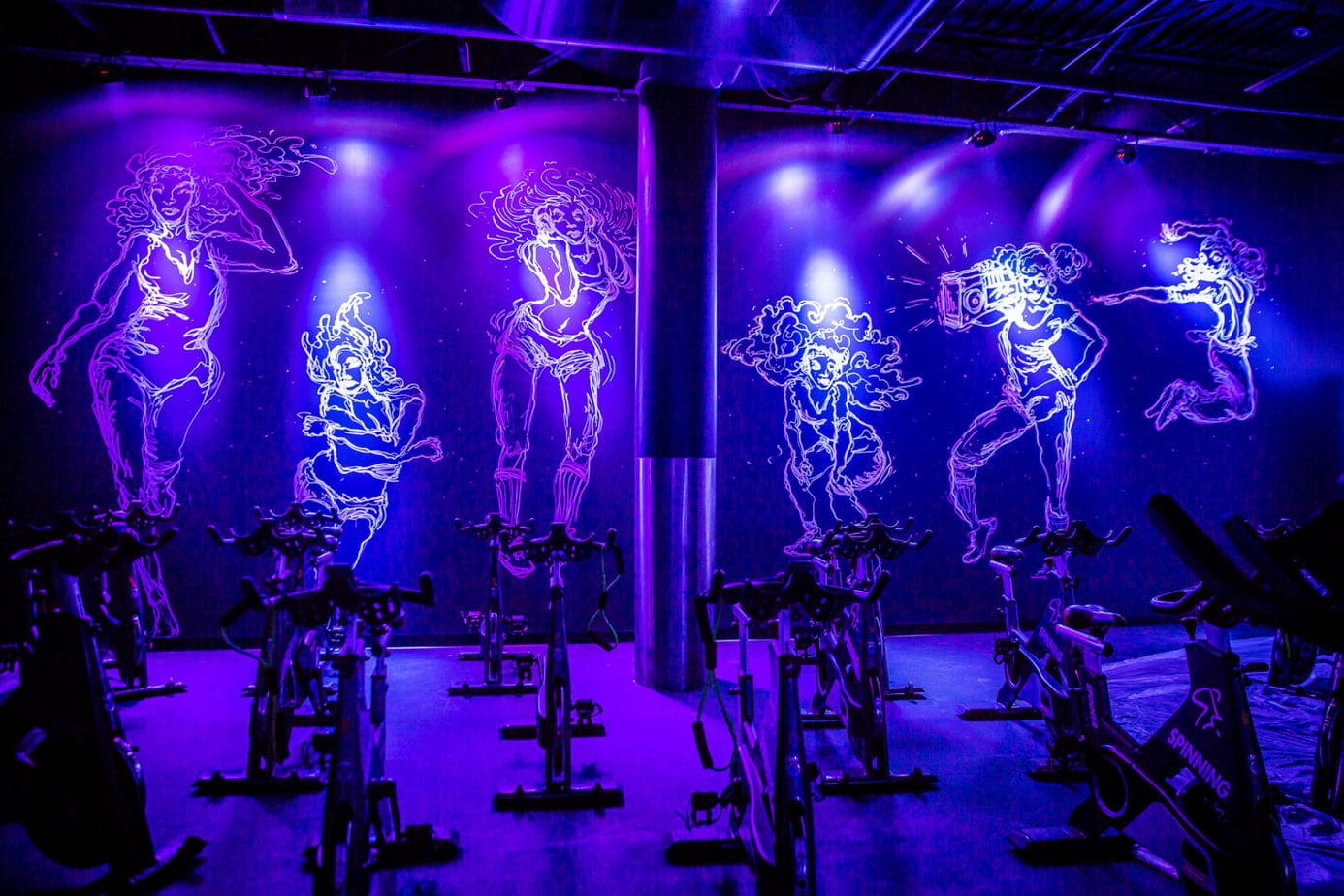 Summer has come and gone and let me be the first to tell you the season completely ran circles around me. I was not ready.  At ALL!  I didn't go to the pool once and I can't even remember the last time I wore a swimsuit. What I do remember, however; is the last time I felt comfortable in a swimsuit. 2 YEARS AGO. After scrolling through pictures I decided I needed to get a serious reality check about my health.
After spending all year nursing my curls back to health with my No Heat Challenge, I'm now switching gears.  If I can spend hours to ensure my hair is healthy, I can devote that same energy to my overall health.  As a result, I've teamed up with a Grit Fitness, a super cute and fabulous gym here in Dallas, and I'm dedicating the rest of the year to shaping up.   This isn't about the scale or fitting into a particular dress size, but more so about how I feel about myself – inside and out.  Here are 5 ways I'm staying fit post summer with Grit Fitness.
5 Ways I'm Staying Fit Post Summer With Grit Fitness
1. Workout Challenges 
If you know me, by now you know I love a good challenge.  When I found out Grit Fitness was having a September Shape Up Challenge I knew this was something I could get into and stick to over the next few weeks.  The challenge includes a 4-week insensitive workout and meal prep program (more about that later).  At the September Shape Up kick-off meeting, a group of 75 women came in excited to get started over the next month. Not only did we map out healthy meal options with our personalized meal plans, we also mapped out our workout plan for all 4 weeks. The best thing is this challenge is all about a competition with yourself. You set your own goals, take your weight, body fat percentage and track it weekly over the month. It is all about challenging yourself to be better vs competing against other women.
2. Meal Planning & Recognizing Healthy Meal Choices 
Meal planning is always something that I've done half-way. It usually works for about 2 weeks or so but afterward, I fall completely off course.  But, as part of my Shape Up Challenge, I'm really trying to commit to sticking to my plan as much as possible.  Progress not perfection right?
If I can't plan out a meal, I'm making it a mission to really pay attention to the total grams of carbs and grams of sugar in each meal. Breakfast is usually the easiest meal of the day for me to plan.  One super easy low carb meal I like to eat in the morning is my version of a "breakfast salad". This includes:
2 Organic Cage Free Eggs
2 oz of Smoked salmon
Half Avocado
1 Cup of salad (spinach or mixed greens)
I'm definitely full for hours after this, with little cravings due to the healthy fats in the avocado – major plus!
3. Complex Workouts
In the past, I've always been strictly a pure cardio girl. After running 2 half marathons I was set that running is all I needed. Then, this summer I worked with a personal trainer and did mostly strength training, which was the hardest and most challenging workout I've ever done in my life.  Now I'm learning from past mistakes and combining both strength and cardio. As part of my workout planning with Grit Fitness for the September Shape Up Challenge, I'm committing to doing 3 cardio workouts per week and 3 strength training workouts (yes that's 6 workouts a week). In the middle of those 6 workouts I've planned one day of active rest to allow my body time to recover. Active rest is anything from a 30 – 40 min walk to a slow-paced yoga session.
4. Dancing!
Out of all the ways I'm staying fit post summer dancing is my favorite! I posted this to my Snapchat and people were surprised that I had moves! Truth is, I've always loved dance and I've pretty much danced all my life through the first few years of college.  Since then I've missed my first love but I'm slowing falling back in love all over again (plus it's a great workout). This hip hop class at Grit Fitness is my favorite.  If you live in Dallas, you can meet me there on Tuesdays!
5. Spinning!
The last way I'm staying fit post summer is spinning. I have a love-hate relationship with spinning. I tried it for the first time a few years ago and hated it! However, spinning listening to Kanye and other upbeat popular music is a bit different.  As part of my cardio classes at Grit Fitness, their Revolution Spin class left me totally speechless. I expected a normal spin class but this class is filled with resistance training, push ups, and everything in between. I left with a whole new idea of what spinning was all about, plus quite a few calories burned, which is always great!
Now, I don't plan to turn Textured Talk into a fitness blog, but I do plan to share more ways to contribute to your health holistically.  Healthy hair is more than what you put ON your hair as far as products. What you decide to feed your body contributes more to healthy hair than women realize. Stress is also a major factor in hair loss so hit the gym a few times a week to let off some steam.  Your body and your hair will thank you for it later.
How do you stay fit throughout the year and what are some of your favorite workouts? Comment and let me know!
---
Did you enjoy this article? Subscribe to never miss a post!
---