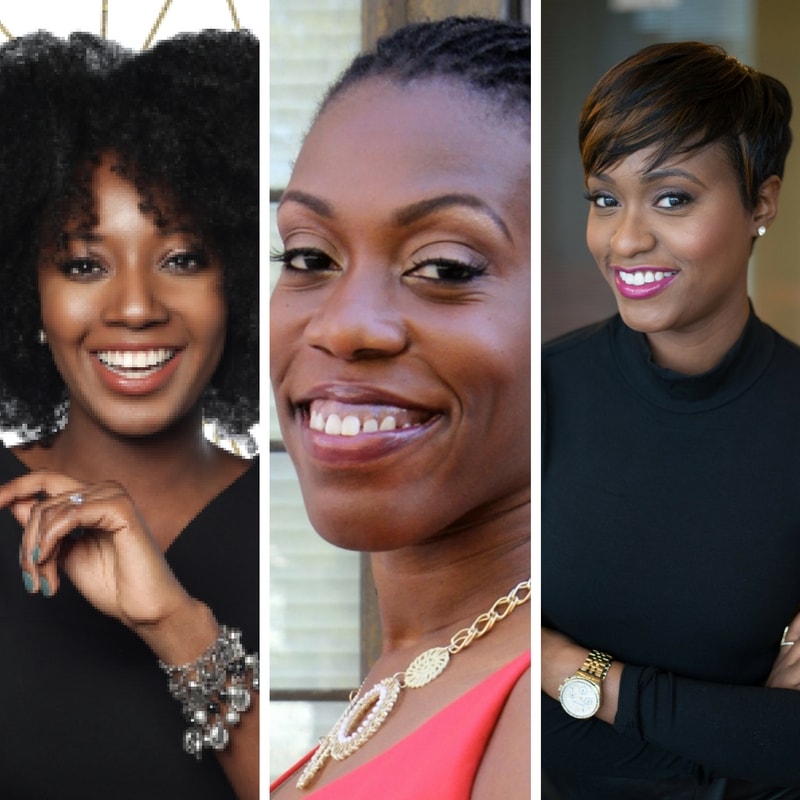 Money, credit scores, retirement. All of that is intimidating to most and the process of finding a personal finance professional to help isn't any easier.  This especially holds true if no one ever talked or discussed these topics while growing up.  And unfortunately, far too many of us just turn a blind eye and decide to deal with it "later".  Student loan balances increase, wages are garnished, and umm what retirement? I'm a firm believer that when you can relate to someone who looks like you and understand your struggles, the willingness to take their advice is well received.
Although I write about natural hair, few people know I'm actually a finance professional too.  From 9-5  I'm crunching numbers and balancing a budget that consists of more money than Beyonce made this year (which we know is a lot).  But, when I'm not handling the money of large companies, personal finance is also something I'm addicted to learning more about whenever I can.   Here are 3 personal finance professionals you should know and who take the term #blackgirlmagic to a whole other level. Let's face it, the cost of having natural hair isn't getting any cheaper so let's get these coins in order!
3 Black Personal Finance Professionals to Know
Founded in 2013, the mission of My Fab Finance is to help millennials break the cycle of living paycheck to paycheck so that they can become financially free.  I've personally met Tonya before (she guided me through the treacherous Trademarking process) and I just love her personality and down to earth spirit.  Her recent projects include a partnership with Centric TV for her very own "Fab Finance" web series where she gives great tips from saving for a wedding to buying a home.
She also has tons of freebies on her site like the Ultimate Student Loan Guide and budgeting tips. Below is an episode from her Talk Money With Tonya Series on Youtube. Also, joining her Facebook group is a must! A lot of amazing gems are dropped daily.  Her Super Fab Financial Planner is also a great start to organizing your finances and getting your life together.
Every since she was a teenager, Dominque knew she wanted to be a financial planner. After college, she began working for a major brokerage firm that focused on high-net-worth individuals. While working at this firm and a few other financial planning firms, Dominque noticed a gap. They only focused on people with a certain amount of assets but what about the people that didn't have $100,000 yet? Dominque saw them getting turned away and wondered who was helping them? The rest is history.
Dominque has been featured has Moneyunder30.com's Top Financial Advisors for Millenials as well as other publications like USA Today, Ebony, Black Enterprise, Nerd Wallet & The Baltimore Sun.  Her 5 week intensive Finance Demystified Bootcamp is perfect for anyone who is serious about making a change in their financial situation. I've also attended one of her webinars so I can personally vouch that you will walk away real life tactics to start implementing to your finances TODAY.
Where do I start! Maybe you've seen her in a recent Ford commercial, The Roland Martin Show or all over TV, but Tiffany "The Budgetnista" Aliche is no newcomer to this rodeo and has been WERKING it for years.  Since 2008, The Budgetnista has been a brand ambassador and spokesperson for a number of organizations – delivering financial education through seminars, workshops, curricula and trainings.
One of her most popular offerings, which is free by the way, is the Live Richer Challenge where she helps women achieve their savings goals in 22 days. There are over 65,000 women from all 50 states and over 80 countries already signed-up.  In 2015 through her challenge, $4+ million was saved and $500k+ in debt was paid off. If that's not a challenge worth signing up for I don't know what is!
Tiffany and her financial advice have been featured in The New York Times, Reuters, US News and World Report, the TODAY show, PBS, Fox Business, MSNBC, CBS MoneyWatch, TIME, ESSENCE Magazine, and FORBES. She blogs about personal finance for The Huffington Post and U.S. News and World Report.  Below is more about the Live Richer Challenge.
What tips do you use to keep your personal finance together? Any personal finance professionals I missed? Drop their info below!
---
Did you enjoy this article? Subscribe to never miss a post!

---