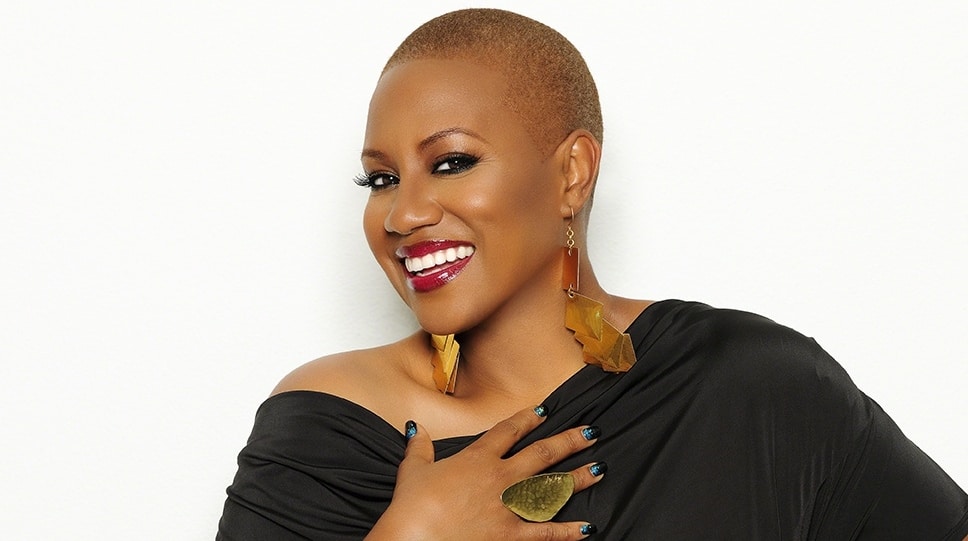 If you have swooned over the gorgeous natural hair styles actress Teyonah Paris rocks on the red carpet then you have witnessed first hand that craft of Felicia Leatherwood. Celebrity stylist and natural hair "whisperer" as many deem her, Felicia is someone I knew I wanted to learn more about when I started Textured Talk and someone I knew I had to have a conversation with in the near future.  As a natural hair blogger nothing excites me more than speaking to professional stylists and getting to know their thoughts on natural hair care, controversial issues, and of course their passion for this thing called hair that we both love.  I am extremely honored I was able to have a phone conversation with her to pick her brain about texture typing, her product favorites and the hot topic that won't seem to go away: cultural appropriation.  Enjoy my Textured Talk with her.
Textured Talk: You fell in love with hair very young at age 9. When did you know for certain this was your calling and that you could make a successful career for yourself in hair care and styling?
Felicia Leatherwood: When I got fired from my job!  I was always doing hair even though I had a different job during the day.  I worked at BET when I was 19 until about 25 and after work I would go home and braid hair.  Then I left BET and I went to Virgin Records as an A&R assistant and it was rough.  It was very difficult and just a very depressive job to have.  It would break my spirit basically, so I would leave work and I would go home and do hair.  I hated that job but I worked so efficiently that eventually my boss had some challenges with his own position.  He felt threatened and decided to release me.  It was the best thing that could have happened to me because it helped me to see my potential as a hair stylist and really pushed me to do my own thing.
TT: How did you venture into celebrity hair styling?
FL: I think being from LA and growing up in the entertainment industry, working at Fox and working at BET, it was just kind of inevitable.  Being in LA you're going to somehow hook up with entertainment and Hollywood but it wasn't even something I set out to do originally.  I just wanted to do hair! I worked at a salon kind of between Beverly Hills in Mid-Wilshire area it was the salon known specifically to cater to black Hollywood; a sort of who's who of clients like Eddie Murphy, Will Smith, and Sanaa Lathan, etc.  I was the natural hair stylist there straight out of cosmetology school and I think that really drove me towards more styling for people in entertainment.   Interestingly enough I had a lot more men as clients for natural hair styles in the early 2000s where men wanted cornrows, braids, etc. and they actually inspired a lot of the cornrows, braids and twisted styles we see now.
TT: Now a little about texture typing.  Some say the hair typing system causes divide among the natural hair community. What are your thoughts and do you think it is important for women to know their hair type?
FL: When I first heard about the texture typing or the code, I did feel like it was a way to divide people to color.  Like okay here we go again, who's hair is better or worse, etc.  But it was so prevalent in the community of natural hair I had to pay attention.  Even if something is negative I always try to find a positive.  So I started to look deeper.  I really feel like my African heritage and my ancestors kind of guide me to understanding our texture of hair more and what I heard was:  Pay attention to what products work for what texture of hair. 
When I started doing that, I said okay; this is why it is good to know your texture so that you're not just randomly buying products.  If you are looking at Tracee Ellis Ross's hair and saying I want her hair, but your hair is more like Whoopie Goldberg, you have to understand that you are not her texture and you need a product that works more for you.  So I specialize in helping women understand which products works best on their own texture hair and that ultimately empowers them.
It's not about the curl type or texture or who is better or worse.  It's just about what product works best for them.
It's not about good or bad hair.  It's just about how do the products work best for example a texture 4 versus a texture 3 hair type.  Texture 4 tends to need more cream and butter.  They don't generally do wash and gos.  Some can but it is a specific type of texture 4 that can do a wash and go.  Texture 3 can do wash and gos, they can wear jelly products and products with more alcohol to hold their curl.  We, myself included,  can't take alcohol to texture 4 because it dries the hair out.  So these are the things that people need to know.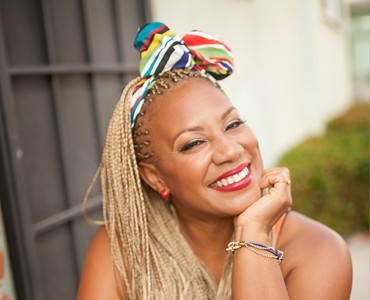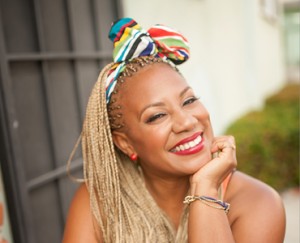 TT: You travel often conducting workshops for women of color all over the world. What is the biggest central concern from women with textured hair?
FL: The biggest concern is women want length and they want moisture.  But I feel like there is more concern for length than moisture.  Length is much more of an obsession because women probably feel like they can always somehow have the moisture if they have the length but, getting the length is such a challenge.  So I hear women from here to Africa, say "my hair won't do that, it's not long.  It shrinks.  It's always shrinking.  I hate the shrinkage".  Then I always hear "my hair is always dry all the time, my scalp is dry.  Everything is still dry.  I don't understand".  This is the thing people have to understand about dry hair.  Sometimes the hair is dry just because we don't know what to use but most of the time the hair is dry because it is simply a dry texture of hair.  I have a very dry texture of hair and I have color but my hair feels soft.
People think they can do one thing in the morning and keep going.  But when you have really dry hair, that loves to soak up everything including the sun, you have to apply your product anywhere from 2 to 3 times a day.
You just have to refresh your hair and soften it with something like a leave-in conditioner. This is nothing to be ashamed of and I don't want people thinking it's so hard or it has to be so much work.  There's always two ways to look at everything and for some reason when it comes to taking care of ourselves we always find the most negative conversation about that and it doesn't have to be that way.  It could really just be a very easy conversation, that makes you feel good.  Once you understand what your hair needs everything is easier.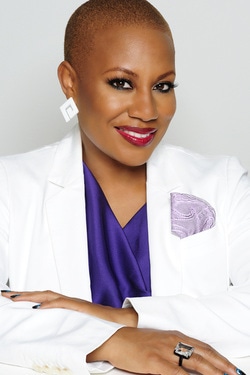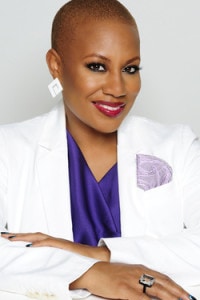 TT: Continuing that note, what is the biggest mistake women make when they are transitioning to natural hair?
FL: The biggest mistake women make is expecting their hair to look like somebody else's hair when they do not have that person's texture.  The expectations are not always realistic.  Women are looking on YouTube and are not paying attention to the texture the girl in the video has, which goes back to the texture code/hair typing.  There are 4 textures in the hair typing system starting with texture 1, which is straight.  None of us really pay attention to texture 1 unless we have that within the texture of our hair.  If you have texture 1 generally it's because you over processed your hair, pressed the hair too hard or maybe just in your family genes your hair is straight in some areas.  Texture 2 tends to be more of a wave, a loose wave.  Texture 3 turns into your curl and texture 4 is your kink.  You usually have either the kink before the curl which is 4, or the curl before the kink which is 3.  When you get into the A, the B, and the C of it, we are talking the width, the thickness, the fullness, the softness of the curl or the kink.  So when you know your texture and you're following YouTube bloggers you are able to say "Oh oh Naptural85 has my hair, I should follow her!  Taren Guy has my texture of hair, let's see what she says to use for conditioner."
Or you could say let me see what Felicia Leatherwood, who is a natural hair specialist, says about all of these things.  I work with all textures of hair and I'm testing various products all the time.
TT: Recently you launched the Felicia Leatherwood Detangling Brush.  What was your inspiration behind creating the brush?
FL: So, I was fooling around at the beauty supply store because I'm always looking at what they have in there, seeing what products are on the top shelves versus the middle versus the bottom.  I decided to pick up 3 different shampoo brushes from 3 different stores to test them out and see what's the difference because they were all various prices.  So I started using the brushes on various hair textures and I loved it, but I did not find them to be sturdy.  The cheaper the brush the more it would break and pull the hair compared to the more expensive brushes.  So I thought to myself, this brush would be great for naturalistas.  Next, I did my research and figured out ways to re-create it and make it better, thicker and stronger for all textures especially for women with kinky curly hair.  My first priority is always the texture 4 hair women because they have the most challenges between tangles, moisture, trims, etc., so I want things to be easy for them like other textures.  The brush is incredible, not just because my name is on it, but because it flexes with the hair unlike other brushes.  It is specifically crafted to pause and release the tangle so it does not snag the hair.
TT: What are your top 3 cardinal rules for healthy hair growth?
1. For sure a regimen. Doing the same thing, at the same time, the same way.  You want to set your hair on a schedule so it expects the regimen, is used to it and knows "this is my time".
2.  You also want to make sure when it's time to do your hair it feels good to you.  It's not a chore like "oh gosh I have to do my hair again" because all those negative thoughts and energy go straight to the hair.  It goes to the energy that is creating the growth and strength of the hair.   It is also really important that you have a good conversation with yourself while you are doing your hair and that it feels pleasing like going to the spa.  It's something you are giving back to yourself while caring for your hair.  It's the mind, body, spirit connection.
3. Lastly, remember what products you use and what your hair likes.  For some reason when we come up on something really great that our hair loves and we run out of the product, we go to the next thing.  Have at least 2-3 products that your hair loves and that you can go in between when your hormones change, and the pH level changes within your body.
TT: OK, now for a little fun! If you were stuck on an island and could only choose 1 of each, which brand/product would you choose?
I have a few but I'll try to choose one of each!
Also just to note if you're dealing with hair that's shedding and breaking, I recommend the  Elasta QP Anti-Breakage Shampoo and/or Conditioner and the Growth Renew Profectiv Serum; it works well to help grow the hair.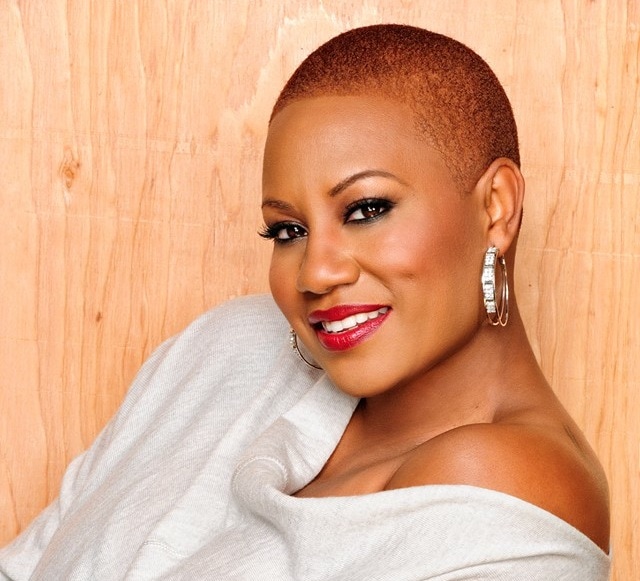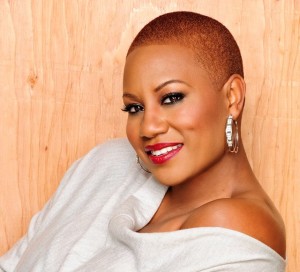 TT: Currently, there is a lot of conversation surrounding cultural appropriation and mainstream adopting natural hair styles, reclaiming them as their own.  Any thoughts on this hot topic?
I feel a lot of things on this topic. It kind of bothers me but then I have to realize that they are not doing it on purpose.  I think that they are just used to assimilating to what's cool, like: "oh they got something cool going on.  I want some of it too.  I'm going to try it!"  I think the reason why we get mad is because they have a forum that goes bigger than what we have and that's where things get strange. To us, because we are not at the forefront a lot of times, we aren't getting credit in the media.  Then when we see other people take or recreate something we've done and then they get all the exposure we get pissed off. But we got to remember this has been going on forever and it's not just us black people.  It shouldn't be taken personally but, we do feel like that because we live our lives in such a personal way.
So much has been taken from us that we are still waiting to reclaim and we feel like with our natural hair community, we only have our own thing because this is who we are.  We are reinstating and reclaiming that this is me naturally and I am accepting myself.  
So when somebody shows up and they are like "oh that's cute" we think; this is not who you are and I am not doing this to be cute.  I'm doing this because I want to be free from myself.  Find your own freedom. That's what we take personally and they don't understand.  They don't understand that we are trying to reclaim who we are.  We are trying to appreciate ourselves, love ourselves and be in a natural way with ourselves.
TT: And last but not least, a question I like to ask all interviewees. Do you have any hair crushes? If so, who?
Just talking to you and knowing that you are over doing your thing and you are using different products inspires me.  So I would have to say my hair crushes are all the naturalistas that are out there and inspiring all the young women to go natural from looking on Instagram seeing the different styles that women do everyday.  You all keep me wanting to create more red carpet looks and styles on clients.  I am so grateful that I have the opportunity to showcase how women of color can be beautiful naturally, in media, in Hollywood, and on the red carpet.  You guys keep me going and inspire me to create more, do more and expand myself.  I learn from you guys!
Thanks so much Felicia! Absolutely loved my time speaking with you and I loved all your answers and especially your energy.  Learn more about Felicia Leatherwood and see her in action in her new web-series Head Cases.
---
Note: Product links in the article may contain affiliate links.  Photos courtesy of FeliciaLeatherwood.com
---
Did you enjoy this article? Subscribe to never miss a post!
[mc4wp_form]
---