Every now and then you come across a product that makes you wonder "Where has this stuff been all my life?!"  For a least a year I'd casually read about Karen's Body Beautiful products on several blogs and seen the products at a few different beauty supply stores and Target.  After contemplating, I decided to go ahead and give the products a try.
Best decision ever! Not only are the products free of parabens, silicones, and sulfates, but the ingredients are fairly simple and understandable.  To me, that's a big deal.  Nothing is worse than reading the back of a bottle and you have zero ideas what all the long ingredients mean.
Below are the two Karen's Body Beautiful products that are a MUST in my stash, how I use them and what I love about each.  Enjoy!

How I Use:
Since the product is a little heavy, I use the hydrating cream to seal moisture into my hair after washing or co-washing before completing a twist-out.
The directions state the cream is best used on slightly damp or dry hair, so I soak up excess water with an old t-shirt after washing, then twist.  I also use on dry hair if my ends look a little dry or hair looks dry overall.
Ingredients:
Shea Butter, Aloe Vera Gel, Argan Oil, Allantoin, Lecithin, Potassium Sorbate, Acai Powder, Vegetable Wax, Vegetable Glycerin, Essential and/or Fragrance Oils & Vitamin E
What I love:
This cream is extremely hydrating, no pun intended to the name.  Also, the smell is AMAZING! Get the pomegranate guava and you will not be disappointed.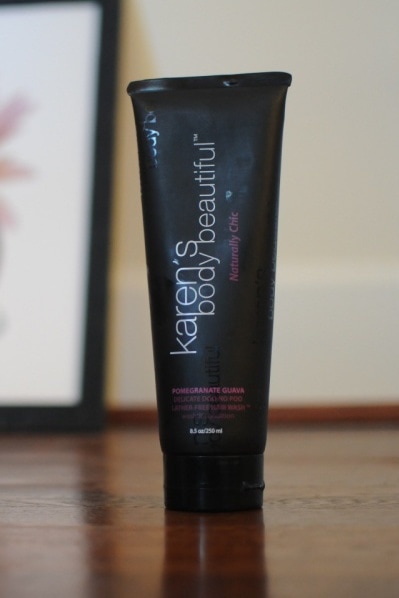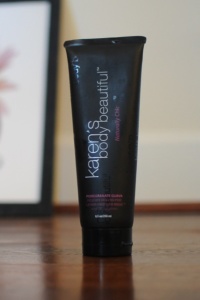 How I use:
Use for co-washing once a week.  Afterward, twist with a hydrating cream or whatever product I'm trying at the time.  I actually had a chance to meet the founder and creator Karen herself, at a Target Tour in DC a few months ago, where she specifically stated it was formulated for co-washing so yeah…trust the creator!
Ingredients:
Purified Water, Vegetable Glycerin, Vegetable Wax, Ale Vera, Echinacea, Nettle & Horsetail Extracts, Panthenol, Aritha Soapnut, Amla & Shikaiki Herbs.
What I love:
Great for detangling and nourishing at the same time.  Although this is just a co-wash product my hair still feels pretty clean and VERY soft afterward.
Also, it's super easy to use in the shower due to the construction of the bottle.  Personally, I hate having to twist off a jar lid, dip my hand in the product then slather on my hair.  This product is quick, easy, and to the point as far as using in the shower.
Have you ever tried Karen's Body Beautiful products? If so, what did you think?