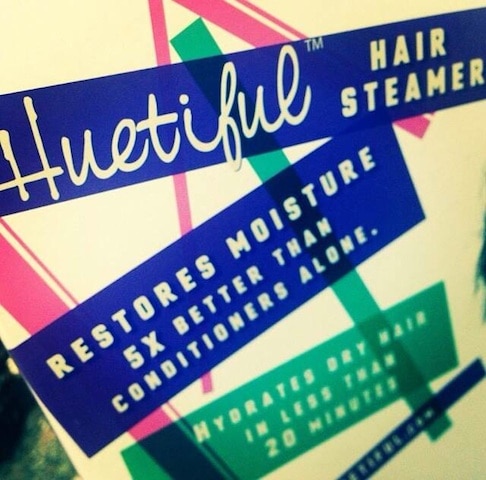 The first time I learned the term hydration treatment was in 2010, after 3 years of being natural.  Yes, I was probably a little late to the game so sue me!  Similar to you probably, growing up, I'd always used the traditional method of deep conditioning by sitting under my Golden Hot hooded dryer with a plastic cap and a head full of conditioner.
Although I still love this traditional method, my first experience sitting under a hair steamer at the salon knocked my sweet little Golden Hot out the water.  Afterward, my hair was extremely softer, shinier and had tons of volume when I completed a blowout and flat ironed my hair.  Also before my blow out, my curls were SUPER defined!
As a woman on a budget, I knew I didn't want to pay for the expensive treatment each time I went to the salon.  Luckily, last year I learned about the Huetiful Hair steamer which could be used at home.  Excited was an understatement!
Why is steaming so great?   Steaming allows for greater penetration of moisture into the hair versus regular conditioners by themselves, 5 times greater according to Huetiful.
The heat from the steam forces the cuticle of the hair to gently lift and moisture is directly infused.
Just like your body, your hair needs water so let's just think of this as getting your 8 glasses a day.
Although the Hueutiful steamer has a hefty price tag of $116.95, at about $20 per treatment at the salon, it's clear the benefits out weighed the costs. Putting the steamer together was super simple and there's even You-tube tutorials to walk you through the process.  I opted out of buying the spa head band, which was silly so please spend the extra $5.  It's so worth it!  Water will drip down on your forehead so save yourself the headache unlike me because I was being lazy.
Once you have everything set up, fill with distilled water and enjoy!  Unfiltered water could contain particles, chlorine and other elements that will damage the lifespan of the steamer, which we don't want to happen.  I simply fill my Huetiful steamer with water from my Brita filter, which does the trick.
MY REGIMEN:
Use weekly, after co-washing or regular shampoo treatment
Add favorite conditioner and coconut oil before steaming
Rinse with cool water after steaming
WHAT I LOVED:
Easy set up
Super defined curl pattern after steaming
Hair retains moisturized look for several days
If completing a blowout after the stream treatment, hair has amazing volume
Have you tried a hydration steaming treatment before? What were your thoughts?
---
Did you enjoy this article? Subscribe to never miss a post!
[mc4wp_form]
---