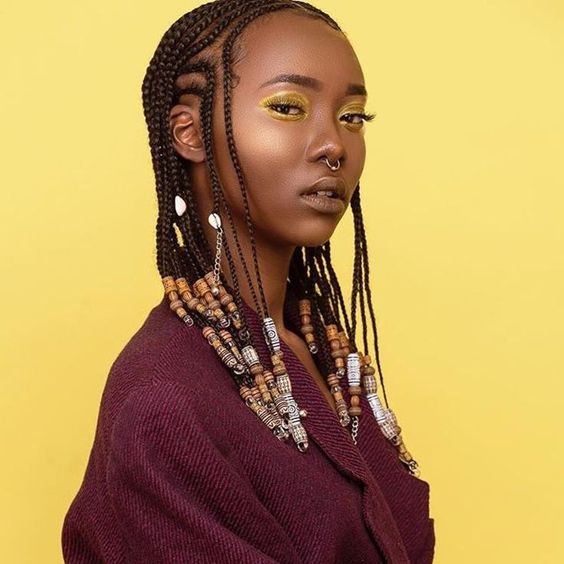 The hairstyles we wear as black women are often more than just hair. There's a Story. There's a History. And it makes a Statement. And the intricate often adorned protective style known as Fulani braids are no different.
What are Fulani Braids?
Fulani braids are "a very traditional hairstyle for women that includes long hair being put into five long braids that either hang or are looped on the sides, with a coiffure in the middle of the head. Hair is decorated with beads and cowrie shells." (Source: https://www.onchek.com/theinsight/6-popular-braiding-styles-their-true-origin/)
Where did Fulani braids originate?
Fulani braids originate from the Fulani or Fula people, who make up the ethnic group in the Sahel and West Africa. Most of the Fulani people come from Mali, Senegal, Guinea, and Cameroon.
What do Fulani braids symbolize?
Hair plays a major role in African culture and civilization. It can symbolize origins, social status, wealth, religion, or marital status. The Fulani women decorate their hair with beads and cowrie shells. The women would add silver coins and amber to those braids as ornaments. As a tradition, some of these coins are passed down in the family.
Today's stylists were inspired by the creativity and uniqueness of the Fulani women and named the style in honor of them. The braids have been a mainstay for many years, ebbing and flowing in popularity, but always a classic protective style choice.
And if you're looking for a protective style where you can show off your individuality and creativity, the possibilities are endless with Fulani braids.
How to do Fulani Braids
If you are one of those women blessed with nimble fingers, it is possible to DIY the install of your braids. Here is a very detailed video from Youtuber LavishlyBritt. Her video breaks it all the way down and the results are beautiful.
Step 1: Grab your supplies:
Step 2: Start with freshly washed, conditioned, and moisturized hair that has been stretched or blown out
Step 3: Part hair in half horizontally
You will be starting with the back half of your hair where the box braid pattern will be installed.
Step 4: Take a small section starting at the nape of your neck, grab a small piece of the braiding hair and add it to your hair and then begin braiding all the way down to the end of the braiding hair or your desired length
Step 5: Repeat until the entire back of your head is complete
Now it's time to cornrow the front of your hair and the pattern is up to you and your imagination.
Step 6: Start with the section of your hair right above your ear. Typically this section is cornrowed towards the front. Repeat the same for the hair above the opposite ear.
TIP: Be sure to protect your baby hairs. Do not to braid them into the cornrows.
Step 7: Cornrow the rest of the front of your hair in the pattern you desire, adding the braiding hair to the ends for length.
Now it's time to adorn your hair!
Step 8: Now you can add beads, jewels, shells, whatever you like to add some glamour to your braids.
Step 9: Apply your favorite mousse to your braids to tame any flyaways.
Step 10: Optional – Use gel to style your baby hairs.
But if you would prefer to let a professional hairstylist install your Fulani braids, the cost varies depending on many factors. This includes where you live, the length of training of your stylist and how long the braids will be. For budgeting purposes, in New York City where I live, I received a quote for $200.
How long do Fulani braids last?
This depends on how well the braids are maintained, including making sure that the braids are tied down every night with a silk or satin scarf. How quickly your hair grows and how well they were installed. Fulani braids can last 4-6 weeks. Be sure not to leave your braids in for too long because your natural hair can begin to matte and loc.
How to maintain your braids
Youtuber Kelsley Nicole shows us how she maintains her braids to keep them looking fresh and new.
Here are some tips to maintain and extend the life of your braids.
Tie your braids down with a silk or satin scarf each night to prevent frizz.
Take care of your scalp and the exposed hair by continuing to gently shampoo and condition your hair.
Apply your favorite oil or serum to your scalp to keep itchiness and flakes away.
Continue to moisturize your exposed hair while in this style on a regularly to take care of your natural hair.
Want more inspiration? Here are 25 hairstyles that are #braidgoals
1. Fulani braid inspired updo
2. Fulani braids bun with beads and colored hair
3. Intricate half up-half down Fulani braided style with beads
4. Braided buns with tendrils and beads at the temple
5. Braided front with jewels and beads and a puff at the back
6. Fulani inspired braids two-ways. Half up and complete updo
7. Fulani braids with grey braided hair and clear beads
8. With jewels at the front and double buns at the back
9.Fulani braided double buns and wooden beads at the tendrils
10. Golden hour Fulani Braids
10. Fulani braids adorned with wire and jewels
11. Blue Fulani inspired braided bun
12. Fulani braids adorned with an assortment of beads, shells, and jewels
13. Double take. Fulani inspired half up-half down style with blonde highlights
14. Braids with a pop of color – green beads
15. Strike a pose with this extra-long Fulani inspired style with beads
16. Red highlighted braids with jewels
17 & 18. Sister-Sister braid twins
19. Fulani braided style for a beautiful young Queen
20. Fulani braid inspired high pony
21. Classic Fulani braids on actress Cicely Tyson
22. Afrocentric Fulani braids with traditional headpieces and wooden beads
23. Alicia Keys who re-invigorated the style in the early 2000's
24. Sweet and simple everyday Fulani braided style
25. Fulani braids with intricately designed wooden beads
Here's to keeping our hair heritage alive while making it new!