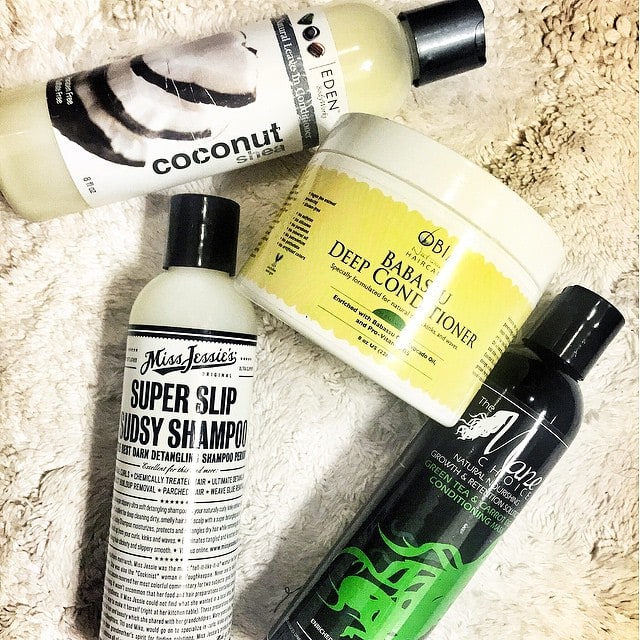 The weekend is upon us and you might be planning for your weekly wash day regime.  While I don't have a strict day designated for shampooing and deep conditioning my hair, I know a lot of women use Sunday to give their hair the much-needed TLC it deserves.  As a result, let's talk about my current wash day favorites. I have a lot of products that are in constant rotation; however, there are a few that stand out more than others.  Whenever someone asks what's my favorite "xyz", these are the products that instantly pop in my head.  I'm always on the hunt for the best new thing so I'll just say these are my favorite products…right now.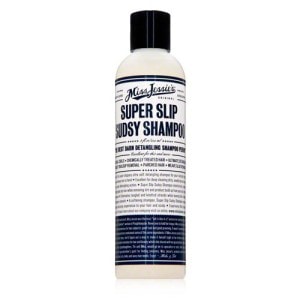 Just as the name says, this shampoo has great slip and is perfect for those days when my hair is annoyingly tangled or I have a lot of product build up.  I often find it very easy to use when trying to rid my hair of single strand knots.  The consistency is very thick and concentrated; therefore, it doesn't take much to get a great lather, spreading quickly throughout the hair.  While washing I can easily slide my fingers throughout my hair to further help with the detangiling process, something I'm normally only able to do while conditioning.   If your hair is really thick and hard to manage while shampooing I definitely suggest giving this product a try.
Ingredients: WATER (AQUA), AMMONIUM LAURYL SULFATE, DISODIUM COCOAMPHODIPROPIONATE, COCAMIDOPROPYL BETAINE, POLYSORBATE 20, POLYQUATERNIUM – 7, GLYCOL STEARATE, FRAGRANCE, POLYQUATERNIUM-10, TETRASODIUM EDTA, ISOSTEARYL ETHYLIMIDAZOLINIUM ETHOSULPHATE, PROPYLENE GLYCOL, CITRIC ACID, PEG-55 PROPYLENE GLYCOL OLEATE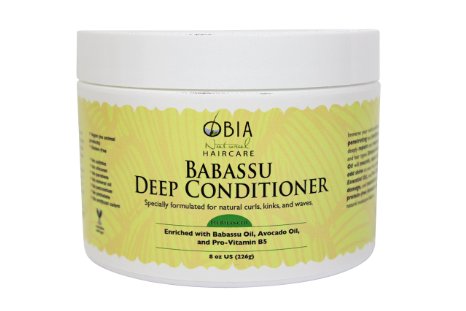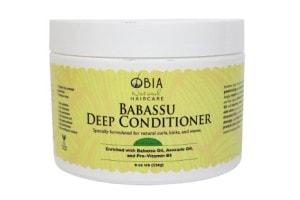 Moisture, moisture, moisture! Those are the words that come to mind when I think of Obia Natural Hair products.  I first learned about Obia products at a natural hair event I went to in Dallas. The founder and CEO Obia Ewah, also based in Dallas, is a chemist and PH balance is the foundation for all of her products.  As a result, this deep conditioner is a match made in heaven for dry hair.  The key ingredient, babassu oil, works wonders giving an extra boost for your hair.  The deep conditioner is very concentrated as well so you don't need a lot to really spread from root to end.  As you can tell I love products that are thick and creamy.  The price tag is also moderate considering everything this conditioner does for my hair.. $15.00.
Ingredients: Purified Water (Aqua), Oryza Sativa (Rice) Bran Oil, Cetyl Alcohol, Stearamidopropyl Dimethylamine, Stearyl Alcohol, Vegetable Glycerin, Orbignya Oleifera (Babassu) Seed Oil, Centrimonium Chloride, Persea Gratissima (Avocado) Oil, Panthenol, Gluconolactone and Sodium Benzoate, Aloe Barbadensis Leaf Extract, Rosmarinus Officinalis (Rosemary) Leaf Extract, Citric Acid, Fragrance (Parfum).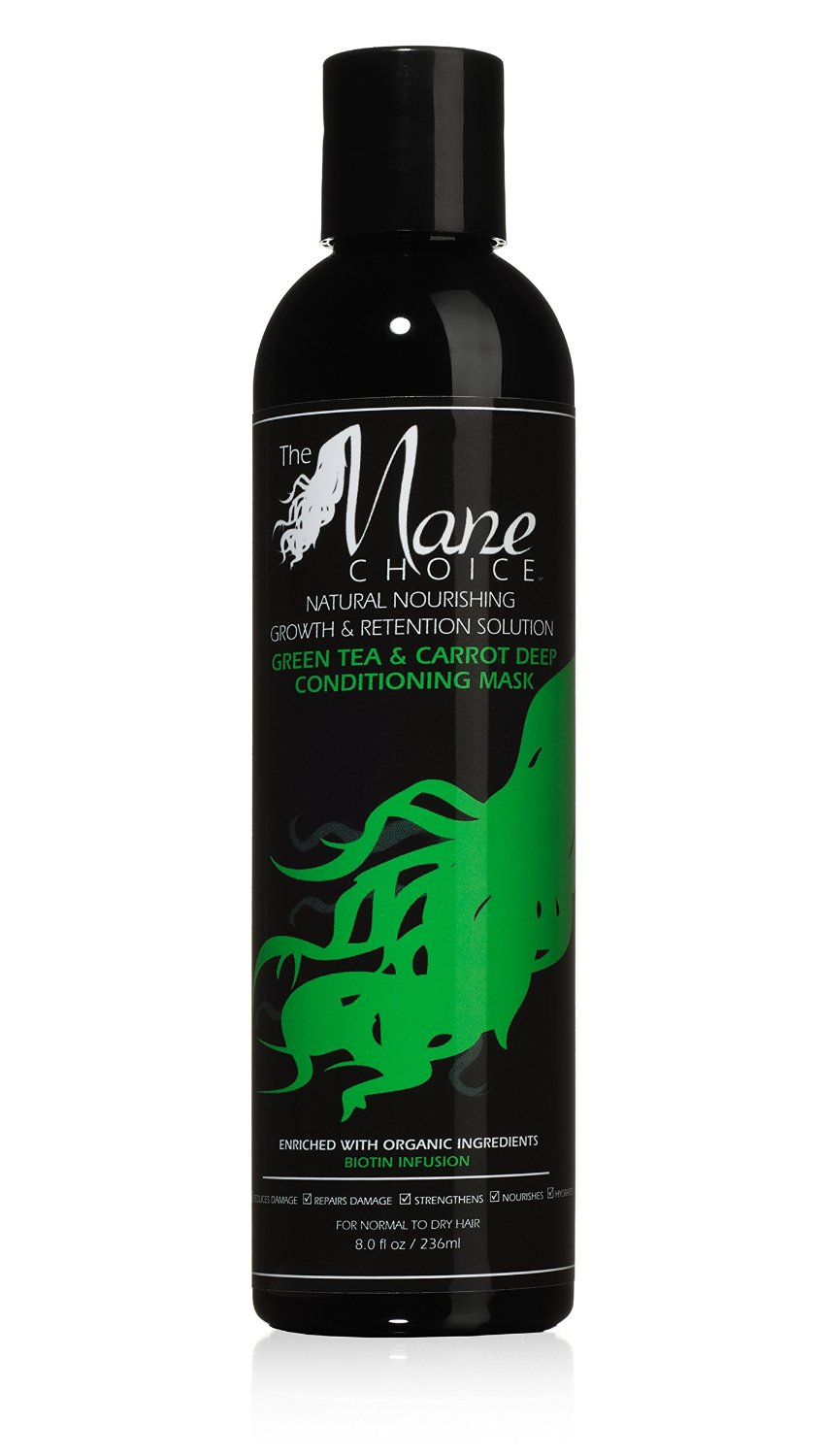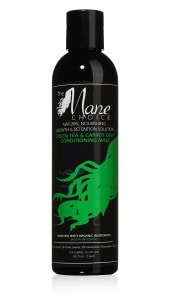 Weekly deep conditioning is must for my regime so I have 2 deep conditioners on my list because I truly adore both.  I usually rotate between The Mane Choice and Obia Natural Hair in a given month or sometimes I'll use both.  A while back I thought parts of my hair were heat damaged;  however, I was in complete shock after using this deep conditioning mask as I saw my curls pop back into springy formation.  This conditioner isn't thick and creamy but trust me you will not be disappointed.  The carrot and green tea help to restore damaged hair and works to promote growth and retention, while fighting shedding and breakage.
Ingredients: Aloe Barbadensis (Organic Aloe) Juice, Cetearyl Alcohol, Ricinus Communis (Castor) Oil, Biotin, Helianthus Annuus (Sunflower) Oil, Avocado Oil, Brassica Oleracea Italica (Broccoli) Seed Oil, Carrot Seed Oil, Honey Extract, Silk Amino Acid, Green Tea Extract, Stearalkonium Chloride, Phenoxyethanol, dl-Panthenol (Pro-Vitamin B5), Hydrolyzed Wheat Protein, Cocos Nucifera (Coconut RBD) Oil, Vegetable Glycerin, Limmnanthes Alba (Meadowfoam) Oil (Refined). Essential Oil: Grapefruit, Lavender.

I did a review a few weeks ago about Eden Body Works and their products, out of all the new things I've tried, are still on my favorites list.  This is my last line of defense for my strands before I decide to twist, roll or protective style my hair.  It really helps to keep my hair moisturized over a couple of days.  Also, similar to other products that I love with a thick consistency it lasts for a while.  Needless to say I still have a generous amount left and I've had this leave in conditioner since November.
Ingredients: Water, Cocos Nucifera (Coconut) Oil, Aloe Barbadensis (Aloe Vera), Butryospermum Parkii (Shea) Butter
Want to purchase these products? Visit the SHOP  section for more info.