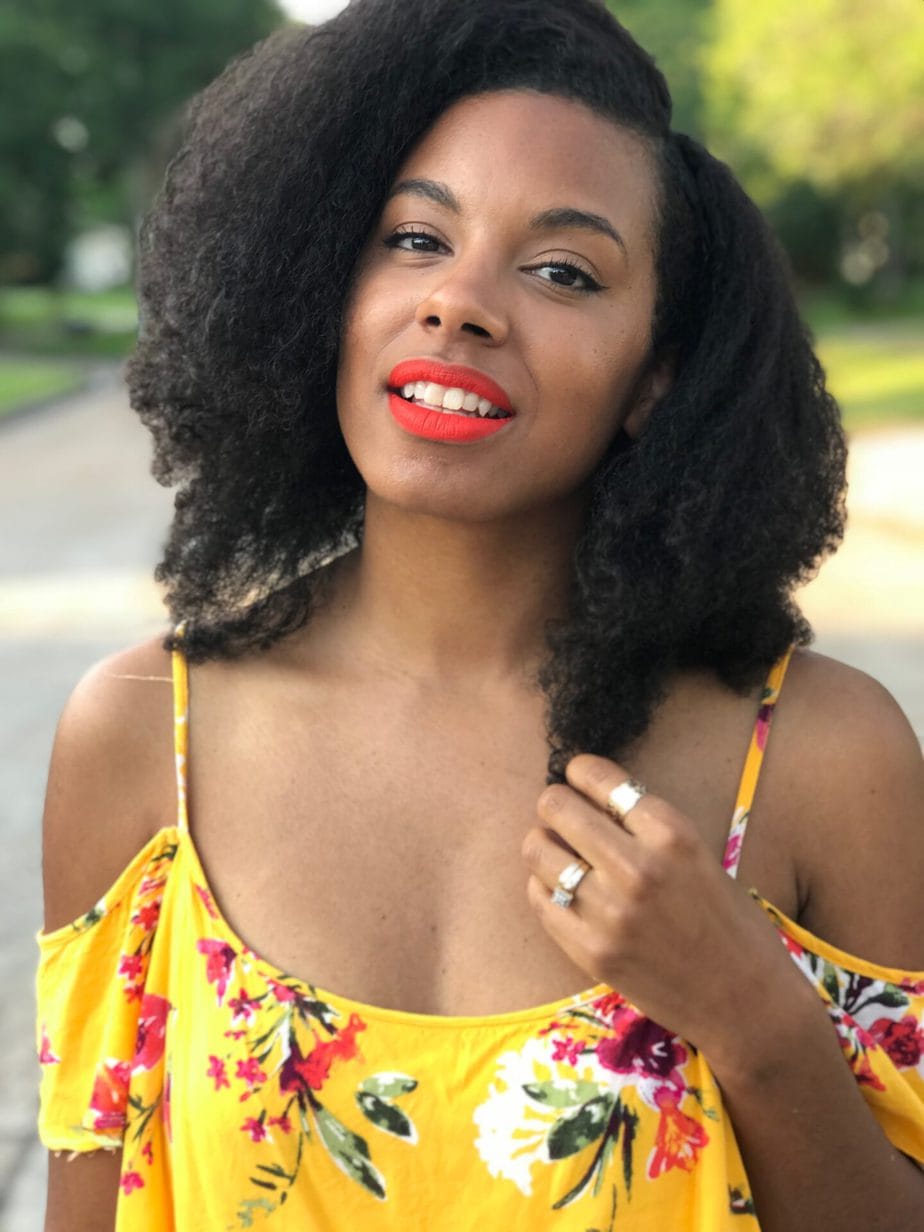 photo credit: @bridgid_ryan nappy.co
Hair steaming is great for all hair types and textures but, women and men with natural curls, kinks and coils can see a tremendous benefit by adding hair steaming into their hair care (and self care!) routine.
Curly hair tends to be dryer than straight hair because the bends and curves of each curly strand make it harder for the naturally produced oils from the scalp to travel down the length of the strand to keep it moisturized.
To combat this dryness, curly girls are constantly looking for products to keep their locs looking supple. And hair steaming is a technique that curly girls have used for years to do just that.
Here is everything you want to know about the benefits of hair steaming and how you should go about the process.
Benefits of Hair Steaming
What is hair steaming?
Hair steaming is a process where steam is generated and then directed at the scalp and hair strands. The steam gently lifts the cuticle to allow for nourishing oils and or conditioning treatments to better penetrate and absorb.
Hair steaming is not new. The technique has long been used by professional hairstylists and kitchen beauticians as a tool to keep hair healthy. After treatment, the scalp is moisturized and the hair looks shiny and feels soft.
A hair steamer is the best tool to generate the heat to create the steam to moisturize, define, and bring life back to your curls. For this and many reasons, they are a great investment.
And you have many options to choose from when buying. They all give you a great result and you can decide which to choose from based on your lifestyle and how much you are willing to spend.
Benefits of hair steaming
There is a reason that this technique has been around for many years, the results that are seen with just simple heated water are incredible:
It improves hair elasticity, helping to prevent breakage and retain length
Defines and revitalizes frizzy and lifeless curls
Helps improve blood flow to the scalp, which stimulates hair growth
Helps to drive in moisture and rid the scalp of fungus and flakes
Leaves hair moisturized and shiny
When used in the hair salon during color processing, it also cuts down on the length of time it takes to process color
There are 3 different types of hair that can especially benefit from steaming:
Low Porosity – This type of hair has a hard time receiving and holding on to moisture because the hair cuticles are so tight, making it hard for moisture to penetrate. Steam is a great solution and it helps to relax and open the cuticles enough to receive moisture.
Hair that is transitioning from relaxed to natural – Steam helps to soften that fragile line where the relaxed hair stops and the natural hair starts, making the hair more manageable and less prone to breakage.
Color-treated, dry and damaged hair – This type of hair is much more delicate and the concentrated moisture that steam provides is a great option to keep this hair healthy.
How can I steam my hair?
Hair steaming is a process that is very accessible. You can ask your stylist if they offer the service or it can be done at home with a personal hair steamer. Often you will find stylists refer to steam treatments as hydration treatments so just ask.
If you want to want to steam your hair by yourself at home here are some options.
Hooded Hair Steamers
A hooded hair steamer can be purchased for home use on Amazon and at your local beauty supply store.
They look very similar to the hairdryer you'd find at a hair salon and also work similarly where you sit with your head under the hood until the process is complete. The difference is that water must first be poured into the designated container so that the steam can be produced.
Handheld hair steamers
Handheld steamers are a great option if you have limited space to store a large professional steamer. And one of the most popular handheld hair steamers is the QRedew. It can easily be stored under your bathroom sink and the price is much more budget-friendly at $79.
The Q-Redew hand held steamer can be purchased on the Q-Redew website.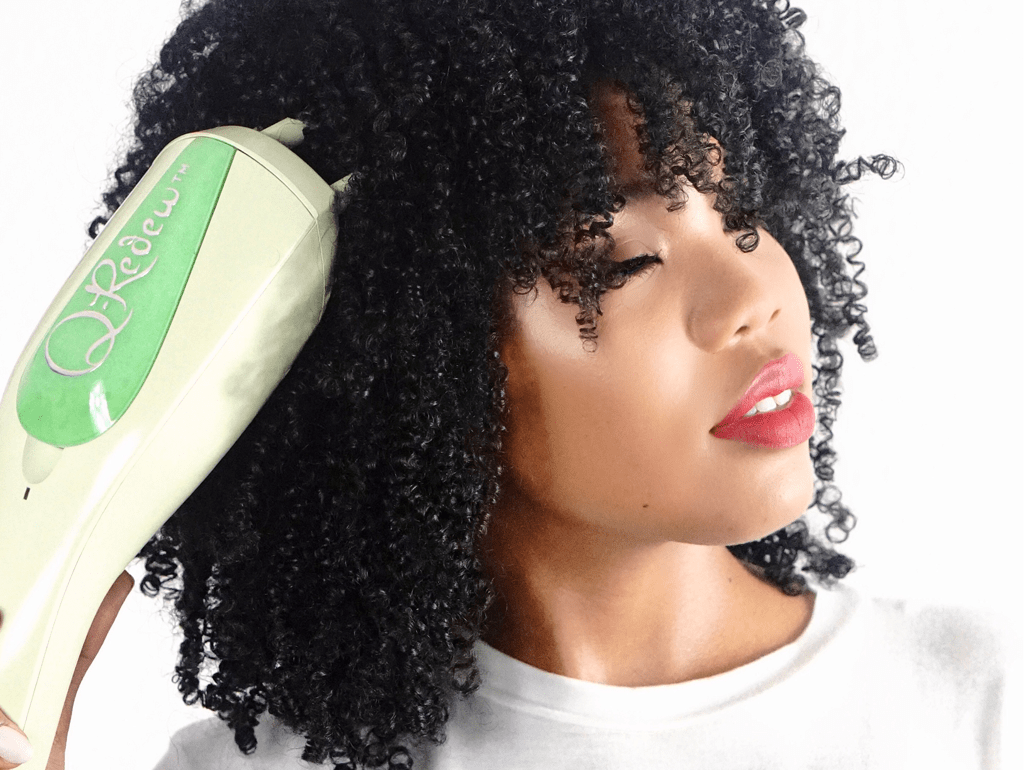 How to steam your hair without a hair steamer
Hood dryers, steam or conditioning caps
A similar steam effect can be created by using a hooded hair dryer or steam or deep conditioning caps.
Some of us still have a hooded dryer hanging around from our relaxed hair days and now you can finally get some use out of it. Just cover your freshly washed hair and still wet hair with a plastic bag or processing cap, sit under the dryer turn it on, and there you have it!
Steam or Conditioning caps come in electric or cord-free options where the heat is activated but placing the cap in the microwave before use.
You won't have the same amount of steam with any of these options as you will with the handheld or hooded steamer but you will get similar results at a lower price than the handheld steamer.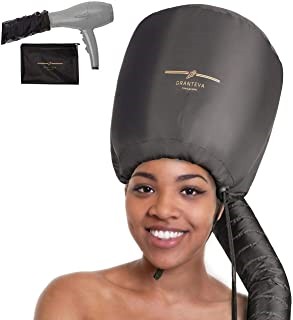 If you're still unsure, you can also replicate a hair steamer by covering your wet and washed hair with a plastic bag, then covering it with a hot and wet towel. See also the Baggy Method.
Ready to try hair steaming?
Here are the steps to follow:
After you shampoo your hair, then apply your oil or deep conditioning treatment to your wet hair and then apply steam using the method of your choice.
Let the steam penetrate the strands for 10 to 30 minutes
Once complete, rinse your hair with cool water, apply your favorite leave-in to lock in the moisture and you're ready to style!
Can steam damage my hair?
Steam is hot and can burn or cause heat damage if applied to often or too close to the hair strands. Be sure that when using a hair steamer, especially a handheld one, that you follow the instructions before use and make sure to keep at least 6 inches between your steamer and your scalp to avoid burns.
Some other important things to remember
Only use distilled water in your handheld or hooded hair steamer to prevent introducing minerals and chemicals into your hair that may be found in tap water.
Do not turn the steamer on when there is no water in it – it could damage the machine
ALSO READ: HARD WATER VS SOFT WATER: IS YOUR HAIR SECRETLY SUFFERING DUE TO YOUR AREA?
How often should I use a hair steamer?
It depends on the needs of your hair, but for most, you should only steam your hair once a month.
Over-steaming can over-moisturize the hair making it limp, weak, and cause it to break, also known as hygral fatigue when hair is over moisturized.
Each session should last no more than 10 to 30 minutes at a time. Anything more could cause permanent damage.
Have you ever tried hair steaming? Let us know your experience!
Here's to Softer Strands!