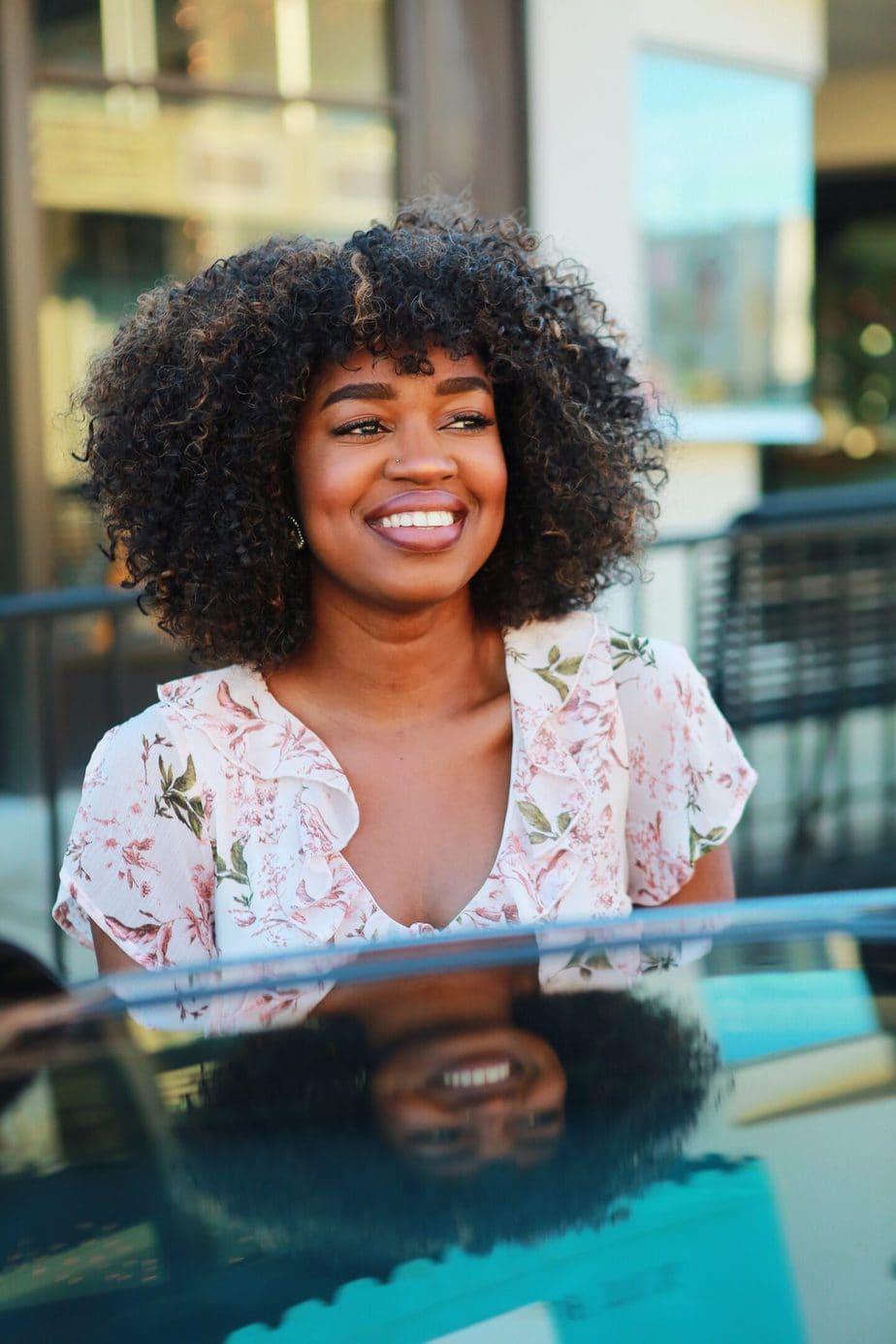 Behentrimonium Methosulfate sounds like a scary ingredient when you turn your favorite bottle of conditioner around and start reading. When transitioning to natural hair, one of the first things you learn is the importance of ingredients in natural hair products.
The general rule of thumb used to be – if you can't pronounce it, don't use it in your hair. Well, my friend, I'm here to tell you not all hard to pronounce ingredients are made the same and this is one of them.
In this article, we are going to break down the mystery behind this ingredient and why it might be your new best friend along your natural hair journey. Here is what we will cover:
What is Behentrimonium Methosulfate?
Is BMS bad for my hair?
Best conditioners that include BMS
Natural Alternatives
What is Behentrimonium Methosulfate? What Is It Made Of?
The scientific definition of Behentrimonium Methosulfate, also known as BMS, is a quaternary ammonium compound synthetically derived from the oil that comes from rapeseed. Used in conditioners, shampoos, and lotions it also aids in providing extra slip in these products. For women with lots of curls, like me, this is the most important!
BMS is also an emulsifier. What does that mean exactly? An emulsifier helps to bind together a product that has water and oil in order to make it into a cream. Since of course, we know oil and water do not mix – enter BMS.
Is Behentrimonium Methosulfate Bad For My Hair?
So the word "sulfate" has you concerned? Trust me I understand. Since the adoption of the Curly Girl Method, many naturals began to run far away from any type of sulfate to avoid the risk of damaging their curls.
But, one thing you have to understand is that not all sulfates are created equal. BMS is plant-derived so many have said it is not a cause for concern in natural hair products. It does not cause build-up and is said to be non-irritating.
Is it Toxic?
According to Natural Well Being, it is considered the perfect ingredient of shampoos and hair conditioning products since it has the ability to moisturize and condition hair to the roots. It has the ability to penetrate up to the hair shaft making hair healthier and thus easy to comb and maintain
Some have commented BMS possibly being an endocrine disruptor but, I have no scientific research to confirm or dispute. I encourage you to do further research.
In fact, BMS is one of the few beauty ingredients approved by the European Union, which bans way more cosmetics than the U.S.
Conditioners With BMS
Ever since I learned more about BMS, I've been telling people left and right to look for this key ingredient when shopping for deep conditioners. Here are some of my favorite conditioners that include BMS. Trust me, I use these products over and over again and they have yet to let me down.
Full Ingredient List:
water (aqua), behentrimonium methosulfate, cetearyl alcohol, *adansonia digitata (baobab) oil, prunus amygdalus dulcis (sweet almond) oil, cetyl alcohol, *butyrospermum parkii (shea butter), *aloe barbadensis leaf juice, +glycerin, *opuntia ficus indica (prickly pear) seed oil, caprylic/capric triglyceride (fractionated coconut oil), gaultheria procumbens (wintergreen) oil), *mentha piperita (peppermint oil), rosmarinus officinalis (rosemary) leaf oil, guar hydroxypropyltrimonium chloride, *lavandula spica (lavender) oil, urtica dioica (nettle) extract, *cucurbita pepo (pumpkin seed oil), phthalates free fragrance, tocopheryl acetate, dehydroacetic acid, benzyl alcohol, silk amino acids, vanilla tahitensis (vanilla) fruit oil
*certified organic ingredient +kosher ingredient used
About the Brand: Adwoa Beauty is a newer natural hair care brand on the market but is already a favorite of mine. I typically use their products 3-4 times a week.
The brand prides itself on creating the best choices starting with healthy ingredients and high concentrated oils working with nature + chemistry. Their products are produced in small batches and are committed to being transparent on our ingredient labels.
Adwoa also formulates their products according to European Union standards as they are more strict as I said before.
How to use: Use the leave in conditioning styler with the Adwoa cream or gel. Apply the leave-in conditioning styler on wet hair after rinsing out a deep conditioning treatment. Rake the product through with your fingers until it dissolves. For curlier textures, this product may be used alone for your wash n go.
Full ingredient list:
Water/aqua/eau, behentrimonium methosulfate, cetearyl alcohol, acetyl esters, Orbygnia speciosa *(babassu) nut oil, biosaccharide gum-1, Euterpe(acai)pulp oil, sodium PCA, sodium lactate, arginine, aspartic acid, PCA, glycine, alanine, serene, valine, proline, threonine, isoleucine, histidine, phenylalanine, Orbignya speciosa kernel oil, Astrocaryum murumuru butter, Pentaclethra macroloba (pracaxi) seed oil, *Rosmarinus officinalis (rosemary) leaf extract, *Helianthus annuus (sunflower) seed oil, dehydroacetic acid, Lavandula agustifolia (lavender) flower oil, Pelargonium graveolens (geranium) flower/leaf oil Salvia officials (sage) leaf oil, *Mentha piperita (peppermint) leaf oil, *citrus paradise(Pink Grapefruit) peel oil, *Litsea cubeba (litsea cubeba) fruit oil, *Mentha (spearmint) leaf oil, Benzyl alcohol
*CERTIFIED ORGANIC INGREDIENTS
I've been a fan of Mielle Organics since I first started blogging 5 years ago! Their Advanced Formula Healthy Hair Growth Vitamins were one of the first products I tried and I've been hooked on them ever since.
I've recommended the Babassu Oil & Mint Deep Conditioner at least 100 times to family and friends.
About the Brand: Since inception, Mielle Organics' products have taken the hair care market by storm. After mere months, Mielle Organics was widely recognized for its results-driven products and excellent customer service.
The founder and CEO, Monique Rodriguez has over nine years of experience as a registered nurse. Her background in science and focus on health from the inside out inspired Monique to share her regimen of healthy, tailbone-length hair with the masses.
Natural Alternatives to BMS
If the thought of using products with any synthetic ingredients still has you a little worried I have you covered!
I know a lot of naturals love to get creative in the kitchen and DIY products so here are some natural alternatives to Behentrimonium Methosulfate.
Marshmallow Root – great for soothing the scalp and can help in treating dry scalp. It creates a gel-like substance that is very slippery and acts as a main detangling agent in a lot of natural conditioners.
Slippery Elm – also works as a great natural detangler for hair. According to StyleCraze.com, the high content of procyanidins in slippery elm improves the strength of hair and makes it tensile. Slippery elm extracts promote healthy hair growth and improve the volume of hair.
Amla – Amla Powder is an Ayurvedic herb made from the Indian gooseberry (Emblica Officinalis). The amla fruit also benefits the hair when applied as a conditioner. A homemade amla powder mask can also add texture and volume to your hair.
Henna – Although widely used as a natural hair coloring agent, henna also helps seal the hair cuticle, preventing breaking, and increasing the shine and appearance of the hair.
Cassia – Also known as "neutral henna", Cassia has similar properties of regular Henna. According to The Henna Guys, it works as a natural conditioner, helps to eliminate dandruff, adds shine, volume and defines curls.
Fresh Avocados and Avocado Oil – both are filled with monounsaturated fats that coat the hair strand with oil, provide slip, and maks your hair more manageable.
Of course, these natural ingredients will not work exactly the same as BMS, but it is worth trying if you are still not sure about using the ingredient as part of your natural hair care routine.
In conclusion, there is a lot of research online about various ingredients in natural hair products. Although the name may sound intimidating many ingredients are actually still really beneficial for your curls.
Continue to do your due diligence and seek additional information if you don't feel comfortable using a certain product.
Are you thinking of using products that contain Behentrimonium Methosulfate? Comment and let me know!