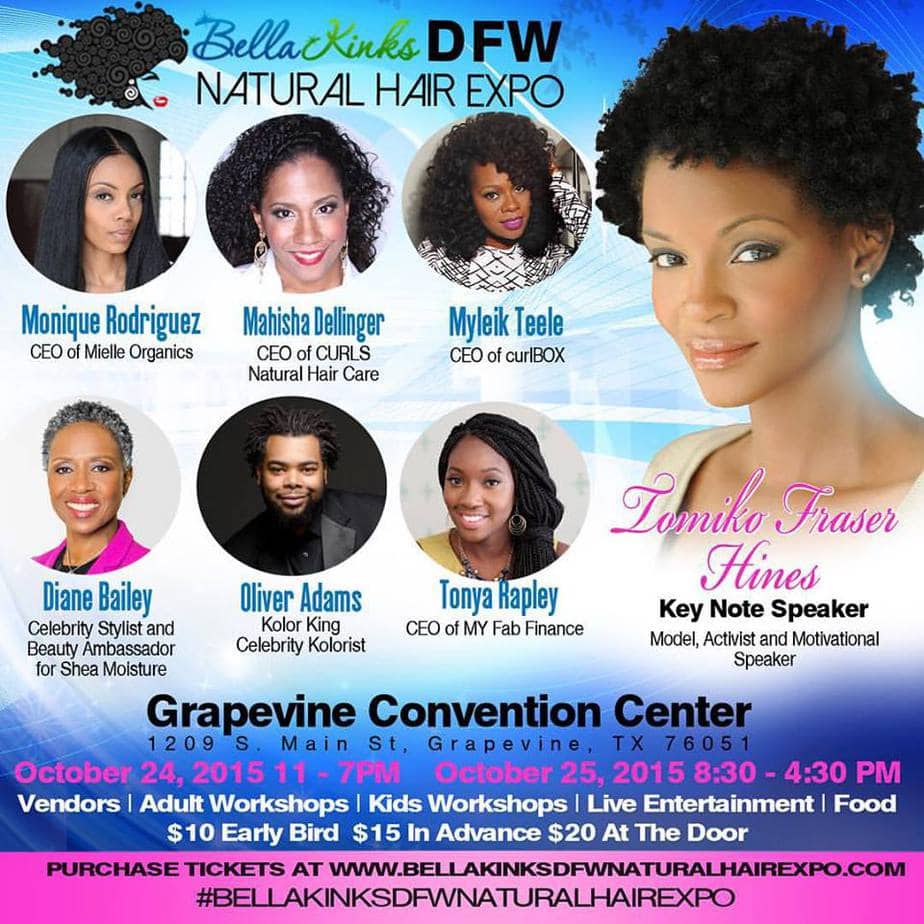 Since moving back to Dallas last Fall I've attended at least 5 natural hair events, met tons of new bloggers and net worked like no other.  Last weekend, just 8 months later, I even had the chance to speak at my first event.  Now this fall, almost a year later, the event I'm anticipating the most is the 1st ever DFW Natural Hair Expo presented by Bella Kinks.  I mean…did you see that line up of speakers?! 
Event producer, Bella Kinks proudly announces the Bella Kinks DFW Natural Hair Expo, October 24th-October 25th, 2015 at the Grapevine Convention Center in Grapevine, Texas. Bella Kinks will continue to celebrate the natural hair movement with an inaugural hair expo in Grapevine, Texas this coming fall.
The weekend will showcase and highlight the dynamic beauty of Afro and multi-textured hair among women of color.  Attendees will be able to connect with and embrace the message and mission of industry professionals, notable bloggers, and stand out brands.
The Bella Kinks DFW Natural Hair Expo will also feature wellness workshops for adults as well as children, fitness classes, and a broad selection of the best natural hair care vendors.
The expo will kick-off with the private fete, Bella Kinks Black Excellence Dinner. The dinner will be co-hosted by all-star YouTube v-loggers, Priscilla "Shinestruck" Flete, and Jade "LipstickNCurls" Kendle, along with Artist and Film, TV, Music Producer, Chris Classic.  The event's theme is masquerade style and masks will be required for entry.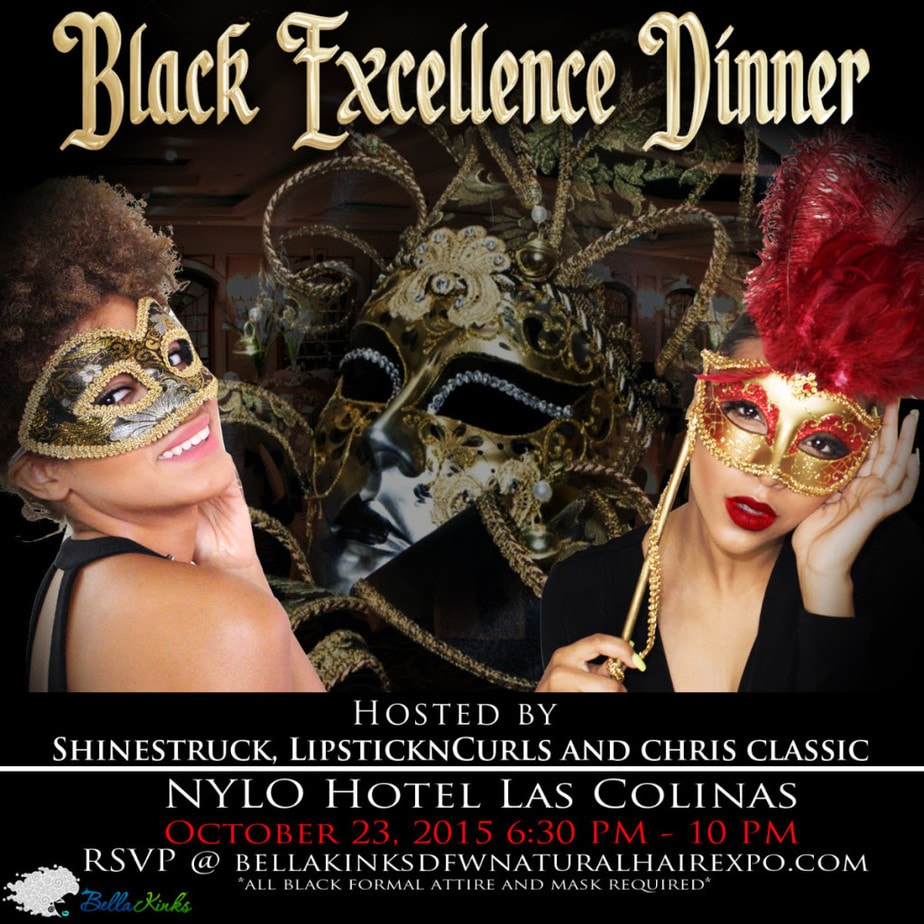 Bella Kinks CEO, Julian Addo recently stated that,
"The Bella Kinks community has really been urging us to create an expo for women in the Dallas Fort Worth area almost since our inception. After three years, now is the perfect time to give our local naturalistas what they have been asking for."
The expo has partnered with an outstanding group of thought leaders in the natural hair community to serve as guest speakers. The roster includes; Diane C. Bailey, Beauty Ambassador for Shea Moisture, Mahisha Dellinger, Founder/CEO of CURLS Natural Hair Care, Tonya Rapley, CEO of My Fab Finance, Myleik Teele, CEO of curlBox, Tomiko Fraser Hines, Model/Actress & Motivational Speaker, Adeea Rogers, Founder of International Natural Hair Meet-Up Day, and Miko Branch, Co-Founder of Miss Jessie's.
This is an exciting new era in this ever-growing devotion to natural hair amongst women of color. Bella Kinks is deeply committed to honoring this lifestyle choice and takes pride in being a leader in this monumental industry and elevating it with an expo.
Bella Kinks is an event production company that caters to brands that celebrate the natural hair movement and the women who embrace their natural hair roots. It produces events across the United States and has offices in New York City and Dallas, Texas.
For tickets and to register please visit Bella Kinks DFW Natural Hair Expo Weekend.
I've already gotten my tickets.  Hope to see you there!
---
Did you enjoy this article? Subscribe to never miss a post!
[mc4wp_form]