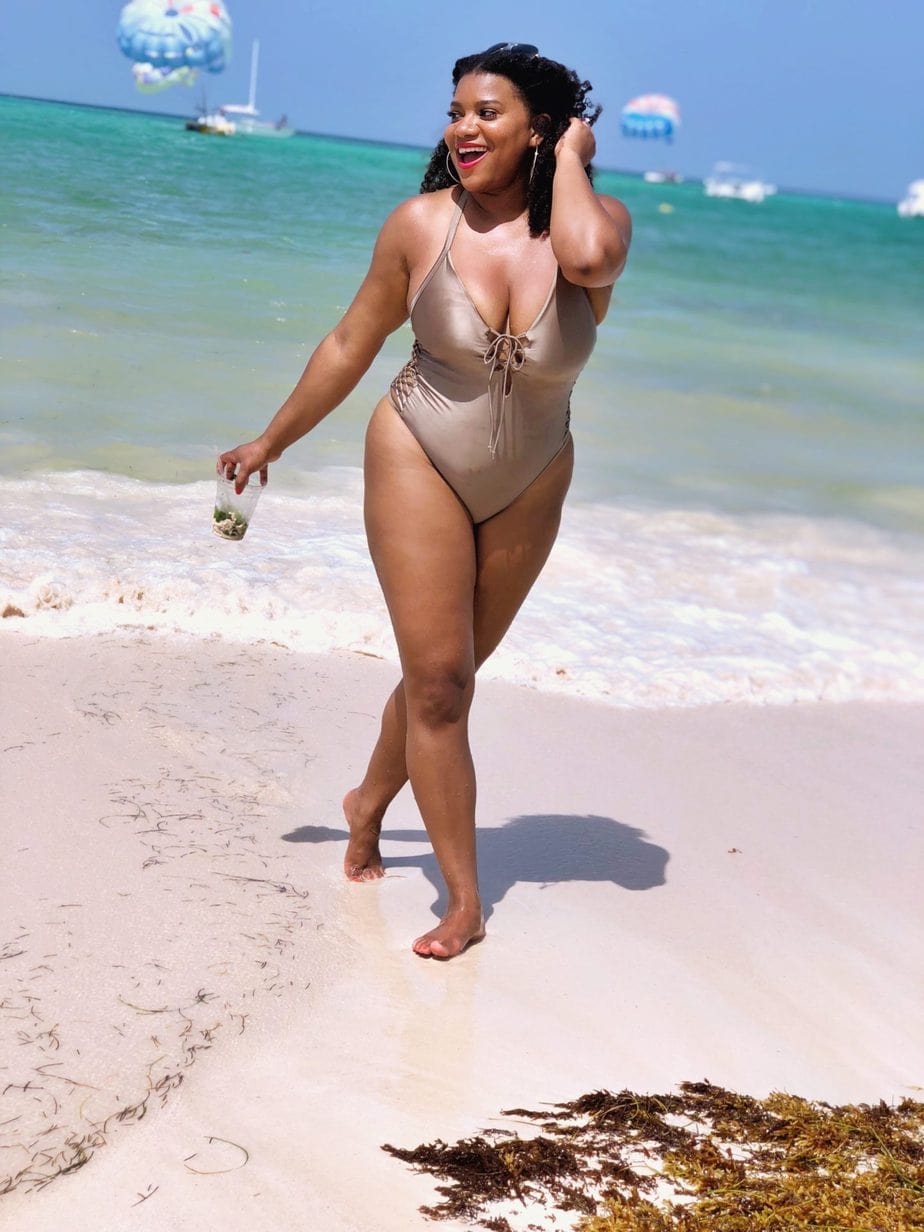 Thank you Waxing The City for sponsoring this post. Unwanted hair is part of life…and so is getting rid of it. From brows – to backscaping – to bare it all Brazilians –we've seen it all. With 100 locations open –you'll be sure to find a Waxing The City studio near you. First time customers get 50% off their first service!
After my vacation to the Dominican Republic I was determined to find a good wax place! Ladies there is only so much those at home hair removal kits can do if we're speaking honestly.  As a result, I'm so excited to share more details about the best bikini wax I've ever gotten at Waxing The City Dallas in University Park.  I've seriously left with zero pain and the owner Melissa was extremely sweet throughout the entire process. Keep reading to see how you can get $50 towards your next appointment.  But first here are more details about my wax appointment.
Waxing The City Dallas
When I decided to partner with Waxing The City I knew I wanted a bikini wax.  I've waxed 3 times in my whole life, which included 2 bikini waxes and one Brazilian.  Let's just say the Brazilian life isn't for me.  As soon as I arrived I met with the Waxing The City Dallas – University Park owner Melissa Narro and she walked me back to the waxing room.  Melissa is probably the nicest person I've ever met when it comes to receiving a personal care service like waxing.  She carefully walked me through the bikini wax process, educating me on the Waxing The City method and what differentiates them from their competitors.
While most waxing places focus on speed, Waxing The City's purpose to to approach each appointment from a personal level.  Each person's pain tolerance, skin, and the direction the hair grows is different so their personalized approach takes out all of the anxiety with getting a wax.
Prep
First Melissa examined my bikini area and prepped it with the Waxing The City pre wax serum.  The serum naturally numbs & cleanses the skin before waxing.  It is made with all-natural ingredients with a light green tea eucalyptus scent  and is paraben-free, sulfate-free, DEA & TEA-free, petrochemical-free, phalate-free and cruelty-free.  Baby powder was applied and then used as an extra buffer between the wax and the skin.
The Waxing Process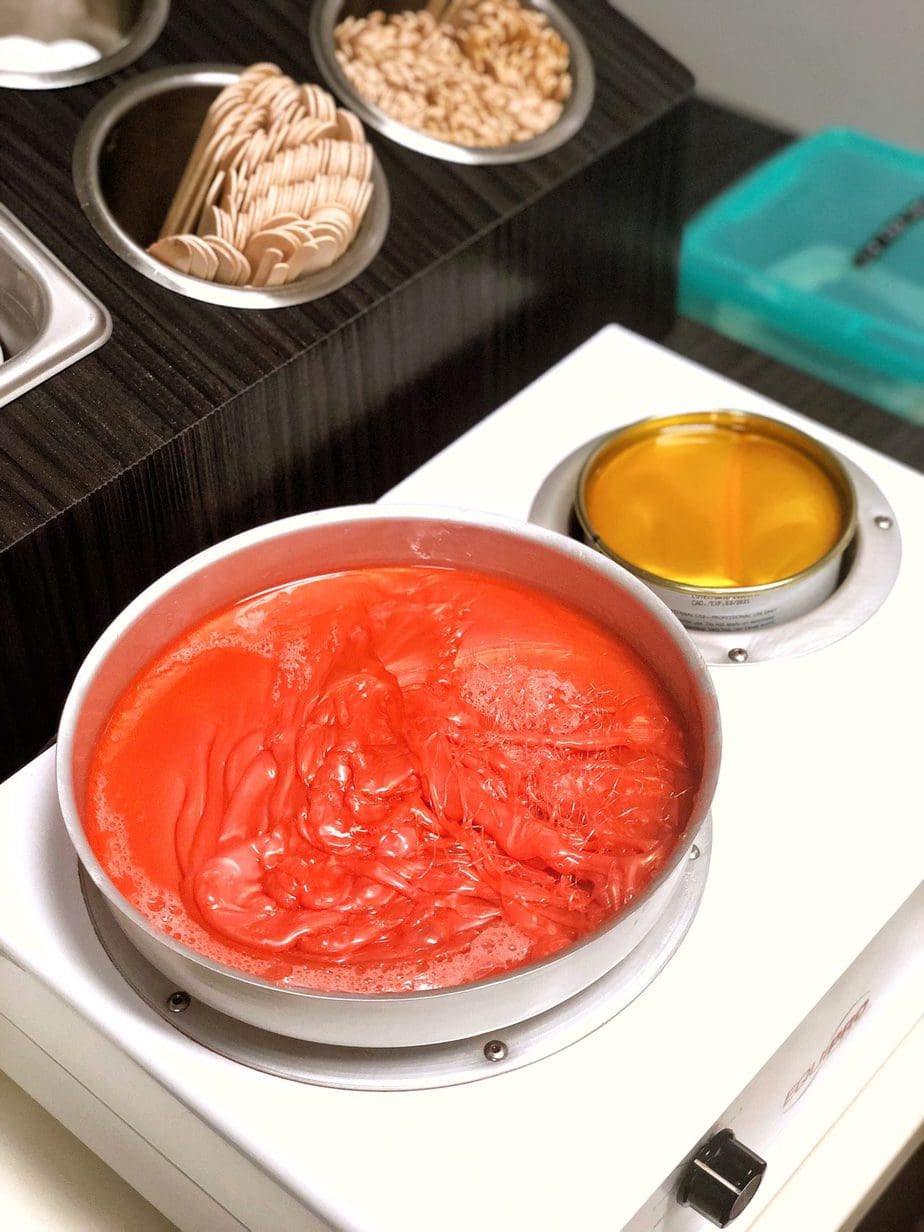 Soft Wax vs. Hard Wax
During the waxing process Melissa then explained to me the difference between hard and soft wax, which was a total learning experience for me.  In the picture above the hard wax is orange and soft wax is yellow. Hard wax engulfs the hair vs. the skin for less pain. When the hard wax is pulled the wax mainly takes the hair and does not yank at the skin as much as soft wax.  Hard wax is for more sensitive areas like the bikini line.  Waxing strips are not needed with hard wax.  The wax itself is applied to the area, hardens and then pulled away with the hair.  This also allowed Melissa to apply the wax to smaller areas and take her time for less pain.
Some areas were more sensitive than others but overall on a scale of 1-9 the pain level was a 4.  And I didn't leave Waxing The City still in pain as I have with other places. Once the procedure was done I didn't feel anything.
Post Wax
After the wax, a post wax serum was applied to soothe and heal skin and prevent any reactions.  Similar to the pre-wax it is made with all natural ingredients and is paraben-free, sulfate-free, DEA and TEA-free, petrochemical-free, phalate-free and cruelty-free.
I also decided to take advantage of one of the enhancements Waxing The City offers.  I went with the Hydrating Lip Gels since I've been having serverely dry lips lately.  This enhancement was everything!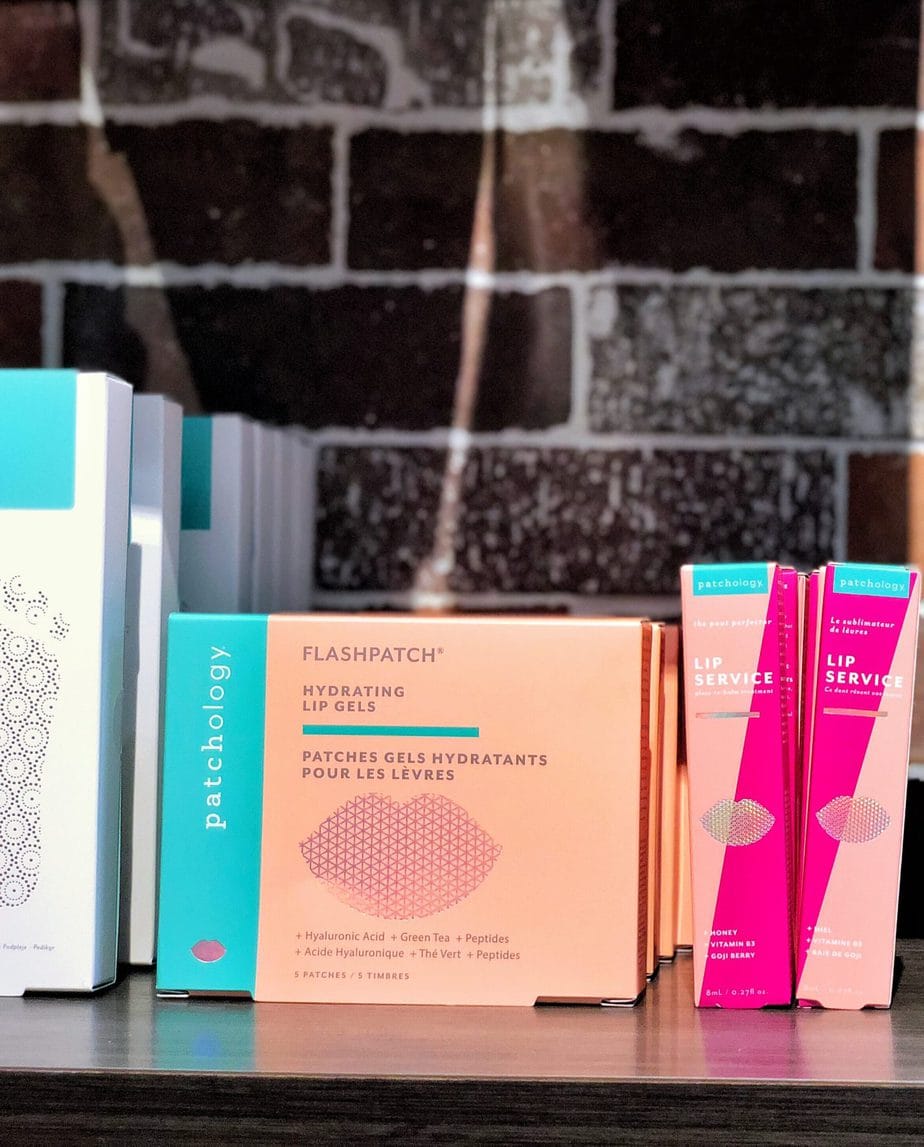 Other Amazing Products
Of course I couldn't talk about skin care without mentioning some of the body products Waxing The City offers as well.
Sugar Scrub – I learned during my appointment exfoliating your bikini area in between appointments helps prep the hair follicle for your next appointment.  Their gentle, oil-based scrub has four scents. (Not So) Vanilla, Mint to be, Citrus-A-Peel & LOVEnder. The scrub is gentle enough for daily use and is made with botanical-based natural ingredients and essential oils.  It's also paraben-free, sulfate-free, gluten-free, vegan, cruelty-free with no dyes of course.
Body Butter – Any great wax appointment is followed by a great moisturizer.  After using the sugar scrub, apply a small amount and massage into desired areas of the body. The body butter is available in the same scents as the sugar scrub.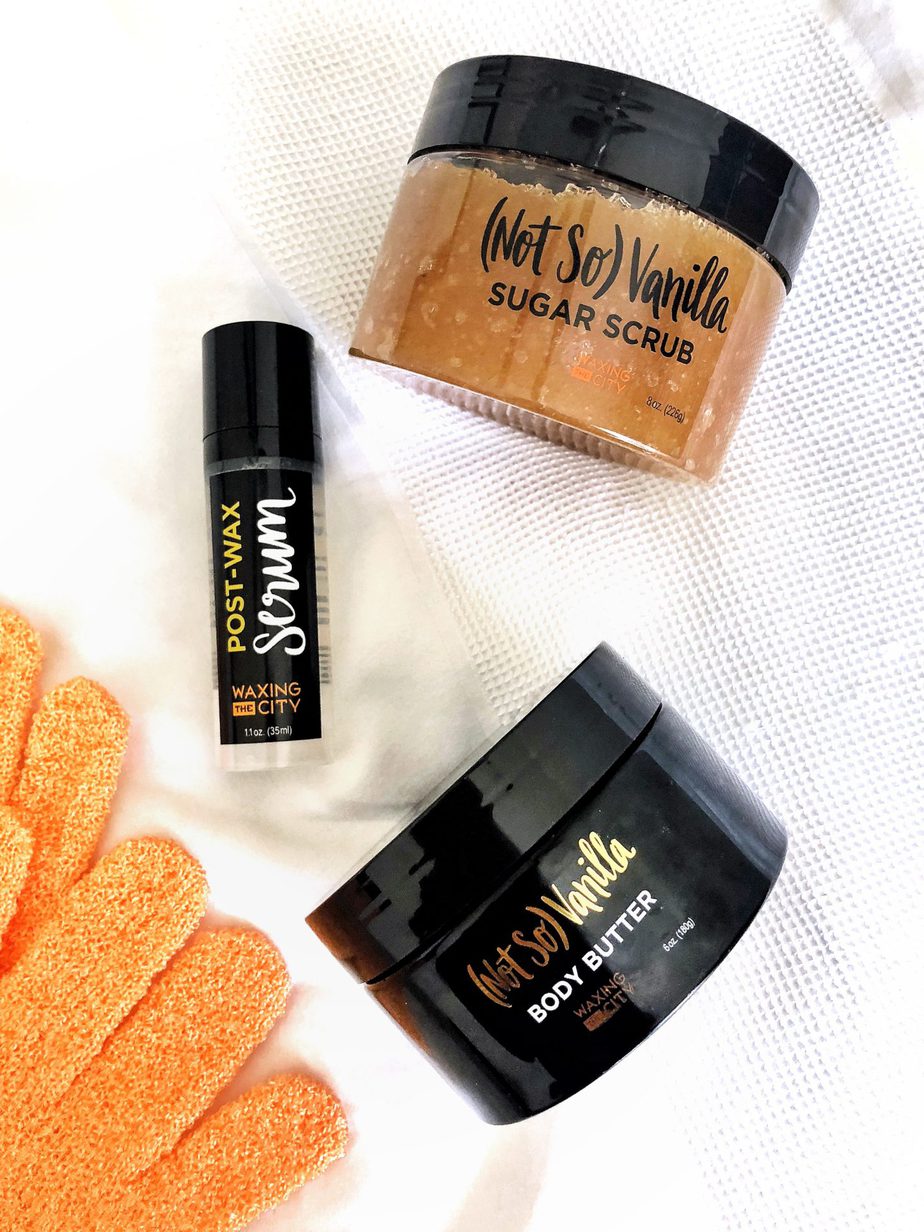 Overall, I was very nervous to get a wax but my fears were completely put at ease working through Melissa.  If you are skeptical about getting a wax too, a good test is to see how well the employees at your studio of choice treats their customers. You want someone who will take their time with your precious areas and make you feel 100% comfortable.
First time guests can receive 50% off their service. Visit waxingthecity.com to schedule your service.
How to Get $50 Towards Your Next Appointment!
Comment on this post and let me know your views about waxing or any hesitations you may have.  The winner will be chosen at random on June 28th, 2017 and will be notified via email.  Thanks for reading…happy commenting!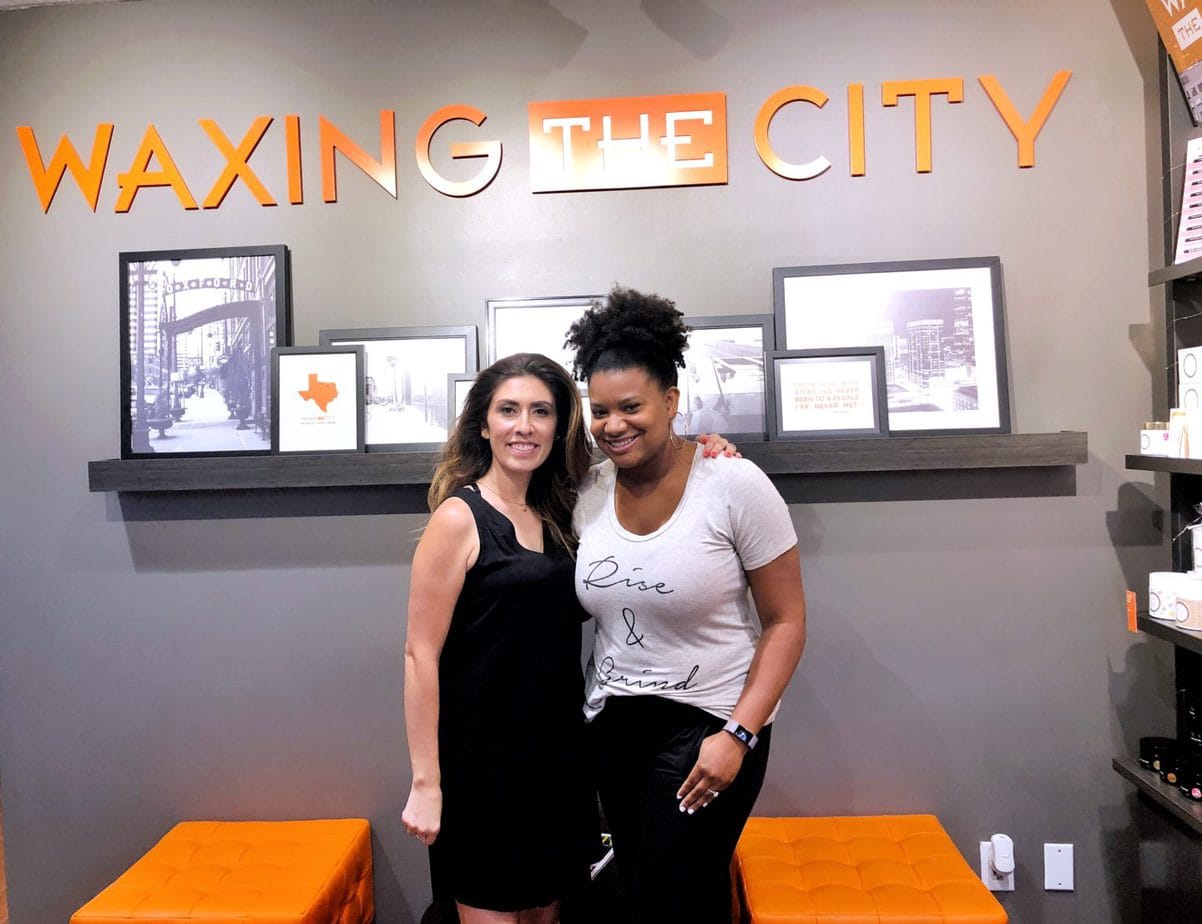 I was selected for this opportunity as a member of CLEVER and the content and opinions expressed here are all my own.