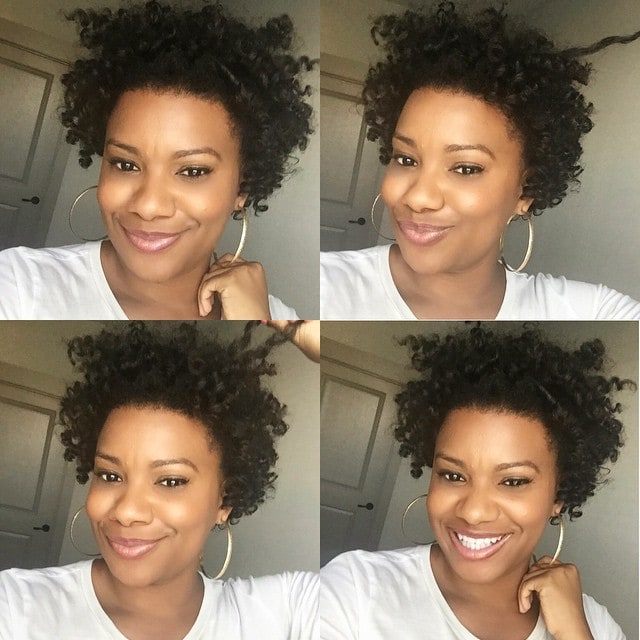 Whether you are a new natural, transitioning, or relaxed hair chick, it will come to you as no surprise how easy it is to continue to learn more about your hair texture everyday.  I've been a natural hair girl for years, but it wasn't until the past 2-3 years that I truly begin to embrace my texture and develop a solid natural hair regimen.  What I've noticed as I continue to research and learn even more about proper hair care and maintenance is that everything isn't for everyone and you must find your own flow.  I don't have a super strict natural hair regimen where I designate a certain day of the week as wash day, however; there are a few things I'm more strategic about to achieve growth.
These 5 things are a MUST for my natural hair regimen to maintain my dry 4b-4c texture and to help with overall hair health.   I make sure to do these things, weekly if not daily.
5 Essentials to My Natural Hair Regimen
1.DRINK TONS OF WATER
I think this one is pretty self-explanatory but water consumption is vital to just about every organ in your body, so don't be fooled in thinking it won't benefit your hair too.  I recently purchased a cute H20 On The Go 2.2 liter gallon  to help ensure I get my daily intake.  Super helpful in keeping me accountable for those 8 glasses a day and makes consuming water very easy.
2. OVERNIGHT MOISTURIZING
Before, no matter what I did, my hair was always super dry in the morning, even when I slept on a satin pillowcase and wrapped with a satin scarf.  To combat that issue I started to add moisture to my hair before bed by twisting with a leave in conditioner.  Or I'll let steam from the shower moisturize my hair then seal the moisture with oil or a shea butter blend while massaging the oil into my hair and scalp.  My last option is moisturizing with my DIY conditioning spray, which include jojoba oil, aloe vera juice, glycerin and of course water!  I switch between methods depending on my mood.
3. WEEKLY STEAM TREATMENTS OR DEEP CONDITIONING
This is definitely one thing I make sure to do every week.  I don't think I can explain how integral steaming has been for my hair since getting my Heutiful Hair Steamer in December.  I've seen faster growth in my hair than any time before.   According to Heutiful, steaming provides 5 times more moisture than regular conditioning alone so it's definitely worth the investment. If I'm not steaming my hair I'm definitely deep conditioning weekly.  Since implementing weekly deep conditioning sessions into my natural hair regimen, my hair stays moisturized for longer periods of time.
4. LOW STYLING
Just like many of you I work 9 – 5, I want to exercise after work and still want to get home cook a great meal every night.  As a result, I don't have tons of time to try a new style every other day.  What works for me is doing a twist out on Sunday nights, wearing it for 1 -2 days then transforming it into a cute pin back or up do without having to re-twist it.  Low manipulation is key in my natural hair regimen and a successful strategy for helping my hair grow over the past year.  If you are limited on time or a new natural, my suggestion is to try one new style a week so you don't become overwhelmed trying to think of something new and cool every day.
5.  WASHING MY HAIR
Yes, yes…I know in a world of "bowing down" to the co-wash "Gods" this probably isn't done very often by many naturals but what I've realized over time is that I needed to wash my hair more than I was washing originally.   If strictly co-washing for long periods of time works for you great, but because I was using a lot of heavy products daily I also encountered a lot of product build up.  Cleansing my hair with a great clarifying shampoo helped with removing a lot of impurities and achieving more soft bouncy hair.
My favorite shampoos right now are Miss Jessie's Super Slip Sudsy Shampoo and the Obia Natural Hair Coconut Shea Shampoo Bar.  Both are the best for detangling and removing buildup.
What are some of your weekly must do regimens? Comment and let me know!