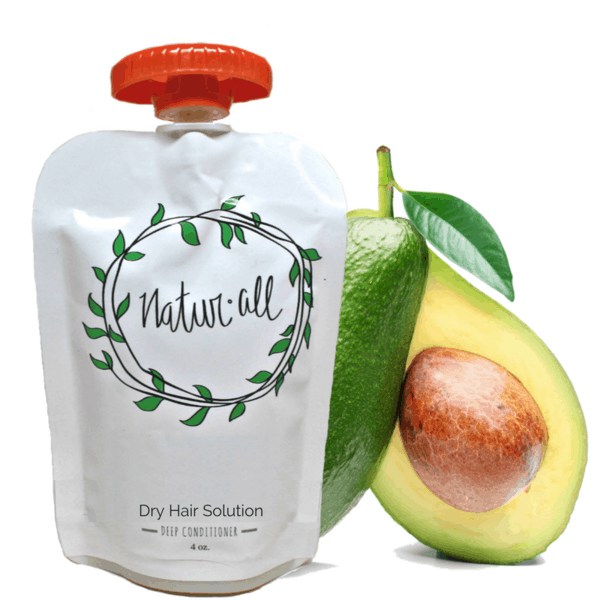 Have you ever wanted to make fresh avocado masks for your natural hair but just haven't found the time? If so, your day is about to get soooo much better! Like many of you I have googled everything under the sun about how to keep super moisturized natural hair. DIY deep conditioners via Youtube University is something I've tried a few times including making fresh avocado masks.  The recipe included avocado, bananas, coconut oil, and a bunch of other stuff I can't remember. Not surprisingly it was also a complete mess to make and an even bigger hassle to wash out of my hair successfully. So, when an email arrived in my mailbox to review Naturall Club I jumped at the opportunity! A fresh avocado deep conditioning mask without the mess? Sign me up!
Muhga Eltigani, founder of Naturall Club, reached my inbox about 6 weeks ago. As a blogger, I get a ton of emails with brands soliciting new products asking for a review or to just simply send products my way for feedback. I was sure I would quickly write this one off as just another brand and another product but something told me to dig a little deeper. I read more about what the brand was all about, checked out the ingredients and watched a few reviews as well. So far, I was impressed!
Muhga started making products in her college dorm room. Frustrated with commercial hair products that left her hair dry and brittle, and supported by a small YouTube following, Muhga committed to a three-month journey of using only fresh and natural ingredients in her hair, and absolutely no chemicals. Those three months turned into three years, 32 inches of growth, and a YouTube following of 40,000. She's not only committed to using all natural and fresh ingredients, but also emphasizes messages of self-love and encouraging women to support and learn from each other. Again, impressed right?! So I was like ok I want to try this deep conditioner out for myself.
I received the deep conditioner during a very busy week so in order to preserve the freshness of the avocado mask, I froze it per the instructions. The deep conditioner will last one week in the fridge and two months in the freezer. When I finally used the avocado mask and un-thawed it, the conditioner was still fresh and had not become rancid. There are 3 different conditioner options for dry, dull and damaged hair. I chose the dry option because who couldn't use a little more moisture.
The directions instructs you to use the mask as a pre-poo. The box arrived with a spray bottle and plastic cap for you to dampen the hair. Next apply the mask and allow the ingredients to penetrate before shampooing. This usually takes about 20 minutes. Unfortunately, I did this completely backwards and washed my hair first but my results were still AH-MAZING. Immediately the conditioner melted into my strands and my hair felt like HEAVEN. Again, I was impressed and honestly shocked. My hair detangled so easily and felt super soft. Before I give you my final thoughts, if you are already convinced you want to try it for yourslelf use discount code NCxTEXTUREDTALK to get 15% off your first order until January 31, 2018. I'm not getting a commission or anything but I did receive free product and a code to share with my readers.  Ok so here are my final thoughts:
Pros:
Saves tons of time and there is no mess the clean up afterwards
Amazing detangler & makes the hair really soft
Had enough to use twice so you get a good bang for your buck
Spreads easily throughout the hair
Comes with plastic deep conditioning cap (because you can never have to many of those)
You can set up a subscription to keep the conditioners coming to you every month
Cons:
Has to be kept frozen or refrigerated until you use. This isn't a big deal to me, but a few times I took it out of the freezer because I thought I had time to wash my hair but didn't. I ended up putting the conditioner back in the freezer and hope it didn't mess anything up.
Directs you to use before shampooing. I finally ended up using the mask before shampooing as directed; however, I prefer to use the mask after shampooing my hair. When I used the mask before washing my hair I felt the need to still apply additional conditioner afterwards. But maybe that's just me.
Here are a few more video reviews so you can see for yourself. I didn't make a video but I'm going to get more into videos reviews really soon…promise!
Avocado Mask for Natural Hair
Are you going to try Naturall Club? Comment and let me know! Don't forget to use coupon code NCxTEXTUREDTALK  to get 15% off your purchase until January 21, 2018.
---
Did you enjoy this article? Subscribe to never miss a post!
[mc4wp_form]
---