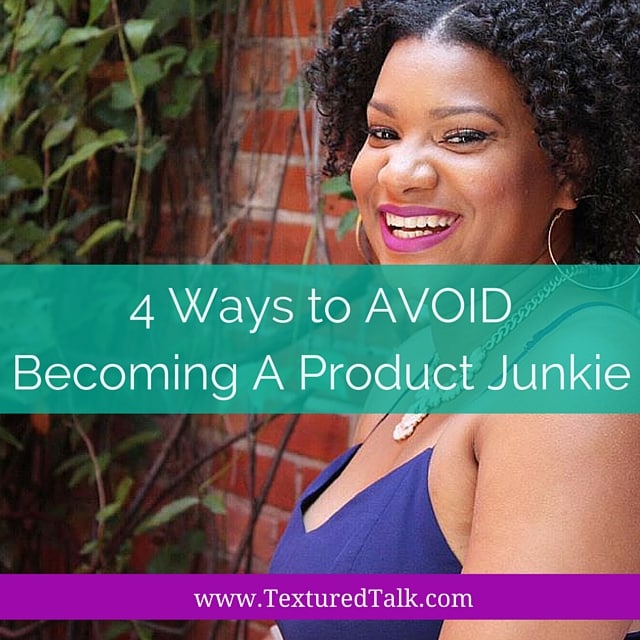 Hi, my name is Charlene and I am a product junkie! The first step is admitting this to yourself right? But seriously, I am pretty sure I am not alone in this category.  My bathroom continuously overflows with new products every month as the result of random purchases, brands sending products for review, product swag bags from natural hair events and of course my CurlBOX subscription.  At this point, my collection is extremely out of hand so I decided to take action.  Here are 4 tips I'm using to avoid becoming a product junkie…or better yet how I'm trying to recover.
Step 1: Get Organized!
Organization is key.  My biggest program is I can not remember which products I actually have among all of the items scattered between my 2 bathrooms.  I also can not count how many times I've purchased a new deep conditioner or pack of bobby pins because I for sure "knew" I was running low.  So, a few months back I organized everything under one bathroom sink with storage baskets and it has worked wonders.  I always knew these baskets would come in handy for something.  Instead of having products sitting around aimlessly I use the baskets to create product categories. For example:
Basket #1: Shampoos & Conditioners
Basket #2: Oils, heat protectant serums & small hair tools
Basket #2: Twisting creams/butters, curl defining products
Now I know exactly where to reach for a certain product and the best part, everything is visible!
Step 2: Take inventory & shop your bathroom first!
After organizing, take inventory by creating a spreadsheet to list all products and brands in your possession.  Next use EVERYTHING in your current cabinet before purchasing something new.  And yes I mean everything!  Take the spreadsheet and begin to cross items off your list each week.  Also use this time to build your product favorites.  Each week note how a certain product makes your hair feel as well as your likes and dislikes.  If you are a "tried it once and then threw it out" type of person this could also be a reason you are a product junkie.
Step 3: Cancel Your Monthly Product Subscription
GASP! What? Give up my curlBOX? No! Trust me, no one understands this possible pain more than I do.  However, if you are starting to collect dust on products from boxes past then it might be time to part ways with your subscription service whether it's curlBOX, OnyxBox, CurlKit or any other auto-renew services.
Step 4: Sharing is Caring
Everyone loves free stuff so host a giveaway! I received a full bag of awesome products from The Natural Cole's How-To event earlier this year and there was absolutely no way I could use all of the great products I received in my swag bag.  As a result I hosted my first ever blog giveaway, which gained a surprising amount of social media followers (600+ on Instagram alone).  Also I had the opportunity to make someone very happy.
Not a fan of giveaways? Host a product swap party with your closest girlfriends or simply give away to family and friends.
What are some ways you avoid becoming a product junkie? Comment and let me know.
---
Did you enjoy this article? Subscribe to never miss a post!
---